XK A800 with Gyro 780mm (30.7") Wingspan - RTF
WLT-A800R
A800 780mm with Gyro (30.7") Wingspan - (Ready-To-Fly) - RTF from XK -
WLT-A800R
With the XK A800 Motion RC is pleased to announce the XK brand to our customers.  A leader in mini and micro class RC products since 2011, XK Innovations brings the best of performance and reliability to the smaller side of RC Flight!  XKs' line of small RC airplanes brings the simplicity of electric flight to a worldwide audience with easy to fly fixed wing aircraft, some of which offer FPV options to further the fun!  Motion RC stocks a full compliment of available spare parts to keep you flying these amazingly affordable RC model airplanes.
The XK A800 RTF is a great introductory model aircraft for beginners due to its built-in stability system (3D/6G) that supports smooth flights and resistance to crashes.  A great park flyer glider with rigid EPO foam and ample wing for slow, controlled flights, but also capable of aerobatics in 3D mode.
The XK A800 is a nice trainer with excellent stability due to the gyro.  The airframe is sleek and aerodynamic supporting slow flight with good float and lift characteristics that are excellent attributes for beginner pilots.
  Visit the Official XK A800 with Gyro Discussion Thread on HobbySquawk.com for additional photos, videos, reviews, and customer Q&A.
Features:
Comes with 3D/6G, a gyro for increased stability and helps decrease the chance of a crash.  Simply cycle between 6G (stable mode) and 3D (no control surface limits) by pressing the aileron stick to the lower left after activating the model

Stable and sleek profile supports smooth, slow and controlled flights

Aerodynamic profile with long wing surface supports good lift for soaring

Rigid foam airframe comprised of EPO foam is resistant to crash damage

Extended flight times (Up to 45 minutes!)
Includes:
XK A800 with Gyro 780mm (30.7") Wingspan - RTF

FTR Futaba S-FHSS Compatible 4CH 2.4GHz Transmitter

2.4GHz Receiver

2S 7.4V 300 mAh LiPo Battery

2S LiPo Battery Charger

USB Charging Cable

Owner's Manual
Requires:
Nothing!  Everything you need to fly is included in the box
HELPFUL TIP:  If you are new to radio control (RC) we recommend that you read through our RC resource known as our "Knowledge Blog". It's jam packed with helpful information for beginners including how to articles, support videos, a glossary of terms and much more.  Click Here to go to our Knowledge Blog's Beginner Section.  For further assistance, please do not hesitate to contact our Customer Support Team and one of our knowledgeable RC experts will be glad to assist you. Happy flying!
Product Specifications:
| | |
| --- | --- |
| Model Scale | N/A |
| Wingspan | 780mm / 30.7in |
| Length | 530mm /20.86in |
| Flying Weight | 110g / 3.88oz |
| CG (Center of Gravity) | Refer to the manual |
| Power System | 2S N60 iron core Brushed Outrunner Motor |
| Electronic Speed Control | Integrated |
| Propeller / EDF | 2-Blade Folding Propeller |
| Servos | Micro |
| Landing Gear | None |
| Required Battery | 2S 7.4V 300mAh LiPo (included) |
| Required Radio | 4 Channel (included) |
| Ailerons | Yes |
| Elevator | Yes |
| Rudder | Yes |
| Flaps | No |
| Lights | No |
| Hinge Type | N/A |
| Material | EPO Foam |
| Skill Level | Beginner |
| Build Time | None |
| Recommended Environment | Outdoors |
Product Questions & Answers
NOTE:
Questions submitted on this page are answered by customers who have previously purchased this item. If you have a support related question that requires immediate assistance, please visit our
Help Center
.
Product Reviews
Customer Reviews
11/08/2019
Jesse P.
United States
Great for local park flying
If you are looking for a smaller glider to fly at your local park this is it. Easy hand launch and great flight time.
Fun experience learning.
On my 3rd A800 this summer. Going to learn and not let this get the best of Me. Great value. Easy to get new damaged parts. The circuit board jarrs loose and not attached. The front nose smashes in. I stffened the nose with paper mache on #3. Reglued the circuit board down with none conductive glue. The top wing cracked and repaired. Great plane but I think it's flies more for an intermediate level flier. Still flying my 3rd A800. Lots of fun !!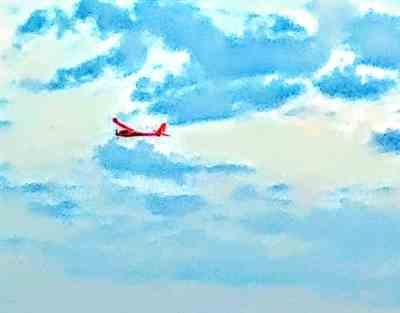 05/23/2019
michael d.
United States
First plane in many years
fun little plane, easy to fly but very responsive. best in light wind.
04/29/2019
Bob S.
United States
XK A800
Does not handle wind well. Fly's well once trimmed. Very delicate circuit board. Make sure the aircraft is positioned level when binding to radio.
02/03/2019
David F.
United States
Great fun for the price!
I took it for a maiden flight, today, since the weather permitted. It's very responsive and agile. I feel a novice should have a bit of flight time or an instructor before flying it alone.
Motion RC has a new European website
Go there instead?
Top