Dynam C-47 Skytrain Green V2 1500mm (59") Wingspan - PNP
DY8931PNP-GREEN
CLEARANCE MERCHANDISE
Clearance items are NEW merchandise in factory sealed boxes.

Because of their deeply discounted prices, all Motion RC clearance items are sold "AS IS" and cannot be returned or exchanged under any circumstance.

Clearance merchandise DOES NOT have a warranty. The buyer is responsible for any problems or repairs after purchase.
Dynam C-47 Skytrain Green V2 1500mm (59") Wingspan - PNP - DY8931PNP-GREEN
The Dynam C-47 Skytrain is a nice scale foam multi-engine representation of the military transport aircraft used extensively by the Allies in World War II and still used by various military to this day. The C47 shares the same body structure as the civilian model DC3. Powered by 2 brushless 1100Kv motors the C47 Skytrain is sure to impress at the local flying field.
  Visit the Official Dynam 1500mm C-47 Discussion Thread on HobbySquawk.com for additional photos, videos, reviews, and customer Q&A.
Features:
Nice scale looks available in Olive Drab with invasion stripe livery
Powerful brushless 1100Kv motors
Comes with decal set
Easy to build and transport
Includes:
Dynam C-47 Skytrain Green 1500mm (59") Wingspan - (PNP)
NEW! Dual Skylord 30A ESCs with XT60 connectors, servos and motors come pre-installed for your convenience
Requires:
Product Specifications:
SKILL LEVEL : Intermediate
| | |
| --- | --- |
| Wingspan | 1500mm / 59in |
| Length | 980mm / 38.5in |
| Flying Weight | 1200g / 42oz |
| CG (Center of Gravity) | N/A |
| Power System | 2x 1100kv Brushless Outrunner Motor |
| Electronic Speed Control | 2x 30A Brushless with XT60 connector |
| Propeller / EDF | 2x 3 blades |
| Servos | 4x 9g standard |
| Landing Gear | Fixed |
| Required Battery | 3S 11.1V 2200mAh LiPo with XT60 connector (required) |
| Required Radio | 4 Channel (required) |
| Ailerons | Yes |
| Elevator | Yes |
| Rudder | Yes |
| Flaps | No |
| Lights | No |
| Hinge Type | Foam |
| Material | EPO Foam |
| Skill Level | Intermediate |
| Build Time | 3+ Hours |
| Recommended Environment | Outdoor |
Product Videos
Product Questions & Answers
NOTE:
Questions submitted on this page are answered by customers who have previously purchased this item. If you have a support related question that requires immediate assistance, please visit our
Help Center
.
Product Support
Product Manuals:
Product Updates:
November 18, 2016 - For the RTF with gyro version make sure the included Detrum receiver/gyro is securely mounted to the fuselage before attempting to fly this airplane.  The V2 now has steerable tail wheel.
If you need any additional assistance, please visit the Motion RC Help Center
Product Reviews
Customer Reviews
Easy instructions but horrible quality
This is my first Dynam plane and definitely my last. The foam is dented and damaged in so many places due to poor packaging. Not one ounce of foam in that package. Only paper and extremely thin boxes protecting this plane. One of the motors looks to point down a little more than the other as well. I haven't been able to fly this yet, there is a warbird event this weekend I'm flying this and a b-24 in so I will be able to add a flight review after. The plane went together somewhat easy. Don't use their glue unless you want to be waiting 20 minutes for it to tack up. You have to press some parts together since they are warped a little bit(tail section meeting fuse).
Nice c47
This is my second c47 from dynam. I had ver1, but never flew it. This ver2 C47 seems much improved. Assembly was easy, and the plane flies very well, and scale like at 1/2 throttle. Easy flight, and smooth landings. The only 2 negatives about this plane is the instructions aren't very good. It's best to just watch Assembly videos on YouTube. The other negative is the small wheels and low prop clearance. Very difficult to take off on a grass field especially with the low prop clearance. But once it's in the air, she flies great.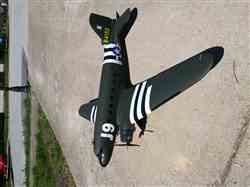 08/30/2018
Len
Winnipeg, Manitoba
5 stars dispite a couple of minor issues - photos
Well I've flown the C47 a number of times now and love it! The plane has attracted a lot of attention at the field, on the bench and in the air. Take-off could not be and more straight forward as was the landing, approach with about 50% power and adjust as needed for glide angle to picture perfect landings! All I needed was a few clicks up trim which I corrected by moving the CG ever so slightly back, perfect now. I painted the stock plane to mirror "Douglas AC47D Gunship 'SPOOKY' 847 EN - AF 43", came pretty close I think, you judge by the photos. I took the pics in early morning light, making me think of John Wayne requesting "Puff sanitize the area". :-) Now waiting patiently (well, sort of) for Motion to get the ME262 back in stock, I have my Shopping Cart ready with batteries etc., just need the jet to complete the order and 'buy it'...…
08/12/2018
Len
Winnipeg, MB
5 stars dispite a couple of minor issues
Over-all I am impressed with my first Dynam aircraft. Quality of the foam finish, paint, hardware and preassembly was excellent, I have yet to test fly, should be within the next couple of days. Issues/tips that I had which I resolved myself are listed below, no show stoppers to complete the C47, but #1 particularly frustrating: #1 - Wing bolt; the supplied nylon bolt just passed through the threaded fuselage pre-installed attachment piece. I tried a 1/4-20 bolt and it too passed through barely touching the threads. What I did to resolve this was lightly sanded a piece of 1/4" hardwood dowel to fit the bolt hole snuggly, cut a number of groves lengthwise in the dowel with a razer saw (for epoxy channels), cut the dowel to length and epoxied it in the fuselage wing bolt hole. After it set I drilled and tapped the hole with a 1/4 - 20 tap used a new 1/4-20 bolt and all is good. The supplied bolts are a much finer thread, near machine tpi. #2 - Battery area very spacious, a 3000 mAh batterry full forward in the slot balances the bird perfectly. #3 - Very difficult matching colors for touch-up, also, no type of tape will NOT pull factory paint off of the foam, low tack etcetera pull paint clean off. My intent is to add camo on the top surfaces and the issue with paint pulling off so easy makes this task much more challenging. #4 - I used 5 minute epoxy exclusively for the build. #5 - on the underside of the wings there are thin (I assume) carbon stiffeners glued into slots outside of the main spar. One of these was glued only half way rendering the spar useless. I flexed the wing as best I could and used 5 minute epoxy in the slot to secure it in place. #6 - OMG, instructions require a magnifying glass (maybe my 62 year old eyes) and are very brief, prior building experience definitely an asset. These most likely sound petty but the bolt and spar issues would result in in-flight failure at some point. Would I buy another Dynam plane, most definitely, but they have to step-up some QC.
06/01/2018
Jerry B.
United States
Fast shipping of c 47
Came with in a few days, Great shape. Thank you . No broken parts can not wait to fly it
DC
04/30/2018
Daniel C.
Bowling Green KY
Decent C-47 for the money
The quality of this plane is pretty good. Went together fairly easy. I suggest getting a roll like 2"wide packing tape to help with assembly. The supplied glue take a long time to cure. The main wing comes in 2 halves that you use this glue and that's all that holds it together. I used some packing tape and covered the seams with it too give it extra support. The elevator, however, is the hard part. They give you a plastic bracket that spreads between the left and right with a linkage stopper at the bottom. The book tells you to install this AFTER you glue it to the fusilage, however when I dry fitted it, I realized this was a next to impossible task to attempt to place. So I attempted to glue it in place using the supplied glue, but it never setup between the hard plastic bracket and foam elevator. I had to mix up a small dab of epoxy. The final modification I had to make was when attaching the ESC to the motors. First, the styrofoam grooves it's supposed to set it, I had to trim out some foam, then the servo wires were all short and I had to use some extensions. Then I had to trim out a place under the tail so that I could get to the adjustment for the elevator.
04/10/2018
Joe A.
United States
C-47
I love to fly this bird at our local RC field,all the "Old School" Flyers all stop and watch her fly down the runway at slow speed, I can hear them behind me talking about the "Old Days" never fails! Very easy to fly and land, easily get 5 minutes flight times with moderate throttle, with 2200 Mah 11.1 Battery!
Dynam C-47
Looks fantastic, very well put together, but does not have opposite rotating props so that's a downside. Would have liked for the wing edges to interlock for easier gluing, their flat so they slid all over the place for a good 10 minutes before the glue finally set. The takeoff is very squirrels so you must take it very slow and the elevator barley has any throw on mine because it came with the pushrod sleeve not glued down so I had to glue it he best I could or else there was no elevator throw. But other than that it flies very nice at 60% throttle and has a good runtime. I cut out the rear door and mounted a servo and hinges so it can drop a paratrooper! Great plane overall just needs counter rotating props and a better elevator.
Tim Mueller
Looks awesome, easy build, like the steerable tail wheel, the only cosmetic issue is the gap between the fuselage halves