FlightLine F8F-1 Bearcat 1200mm (47") Wingspan - PNP
FLW206P
FlightLine F8F-1 Bearcat 1200mm (47") Wingspan - PNP - FLW206P
The F8F "Bearcat" was Grumman's last piston engine fighter to conquer the skies. First taking flight in August 1944 and powered by a massive Double Wasp engine, the Bearcat's performance was superior to many jet powered aircraft of the same era. Over 1,200 Bearcats were produced, operating around the world and participating in conflicts from Korea to Vietnam. The F8F also served from 1946-1948 with the Blue Angels, the US Navy's premier flight demonstration squadron, and set the foundation for generations of inspiring excellence by Blue Angel pilots. In 2016, FlightLine commemorates the 70th Anniversary of the Blue Angels by presenting this electric flying model to inspire new generations to appreciate the historic F8F Bearcat. This is the only RC Bearcat that is officially licensed by Northrop Grumman.
FlightLine presents an exciting 1/9 scale flying electric replica of the F8F-1 Bearcat. This EPO foam model assembles easily in minutes and features a scale profile with many plastic detail parts such as spring-loaded inner gear doors, highly detailed cowl and radial engine, and removable cannon barrels. The 1200mm wingspan removable wing is easy to transport and strategic carbon reinforcements provide lightweight strength. The Bearcat's magnetic hatch reveals a large battery compartment that can also accommodate a flight stabilization gyro (sold separately). Cooling airflow is channeled over the battery and ESC compartment. Large flaps help stabilize the aircraft for very slow and controlled landings to accomplish that perfect carrier landing!
Scale power is provided by a 3748-580KV brushless motor with 4-blade scale propeller, which provides impressive vertical climbing power and 120kph/75mph level speed on a 4s battery. The Bearcat is optimized for satisfying scale performance and extended flight times of 6-7 minutes on the Admiral 2500mAh, or up to 8 minutes with throttle management using the Admiral 4s 4000mAh.  An optional High Performance Power System Set provides 147kph/87.5mph level speed and increased vertical performance with slightly shorter flight times.
FlightLine's F8F-1 Bearcat is a suitable aircraft for novice warbird pilots to advanced pilots. Its 490mm wide landing gear stance provides stable ground handling especially on grass when compared to other aircraft with narrower gear stances or smaller wheels. The power to weight ratio also allows for most any acrobatic maneuver you can imagine, yet the Bearcat's large wing and flying surfaces are most conducive to stable, scale flight, for an overall relaxing flying experience. Landing under power with full flaps can yield a very short landing length, which is ideal for pilots flying in confined areas.
The FlightLine F8F-1 Bearcat arrives completely painted in dark blue, with green gear wells. Included inside the box are two optional decal sets:
1946 Blue Angels Demonstration Team with 70th anniversary decal
US Naval Reserve, Olathe, Kansas, 1948
  Visit the Official FlightLine F8F-1 Bearcat Discussion Thread on HobbySquawk.com for additional photos, videos, reviews, and customer Q&A.
Features:
Model officially licensed by Northrop Grumman
Removable main wing/elevator for easy transport
Efficient motor for speeds up to

120kph/75mph and 6+ minute flight times

Intuitive internal structural design for optimized cooling of all electronics in the fuselage from the nose to the tail
Large cabin space for easy placement of the battery, radio equipment, and gyro
Improved spinner and propeller mounting design to enable better balance
Optional upgrade complete nylon hinge set included in each box for free
Tall foam rubber 65mm diameter main wheels and additional forward rake angle for operating on short grass runways
Electric retractable landing gear with metal trunions, metal reinforcement plate and 4mm steel wire struts
Upgrade Option:
There is an optional two bladed propeller Sport Power System (sold separately) to achieve speeds up to

147kph/87.5mph

. This Sport Power System includes: 3648-880kV motor, 12x8 2 blade propeller, and 2 bladed spinner. Click the upgrades tab above for more info.
Includes:
FlightLine F8F-1 Bearcat 1200mm (47") Wingspan - (PNP)
Motor, ESC, servos and retracts pre-assembled
Requires:
Product Specifications:
SKILL LEVEL : Intermediate
Wingspan

1200mm / 47in

Length

1085mm / 42.7in

Flying Weight

1550g / 54oz

CG (Center of Gravity)
80mm from the leading edge of the wing at the root

Power System

3748-580Kv Brushless Outrunner Motor (Stock scale power system)
3648-880Kv Brushless Outrunner Motor (Optional sport power system)

Electronic Speed Control

60A Brushless with XT60 Connector

Propeller / EDF

12x7 4 Blade Propeller / 12x8 2 Blade Propeller High Performance Version (optional)

Servos

9g plastic gear standard with 550mm lead: left aileron, right aileron
9g plastic gear reverse with 300mm lead: right flap
9g plastic gear standard with 300mm lead: left flap
9g hybrid gear standard with 300mm lead: rudder, elevator

Landing Gear
Electric retracts with metal trunions

Required Battery

4 Cell 14.8V 2500mAh to 5000mAh LiPo battery with XT60 Connector

Required Radio

6+ Channel 2.4GHz

Ailerons
Yes

Elevator

Yes

Rudder
Yes

Flaps

Split Flaps

Lights

No

Hinge Type

Foam hinges except nylon hinges on flaps

Material
EPO Foam
Skill Level
Intermediate
Build Time
2 Hours
Recommended Environment
Outdoor, minimum 200 foot runway, pavement recommended, less than 1" tall smooth grass
Product Videos
Product Questions & Answers
NOTE:
Questions submitted on this page are answered by customers who have previously purchased this item. If you have a support related question that requires immediate assistance, please visit our
Help Center
.
Product Support
Product Manuals:
Product Updates:
September 11, 2018  -  The FlightLine 1200mm F8F Bearcat recommends a 4S 4000 mAh Lipo, but a 4S 5000 or equivalent weight can be used.  Special care for CG must be taken with this model.
If you need any additional assistance, please visit the Motion RC Help Center
Product Reviews
Customer Reviews
Write a Review
Ask a Question
Very happy with this plane
First off I have been flying for years-all kinds of planes. I wrote a review about the terribly flawed Flightline LA-7. The Bearcat is the opposite and I am very pleased with everything about it. I did, and recommend, a spray coat(s) of gloss polyurathane on top of the decals it also ads a scale look. I use 2200mah batteries and I put approx. 4.25 oz of weight in the nose (took off ***** motor and glued them in the back side of the pistons)- do not overlook applying the correct nose weight! The prop needed minimal balancing-rare for scale multi-blade props. I didn't reference any throw instructions I like a lot of throws- it flies really great. Aileron rolls are pretty darn axial! (no adverse yaw), power is great for performance/scale aerobatics, and it looks great. I have a lot of experience with landings but I appreciate the wide landing gear-although not exactly scale. I think this would be a wonderful plane for someone looking to perfect scale landings, takeoffs, and fun scale aerobatics! Great for the experienced warbird pilot and newer pilots needing a durable great looking performance airplane! Lastly, I really like some of the little details of the Flight-line approach: including multiple decal options, painted wheel wells, scale props/power systems that can actually perform, and really good performance for a fair price.
05/02/2020
JOHN N.
United States
Love the Bearcat
Love this plane but I wish I hadn't of put the black wing stickers on they lasted a day before they started peeling off and kinda looks bad. Other than that a quality product.
04/23/2020
Lanny B.
United States
Bearcat
What I expected of plane is good , decals are not very good in my opinion
02/05/2020
Paul J.
United States
Bearcat!
Very nice details on the plane, I really like the 4 blade prop. Nice choices for decals and are flat as well goes good with the flat blue paint, no flight review yet but I expect it to perform well
01/27/2020
Jimmie N.
United States
Great Plane Flaky Decals
This airplane is easy and quick to assemble. I had to put 2 ounces of lead behind the fake radial engine to get it to balance at the recommended CG, even with an Admiral 4S 4000mah battery full forward. As for performance, it flies as if it doesn't know the weight is there. As others have said, the maiden flight was uneventful and I don't remember it needing any trim adjustments. Observers' comments are it appears to fly as if on rails. As for aerobatics I haven't yet found what it won't do. Landings are uneventful using flaps. It doesn't take off and land, it departs and arrives. The downside is the stick-on decals. I applied the Blue Angels set. One side of the "U" on U S Navy on the fuselage fell off so now it says "L S Navy." I notice the 70 decals are starting to peel and part of the US Navy on the other side is coming loose, and won't stick back down. Perhaps I should have shot some Varithane on it when the decals were new to seal them on. If this persists, maybe I can take them off and see what Callie Graphics has. You buy an airplane to fly and this one does it very well. Therefore, I won't downgrade it because of the decals.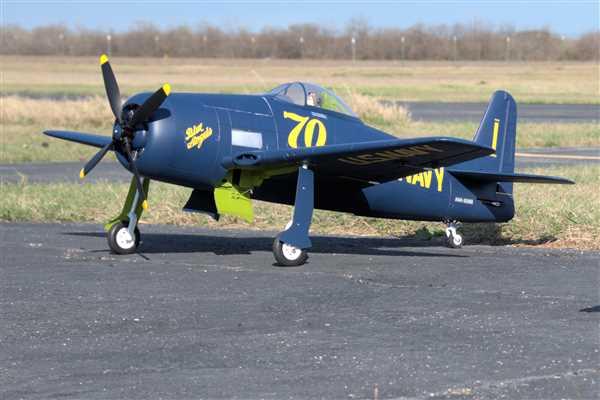 01/03/2020
Nicola D.
France
Super F8
J'adore cette reproduction du bearcat la qualité est au rendez-vous !!
12/13/2019
James L.
United States
love this plane
the decals were a pain ,very easy to break
12/09/2019
Michael M.
United States
10/03/2019
Thomas S.
United States
Awesome plane
Went together really easily. Maiden was totally uneventful, just needed a couple clicks to fly hands off. Highly recommend
Motion RC has a new European website
Go there instead?
Top