FlightLine Hawker Sea Fury 1200mm (47") Wingspan - PNP
$22900
$22900
FlightLine Hawker Sea Fury 1200mm (47") Wingspan - PNP
FLW201P
FlightLine Hawker Sea Fury 1200mm (47") Wingspan - PNP - FLW201P
The Hawker Sea Fury was the last piston engine driven carrier based fighter in British history. Although the Sea Fury did not participate in the Second World War, the aircraft earned distinction operating from British and Australian carriers during the Korean War where its performance and resilience earned the Sea Fury its place in aviation history. The Sea Fury also served across the world in the service of Australia, Canada, the Netherlands, Burma, West Germany, and many other nations. Following its retirement from military service, the Sea Fury continues to amaze audiences in racing competitions and air shows worldwide.
FlightLine presents its Hawker Sea Fury FB.11 in the livery of a VX730/109/K of the 805 NAS, Korea 1951. Constructed using EPO foam, this model uses carbon tubes and plastic parts to reinforce the removable wings and control surfaces. Screws allow the wing and elevator to be easily removed. The four panel split flaps are reinforced with lite plywood, and the fuel tanks can be glued on at the owner's discretion. To maximize performance efficiency, FlightLine's Sea Fury features a four bladed propeller and 580kv motor to achieve satisfying scale performance at 135kph/83mph speeds. An optional two bladed power system (sold separately) can be purchased to reach 150kph/93mph level speeds on the same 4s 14.8v battery.
Features:
Removable main wing/elevator for easy transport
High power motor for speeds up to 135kph/83mph
Intuitive internal structural design for optimized cooling of all electronics in the fuselage from the nose to the tail
Large cabin space for easy placement of the battery and radio equipment
Built-in flat spot near the CG for optimal placement of a gyro (optional, sold separately)
Improved spinner and propeller mounting design to enable better balance
Optional upgrade complete nylon hinge set included in each box for free
Tall foam rubber 65mm diameter main wheels and additional forward rake angle for operating on short grass runways
Electric retractable landing gear with metal trunions, metal reinforcement plate and 4mm steel wire struts
Optional two bladed propeller Sport Power System (sold separately) to achieve speeds up to 155kph/96mph
Includes:
FlightLine Hawker Sea Fury 1200mm (47") Wingspan - (PNP)
Motor, ESC, servos and retracts pre-assembled
Requires:
Product Specifications:
SKILL LEVEL : Intermediate
Wingspan

1200mm / 47in

Length

1085mm / 42.7in

Flying Weight

1550g / 54oz

CG (Center of Gravity)
80mm from the leading edge of the wing at the root

Power System

3748-580Kv Brushless Outrunner Motor (Stock scale power system)
3648-880Kv Brushless Outrunner Motor (Optional sport power system)

Electronic Speed Control

60A Brushless with XT60 connector

Propeller / EDF

12x7 4 Blade Propeller / 12x8 2 Blade Propeller High Performance Version (optional)

Servos

9g plastic gear standard with 550mm lead: left aileron, right aileron
9g plastic gear reverse with 300mm lead: left flap
9g plastic gear standard with 300mm lead: right flap
9g hybrid gear standard with 300mm lead: rudder, elevator

Landing Gear
Electric retracts with metal trunions

Required Battery

4 Cell 14.8V 3600mAh to 4000mAh LiPo battery with XT60 Connector

Required Radio

6+ Channel 2.4GHz

Ailerons
Yes

Elevator

Yes

Rudder
Yes

Flaps

Split Flaps

Lights

No

Hinge Type

Foam hinges except nylon hinges on flaps

Material
EPO Foam
Skill Level
Intermediate
Build Time
2 Hours
Recommended Environment
Outdoor, minimum 200 foot runway, pavement recommended, less than 1" tall smooth grass
Product Videos
Product Questions & Answers
NOTE:
Questions submitted on this page are answered by customers who have previously purchased this item. If you have a support related question that requires immediate assistance, please visit our
Help Center
.
Product Support
Product Manuals:
Product Updates:
March 9, 2017 - There is an optional two bladed propeller Sport Power System (sold separately) to achieve speeds up to 155kph/96mph. This Sport Power System includes: 3648-880kV motor, 12x8 2 blade propeller, and 2 bladed spinner. This Sport Power System is suitable for all 1100-1200mm wingspan warbirds from the FlightLine RC brand. Click the upgrades tab above for more info.
If you need any additional assistance, please visit the Motion RC Help Center
Product Reviews
Customer Reviews
Write a Review
Ask a Question
Super Fury
Finally got to fly the SeaFury, flew perfectly out of the box, and takes the grass well. It went together without issues. Not sure about the Admiral Gyro will have to live with it a bit. Overall well pleased.
04/26/2020
skillshot
United States
Flies nice
Most of the bird was excellent quality and precise but build was a bit frustrating as some of the linkages were too fat to fit in the holes and I had to drill a few holes larger. Worst part was the servo horns were not assembled evenly for flaps and flaps don't quite match at extreme travel.
08/18/2019
Steven B.
United States
High quality kit.
The Sea Fury is a great kit, assembled quickly, and all the foam is straight. I can't say that about a lot of other foamy kit makers. Flew great first time out.
07/03/2019
Martin F.
United Kingdom
Sea Fury
Nicely moulded airframe decent hardware. Flies really well on 4s x 4000 pack. 75g lead added to inside of cowl to balance on 80mm cg point. You need to get it rolling gradually or it will nose over on short grass. Landing, aim for a 3 pointer and get ready to pull back on the elevator as the speed drops off.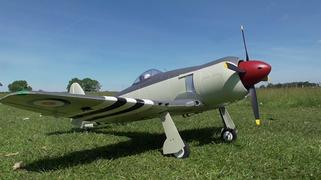 Awesome plane
Easy to assemble looks fantastic in the air
Good for your collection
Well constructed. Easy to assemble. Would have liked to see a power switch. May install one myself
Exellent service.
I bought this plane on the strength of the feed backs from previous customers, and overall l am satisfied though one servo was faulty,but a phone call to them and within a few days l received a replacement.l have yet to fly it but lm sure everything will be splendid.
WOW .. What a great model.
This is an absolutely wonderful put together kit. Goes together easily and perfectly. No dings found when unpacking. The only thing i found was ALL the servo pushrods were the same length. Had to shorten one, and off center 2 servos to gain enough length on the others. One gripe I have with this and some other models; is Invasion stripes on planes that never saw combat in WW2. Sea Fury didn't see service until after WW2 (1946) and I don't think stripes were used in the Korean fight. Also, leave the decals off! I had to do paint touch-ups when the paint peeled while taking the decals off the fuselage. I changed the decals to RCN roundels. But it's a sweetheart of a plane, out of the box, and to the field in 1/2 a day; and I didn't wreck it on it's first 3 minute flight ! Yahoo !
Motion RC has a new European website
Go there instead?
Top