Freewing A-10 Thunderbolt II Super Scale Twin 80mm EDF Jet - PNP
FJ31111P
A-10 Thunderbolt II "Warthog" Super Scale Twin 80mm EDF Jet from Freewing - PNP - FJ31111P
Renowned by its crews and the men and women it has protected on the ground for decades, the A-10 Thunderbolt II, affectionately called the 'Warthog', continues to dominate the skies on CAS missions in conflict areas around the world. Despite first flying over 40 years ago, the A-10's superior ability to execute its intended mission in modern warfare remains unchallenged.
To honor this iconic aircraft we are very proud to announce the world's largest and most definitive foam electric PNP A-10 Thunderbolt RC model aircraft in the world! Powered by twin 80mm EDFs, this 1700mm wingspan beast is larger than any other foam A-10 on the market, yet it remains easy to transport. The Freewing 80mm A-10 delivers the best balance between size, weight, thrust, top speed, stall speed, transportability, rough grass handling, and overall scale fidelity. As an added bonus we've included a full complement of highly detailed weapons in the box; a $50 value!
The model is assembled from just ten main parts. Removable wings and a convenient flexible servo wire harness accessible at the wing root ensures a safe and reliable electronic connection at all times. The A-10's wings are composed of hollow chambered foam with an interlocking matrix of plywood ribs, carbon square spars, and aluminum blocks, providing rigid yet supple handling.
The Freewing 80mm A-10 was specifically designed to be the most grass-capable PNP EDF on the market. While sporting a scale Oleo nose strut, the main struts are tensioned trailing links and the foam rubber tires are over 3" tall and 1" wide. In the air, the A-10's all-new power system delivers a fully scale flight profile. Tall vertical loops, hard "jinking" turns, stable slow flight, and authoritative power. Critically, this model was designed to fly at all throttle points, both upright and inverted, without pitch sensitivity. 
As a semi-scale model, the Freewing 80mm A-10 is finished from the factory in USAF two tone gray. A waterslide decal set with over 50 utility markings and three complete A-10 liveries, is included for the pilot to customize his or her A-10. These decals proudly represent Indiana's 163rd Fighter Squadron "Blacksnakes", Louisiana's 47th Fighter Squadron "Termites" and Georgia's 23rd Fighter Group "Flying Tigers."  (Artwork courtesy of Boom and Zoom Graphics).
Indiana's 163rd Fighter Squadron "Blacksnakes"
Louisiana's 47th Fighter Squadron "Termites"
Georgia's 23rd Fighter Group "Flying Tigers"
For pilots wanting to install a matched pair of their own 90mm EDFs on 6s, we offer a 90mm nacelle which bolts into place and retains the outer dimensions of the stock 80mm nacelle. Own the world's largest, most capable, most customizable, and most powerful foam electric PNP A-10 and add a definitive scale powerhouse to your hangar today!
  Visit the Official Freewing A-10 80mm Discussion Thread on HobbySquawk.com for additional photos, videos, reviews, and customer Q&A.
Features:
Largest foam electric PNP A-10 Warthog in the world
Award Winner at AEF 2017 for "Best Scale Jet"
Full complement of highly detailed weapons included in the box (CAS loadout); a $50 Value!
Weapon plyons are individually removable from the wing and each weapon can be placed on any of the 8 included plylons for total customization.
Grass-ready retracts with metal trunions and 5mm hardened steel pin
Multi-material (full carbon fiber spars, plywood ribs, and aluminum blocks) wing structure for best balance of rigidity and smooth flight handling 
Scale wheel hubs and sequenced nose gear door
DayBright LEDs and sequenced landing light
Screw-on wings and tail surfaces
Flexible wing wire harness for ultimate reliability and resistance to disconnection during wing flexing
Spacious battery bay, no cutting required
Digital Metal Gear Servos throughout (minus nose gear door)
Three unique livery options and 50 different utility decals are included in the box for maximum customization
90mm bolt-on nacelles for those who wish to install a 90mm power system (sold separately)
Model officially licensed by Northrop Grumman
Includes:
Freewing A-10 Thunderbolt II Super Scale Twin 80mm EDF Jet - PNP
Requires:
Product Specifications:
Wingspan

1700mm / 66.92in

Length

1551mm / 61.06in

Flying Weight

5406g / 190.69oz with two 6S Admiral 4000 mAh LiPo Batteries
5714g / 201.55oz with two 6S Admiral 5000 mAh LiPo Batteries


CG (Center of Gravity)
78mm back from the leading edge of the wing root, with the aircraft upright and gear down

Power System

2x 3530-1900KV Brushless Outrunner Motors

Electronic Speed Control

2x 100 Amp ESCs with EC5 Connectors

Propeller / EDF

2x 80mm EDFs with 9 Blade Fans

Servos

9g hybrid standard with 300mm lead : landing gear door
17g metal gear digital standard with two 300mm leads : nose gear steering
30g metal gear digital standard with two 300mm leads : left aileron, right aileron
17g metal gear digital standard with two 100mm leads : left inboard flap, right inboard flap
17g metal gear digital standard with 300mm lead (+ 100mm lead) : left outboard flap, right outboard flap
17g metal gear digital standard with two 550mm leads : right elevator
17g metal gear digital reverse with two 550mm leads : left elevator
17g metal gear digital standard with two 550mm leads (+ 100mm lead) : left rudder, right rudder


Landing Gear

Grass-ready scale oleo nose strut and tensioned trailing link main struts

Required Battery

2x 6S 22.2V 4000mAh - 6000mAh LiPo with EC5 Connector

Required Radio

6+ Channel

Ailerons
Yes

Elevator

Yes

Rudder
Yes

Flaps

Yes

Lights

Yes

Hinge Type

Nylon reinforced hinges

Material
EPO Foam
Skill Level
Advanced
Build Time
1 Hour
Recommended Environment
Outdoor
Product Videos
Product Questions & Answers
NOTE:
Questions submitted on this page are answered by customers who have previously purchased this item. If you have a support related question that requires immediate assistance, please visit our
Help Center
.
Product Support
Product Manuals:
If you need any additional assistance, please visit the Motion RC Help Center
Product Reviews
Customer Reviews
10/31/2019
James G.
United States
10/20/2019
meritt n.
United States
A-10
Second one for me. Hopefully this time I remember to install wing tubes before flight. Oops.....
10/16/2019
Tom N.
United States
A -10 thunderbolt
From The time that you open the box, and begin to unwrap it it's very easily recognized that this is going to be a model of extremely high-quality. The A-10 has detail that you seldom see in foam type models. Assembly instructions follow a step-by-step process that helps you to obtain an A-10 of great detail. They also include flight control angles for control movement suggestions for center of gravity placement to ensure that you don't have any mishaps On your test flight. Test flight was accomplished with two 5200 mha batteries. The test flight was successful. A few loops rolls were performed and landing patterns. After flying for many years, I have learned that you do not slow down on your turn to final approach, otherwise you are likely to stall. So when on final approach power was cut to 30% And angle of attack about 20° the A-10 did perfect landing. After flying approximately 3 1/2 minutes, both batteries were at 30 %.
10/10/2019
Jerry M.
United States
A 10 Warthog
Very nice,top guality gear,easy assembly I have test flown this bird first thing I noticed was the steering is to sensitive had to slow it down. The next thing is the elevator seems to lag when inputs are made and the Gost gray paint job is very hard to see on a partly cloudy day after test flying I am going to put more color to it. Here in South Dakota it is hard to find a decent place to fly my ducted fan jets. The guys that watched were amazed on the performance, looks and sound of this Awesome large twin EDF
10/04/2019
William M.
United States
All It Should Be!
Very well built with great detail. All parts fit together with precision. Finish is very good and the paint doesn't flake off easily. The wiring is easy to understand and connect to your receiver. I had to think out of the box to figure out where to put my receiver because there isn't much wiggle room in there. First flight was better than expected as it practically flies by itself. I land it a bit hot because it's more stable but at higher landing speeds as I try to flair it tends to climb causing me to go around. Just need to practice more and trust slower speeds. All in all I'm very happy with the plane.
09/03/2019
Jeff G.
United States
A-10
Everything about this jet is heavy duty, especially the landing gear. Tracks strait and solid on grass, lands smooth as glass. I use 2- 4500mah pack and get about 4 min flight. Lights look great, goes together easily. A little heavy in the air but has decent vertical and fly's rock solid.
09/02/2019
Dalton H.
United States
Very Impressive
Plane goes together very easy and it sure looks good. The only very small thing I wasn't impressed with was the instruction manual. It was very vague and obviously written by someone with poor English skills. But man what a great kit. I haven't flown it yet because I'm painting it forest camouflage like the A-10s I grew up with in Sacramento. Can't wait to fly it I just hope I don't have to call the NTSB. Very, very nice airplane guys. So simple!!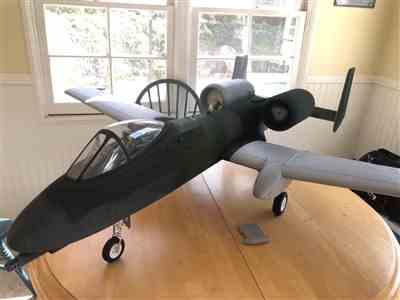 08/27/2019
Tomas V.
Czech Republic
A10
Quality and fast delivery.
08/04/2019
Robert D.
United States
Fantastic!
Easy to build, flies like a dream. I'm a Freewing convert!
Motion RC has a new European website
Go there instead?
Top