Freewing F-14 Tomcat Twin 80mm EDF Jet - PNP
FJ30812P
Freewing F-14 Tomcat Twin 12-Blade 80mm EDF Jet in "Bullet 101" Scheme - PNP - FJ30812P
Version Info: This is the PNP version of the Freewing F-14. The pictures show the optional pylons and weapon set which are not included with the plane. These can be purchased separately by clicking the "upgrades" tab.
We here at Motion RC are proud to announce our Super Scale F-14D Tomcat! Never before has an electric F-14 been produced in this size and with this high a degree of scale fidelity and quality. Easily one of the most beloved jets in history, we're especially excited to offer this thrilling F-14D Tomcat. Our team worked tirelessly to develop an RC model which brings the excitement and scale performance of this hallmark aircraft to your local flying field and to appropriately honor the F-14 Tomcat's rightful place in aviation history. We chose to depict "Bullet 101", the specially marked F-14D from the VF-2 squadron "Bounty Hunters", which was painted in the mid-1990s to celebrate the 25th anniversary of the F-14's service in the United States Navy. 
The signature feature of the real F-14 is its sweeping wing, and we've worked to design this model around this function as well. Our lightweight, aluminum "Wing Box" design supports a rigid wing in both forward and swept configurations. The wings pivot on flat bearings to reduce resistance and wear. Electric servoless actuators extend and sweep the wings using steel control rods and brass ball links. The result of this design is a durable, maintenance-free wing sweep feature which provides pilots with a worthy F-14 flying experience.
Scale fidelity, surface details, and builder-friendliness were also specific areas of focus. The PNP model arrives with the main fuselage completely assembled. All the electronics –servos, EDFs, ESCs, UBEC, retracts, and lights—are completely installed at the factory. The builder simply needs to screw on the wings and epoxy on the forward nose section and the assorted surface details like the wing fences, antennas, pitot tube, etc. To further simplify the wiring and setup, this F14 incorporates an onboard mixing circuit board which controls all the servos, taileron/aileron mixing, wing sweeping, and the lighting package.
While the complexity of this F-14D make it the largest, most impressive, and heaviest EDF jet available at Motion RC to date, the aircraft uses two 80mm 12 blade EDFs and two 6s 4000mAh batteries which can propel it through the sky at 100mph. The Freewing F-14 is also extremely capable and stable at slow flight. The model can cruise at 60% throttle, can turn at 40% throttle even with the wings swept rearward, and can land at less than 40mph with full flaps. The F-14D's two powerplants utilize two 3530-1680kV outrunners and 80A ESCs. An 8 amp UBEC supplies the ten servos with dependable power to all systems.
  Visit the Official Freewing Twin 80mm F-14D Tomcat Discussion Thread on HobbySquawk.com for additional photos, videos, reviews, and customer Q&A.
Features:
Model officially licensed by Northrop Grumman
2x 12 Blade factory balanced 80mm EDFs with metal housing and 3530-1680kV brushless outrunner motors produces realistic jet turbine sound
Rigid aluminum wing box assembly for a swept wing configuration
Pre-installed servoless actuators to sweep the wing during flight
Super scale details include hand painted pilots, antennas, pitot tubes, etc
Proudly displaying the authentic "Bullet 101" livery of the VF-2 squandron "Bounty Hunters"
2x 80 Amp Hobbywing ESCs with single 8 amp UBEC
Electronic retractable landing gear with all metal shock-absorbing struts
Steerable, shock absorbing nose gear for enhanced ground maneuverability
Servo operated nose gear door (pre-installed sequencer)
Carbon spars and EPO foam construction provide the perfect balance between strength and flexibility
9x LED lights plus landing light
Nylon hinges on all control surfaces
Gapless flap hinges
Outrunner motors, servos, ESCs and EDFs come pre-installed for your convenience (PNP version only)
Removable magnetic nose cone for convenient transport
Includes:
Freewing F-14 Bullet 101 Twin 80mm EDF Jet - PNP
Requires:
Product Specifications:
Wingspan

1016mm retracted 1550mm extended / 40in retracted 61in extended

Length

1498mm / 59in

Weight

4160g without battery / 147oz

CG (Center of Gravity)
393mm measured back from the intake

Power System

2x 3530-1680kV Brushless Outrunner Motor

Electronic Speed Control

2x 80A ESCs, 8A UBEC, EC5 Connector

Propeller / EDF

2x 80mm Metal EDF with 12 Blade Fan

Servos

9g hybrid gear standard with 850mm lead (use 550mm + extension) : nose gear door
9g hybrid gear standard with 750mm lead (use 550mm + extension) : nose gear steering
17g metal gear standard with 650mm lead (use 550mm + extension) : left aileron, right aileron, left elevator
17g metal gear reverse with 650mm lead (use 550mm + extension) : right elevator
17g metal gear standard with 550mm lead : left flap
17g metal gear reverse with 550mm lead : right flap
17g metal gear standard with 300mm lead : left rudder, right rudder


Landing Gear

Electronic retractable main gear and steerable nose gear with all metal shock absorbing struts

Required Battery

2x 6S 22.2V 4000mAh LiPo (required)

Required Radio

7+ Channel full range 2.4Ghz (using pre-installed mixing board)

Ailerons
Yes

Elevator

Yes

Rudder
Yes

Flaps

Yes

Lights

Yes (landing light, 9x LEDs)

Hinge Type

Nylon gapless hinges

Material
EPO Foam
Skill Level
Advanced/Expert
Build Time
2 Hours
Recommended Environment
Minimum 300 foot runway, recommended pavement, mat, or short turf
Product Videos
Product Questions & Answers
NOTE:
Questions submitted on this page are answered by customers who have previously purchased this item. If you have a support related question that requires immediate assistance, please visit our
Help Center
.
Product Support
Product Manuals:
Build Videos:
Product Updates:
September 19, 2015 - The weapons set shown in the photos is available separately and is not included with the PNP or KIT+ aircraft. The weapons sets do add weight and lots of drag, which decreases the model's top speed by ~12-15 mph.
If you need any additional assistance, please visit the Motion RC Help Center
Product Reviews
Customer Reviews
11/28/2019
Patrick L.
United States
Do your homework and be rewarded.
Purchase, Build, and Tx setup. If your looking at this review to help you make up your mind, don't stop here with my review. I'm just one voice. I always read reviews and check out YouTube on models I'm interested. The RC Geek and RC Informer have great build, modifications, and transmitter set-up's that are worth there weight in gold in watching on the F-14. After investigation I purchased the F-14. I wasn't looking for something easy, in fact I wanted a little complexity. Unboxing. Well boxed. No issues. Shipping was quick, it's MotionRC, it's always quick. Assembly. Here is where the RC Informer and The RC Geek videos are great. As I said earlier, I wanted a little complexity, it's not a 15min assembly. But it's not all that difficult either. I followed the Informers battery tray modification, which similar to The RC Geeks, but not identical. The Mod allows larger MAH batteries (Flying time). Instructions were typical, the build video by Informer is step by step and is very helpful. Your going to want to purchase some extra items if your going to place your Rx in the back compartment. 6 male to male extensions. Motion carries. Optional. If your Spektrum, I'm DX20, purchase the Admiral 10 cg receiver andI bought a satellite receiver. The Rx fits under the wing back cover. Tx programming. Best advice i can give you again is to watch their videos. Then figure out which programming works for you, and that might be determined by your transmitter. I choose the Geeks, as it is scale to the full size F-14, and complex. But you get a great flying and landing bird. Thank goodness he had a download on his website. OMG! If I would have had to work out that programming, were talking days and days. . There are other mods you can do to the F-14; Afterburners Functional tail hook. Functional rear split air brake. Perhaps MotionRC on their next F-14 run will redesign the battery tray, main landing gear support, and possibly internally conceal the mains. Well that's it for now.
JL
11/19/2019
Janne L.
Finland
Excellent jet
Just received this plane and it was a really fast delivery. Actually package came day earlier than expected. I want to give thanks for whoever sent me this from the warehouse, you made my day just typing thank you in my native language. Thank you. Also thanks for you all who put your reviews and modification videos to youtube. You guys spared me lot of time. Now going to put this baby together
10/21/2019
CLEMENT D.
United States
10/05/2019
Robert D.
United States
Have not flown near 14 yet but I have weathered and done a lot of paint work on it I'll show you some pictures
Hey Have not flown near 14 yet but I have weathered and done a lot of paint work on it I'll show you some pictures.Well I can't find the thing to send any pictures that you have 14 but it's pretty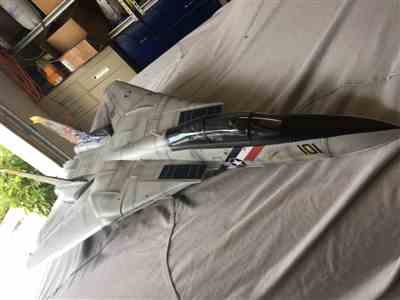 F-14 Tomcat review 1
Personally to me it's the best plane on the site. It's just looks so good and the wing feature is way better. I'd recommend it to anyone buying a high end plane. I will admit it's a bit expensive if you are buying everything. For me total was around $1030 with plane, radio, batteries and everything needed. If you don't plan on using flaps, use a 6 channel radio and receiver, much cheaper.
07/19/2019
Douglas P.
United States
Awesome Plane
Flown the Tomcat around 30 times now and it is the best plane that I have ever owned. I only have a 6 channel receiver, so I do not use the flaps on this plane at all and there is really no need in my opinion. I just take off and land a bit hotter than normal. I have the flaps locked in place......I have video of the plane taking off I would say in under 40 feet just full throttling it until rotation off a small half basketball court at my local park. It hits a small dip/ledge off the backside of the basketball court, sinks about a quarter foot until lift catches the plane and then it's off into an adrenaline rush:) It is capable of taking off a lot quicker than I anticipated. Swept wing mode isn't difficult however I did notice what others have mentioned as far as the plane being a little finicky with the wings back. Not anything drastic, but it's noticeable to me.....You almost have to fly it to understand and feel what people have mentioned. Overall the plane looks amazing, flies great, and is actually faster than I thought it would be. Unboxing it I was like a kid at Christmas time.....Haven't been that excited for a plane in a while. Great job on this one Motion!
07/10/2019
Brad H.
United States
Motion RC has a new European website
Go there instead?
Top