Admiral RX600SP 6-Channel DSMX Compatible Receiver with Stability Plus Gyro
ADMR04
Admiral RX600SP DSMX™ Compatible 6-Channel Receiver with Stability Plus Gyro and Diversity Antenna
These Admiral DSMX™ compatible stabilized gyro receiver is manufactured with custom firmware for Motion RC that drastically simplifies the stabilizer programming functions and gyro functionality.  This Admiral 6 channel receiver features a built in gyro for stabilization and a diversity antenna for better range and the most reliable coverage for your model.
The gyro mode can easily be changed remotely from your radio even without using a channel. The Motion RC firmware allows the gyro-receiver to work with 6 channel radios flying 6 channel planes while still retaining the ability to remotely change the gyro mode from the radio without taking an extra channel. The available gyro modes are off, stability, or stability plus. Any two of these three modes can be controlled remotely - you simply pick which of the two modes you want available. The default modes are stability and stability plus. The stability mode functions like the normal 3 axis gyro we are all familiar with. Stability plus mode fully utilizes the 6 axis gyro with a "Panic Recovery" feature.  For those with an 8+ channel radio, we've now added the ability to control the master gain from your radio using AUX3. 
Motion RC picked the best receivers on the market and worked with the manufacturer to make them even better.  These receivers are an excellent value for RC pilots with the reliability and performance that Admiral products are known for in the hobby.
Important Disclaimer:
This is not a Spektrum™ DSMX™ product, nor is it a copy of a Spektrum™ DSMX™ product.
Admiral receivers are designed to be compatible with Spektrum's™ DSMX™ product.
The Spektrum™ and DSMX™ brands are a trademark of Horizon Hobby, Inc.
NOTE:  This RX600SP 6-Channel Receiver is not compatible with the Admiral DSMX™ Compatible Satellite Receiver with Diversity Antenna.
Features:
Fully compatible with Spektrum™ DSMX™ products
"Panic Recovery" can stabilize your plane - from any attitude - to get your model back to straight and level flight
Full range 6 channel receiver with gyro and diversity antenna for exceptional range and reliability
Includes:
Admiral RX600SP 6-Channel Receiver with 6-axis Stabilizer Plus and Diversity Antenna
Bind Plug
2 sided tape for easy installation
Requires:
Any Spektrum™ DSMX™ Compatible Full Range Radio - Select a minimum 6 channel Spektrum™ compatible radio from our Radio Collection
Product Specifications:
| | |
| --- | --- |
| Number of Channels | 6 |
| Modulation / Protocol | DSMX™ Compatible |
| Band | 2.4GHz |
| Range | Full |
| Telemetry | No |
| Integrated Gyro | 6-Axis |
| Voltage Range | 3.45-8.4V |
| Antenna | Dual Diversity |
| Dimensions (L x W x H) | 37.4 x 27.6 x 9mm |
| Weight | 7g |
Product Videos
Product Questions & Answers
NOTE:
Questions submitted on this page are answered by customers who have previously purchased this item. If you have a support related question that requires immediate assistance, please visit our
Help Center
.
Product Support
Product Manuals:
Product Updates:
January 28, 2019  -  Disregard the notice in the Quick Start Guide above concering placing this unit inverted.  The Admiral RX600SP will NOT work inverted. This device is meant to be mounted right side up only.
August 17, 2018  -  If you have been experiencing setup issues with the Admiral RX600SP the following is advice that should be of help:  To calibrate the gyro sensor, please put the stabilizer PLUS on the table and power it on (absolutely still, no people jumping around, no wire movement…etc. slight vibration will cause gyro calibration failure indicated by the red LED flashes twice). The gyro will calibrate automatically at the time when power is provided. Within 2 seconds you should see the LED flashes twice. Green flashes twice means calibration is OK while red flashes twice means calibration failed due to movement.
June 1, 2018  -  This receiver has no port for a satellite as that section of the receiver has the mode button in it's place.
January 18, 2018  -  The most common installation has the Stabilizer Plus upright in the aircraft (i.e. on a surface that is horizontal when the model is in normal level flight attitude).  The long axis of the unit must be aligned with the flight direction and the servo connectors should be to the rear of the aircraft.  Also, if you have a 7+ channel radio, you can use the BIND/AUX2 port as a fully functional 7th channel with the gyro on or off.
If you need any additional assistance, please visit the Motion RC Help Center
Product Reviews
Customer Reviews
Write a Review
Ask a Question
06/01/2020
Jake T.
United States
Nice Product!
This was my first admiral stabilizer and so far I am very pleased. I have had many lemon receivers and the setup/functionality is similar but does differ slightly so it took me a bit longer to complete installation. What I have noticed is that the surface response range seems to be more on the aggressive side with the lemons and a little more subtle with the admirals. This is all relative of course and can be ultimately controlled/dialed in via pots/master gain. One thing that anyone choosing the admiral should note is that you MUST NOT assume that a newly received receiver will be pre-programmed to COMBO A. I made this assumption and eventually discovered after I had already completely connected receiver that it was actually in COMBO C. Take the time after binding to go ahead and set to the COMBO you desire. The best feature of this receiver is the recovery function which works very well to level up your plane quickly from any orientation. The instructions recommend the use of the bind button but I chose the trainer switch which seems a more logical choice for the application. Definitely going to continue using this receiver in future planes. Thanks MRC!
05/28/2020
William W.
United States
RX600SP
Works as advertised.Great Rx at an excellent price.
05/28/2020
Frank S.
United States
Works excellent
I installed in p40 and it works great.
05/28/2020
Mike P.
United States
Ratings Based On Expectations
This was purchased for a future project that has not been started. Looks, packing and fast shipment get 5 stars. I'll update my rating I actually use it.
05/27/2020
John R.
United States
stability
I watched all 6 videos that explain how to use and set up the receiver. They were very thorough and easy to understand. I have been flying high wing models and don't really need the stability option. I am trying to move into a low wing "go fast Plane" A mustang to be precise. I tried to fly it and did not do very well. Now that it is all repaired I thought this receiver would help. I look forward to trying it.
05/27/2020
James S.
United States
RX600SP-6 RX
Although I've only flown it about 5 times it seems to be working great. I installed it in my first EDF. It was easy to install and get hooked up. Also, it's fairly thin and not to big giving it a small footprint. Making it easier to place in smaller areas that are normally not used or overlooked.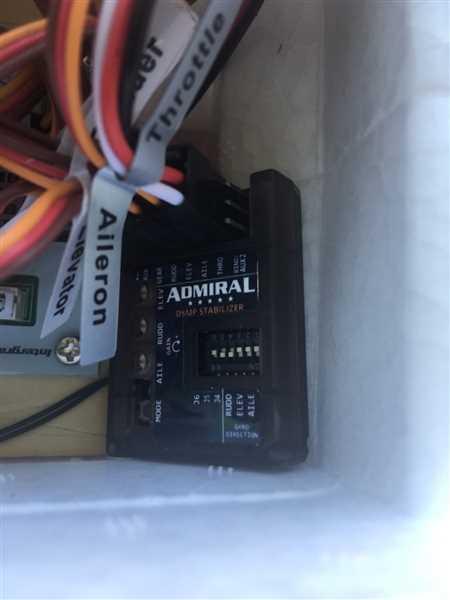 05/27/2020
George S.
United States
Quick set up
Easy to use and install, good stability and assist in flying. My second admiral.
05/22/2020
Stuart W.
United States
RX600SP
Great receiver and arrived in no time. Thanx Motion RC
05/21/2020
Len M.
United States
I have three of these recievers.
I have three of these installed in EDF's. All of them work fine as designed.
Motion RC has a new European website
Go there instead?
Top