Dynam B-26 Marauder 1500mm (59") Wingspan - PNP
This product is discontinued
Spare parts available below
DY8972PNP
Dynam B-26 Marauder 1500mm (59") Wingspan - PNP - DY8972PNP
The Martin B-26 Marauder was one of the most successful Allied bombers of World War II. After a challenging introduction, the B-26 eventually became beloved for its exceptional durability and excellent medium bomber capabilities. Nicknamed the "Flying Torpedo", the B-26 Marauder ended the war with the lowest combat loss rate of any American aircraft, bringing thousands of aviators safely home.
Dynam's 1500mm wingspan B-26 Marauder brings the familiar scale outline of this iconic aircraft to the skies again! The aircraft is Dynam's most ambitious warbird to date, introducing redesigned tricycle retracts for improved reliability and all new counter rotating propellers for scale appearance. To maximize convenient assembly and transport, the B-26's outer wings can be detached from the engine nacelles, or the entire wing can be removed as one single piece. Major assembly of the aircraft is completed with only ten screws! For a large aircraft its size, the Dynam B-26 can be made very portable to fit in a small car's trunk in under three minutes.
The aircraft is optimized for a 4s 4000 battery for extended flight time and a good balance of thrust, wing loading, and flight duration. A large battery hatch provides plenty of space for a receiver or optional gyro. Flaps shorten takeoffs and reduce landing speeds, and the tall rudder has excellent authority. Power is provided by two Detrum 3512-650kV brushless motors for satisfying sport scale performance. The two Skylord 40A ESCs are mounted behind each motor for ideal cooling and the counter-rotating 10.5x8 propellers enhance the scale fidelity of the aircraft. Providing capable handling on short grass runways, in addition to the redesigned retracts the Dynam B-26 Marauder also features steel wire struts and soft scale sized foam rubber tires.
Model aircraft from Dynam make excellent cost effective platforms for personalization and detailing, and this B-26 continues that tradition. The canopy and nose covers are easily removed for detailing inside by ambitious modelers. There is even space in the belly if pilots want to add their own bomb bay door. We are also proud to partner with www.Callie-Graphics.com for a wide lineup of optional decal sets to help customize your Dynam B-26 with several other liveries representing aircraft from both the Pacific and European theaters of World War II. With Dynam and your imagination, the sky isn't the limit, it's just the beginning!
  Visit the Official Dynam B-26 Marauder Discussion Thread on HobbySquawk.com for additional photos, videos, reviews, and customer Q&A.
Features:
Three-piece main wing and detachable horizontal stabilizer and vertical stabilizer for easy assembly, transport, and storage
Redesigned electric servoless retracts
All new scale counter-rotating propellers (a first for Dynam!)
Special scale details including forward, rear, top and side gun turrets
Optimal cooling position for ESCs
Four panel flaps
Bright LED lights
Includes:
Dynam B-26 Marauder 1500mm (59") Wingspan - (PNP)
ESCs with XT60 connectors, servos, flaps and motor come pre-installed for your convenience
Decal set
Requires:
Product Specifications:
SKILL LEVEL : intermediate
Wingspan

1500mm / 59in

Length

1126mm / 44.3in

Flying Weight

~2350g / 82.89oz

CG (Center of Gravity)
Refer to the manual

Power System

2x 3512-650kV Brushless Outrunner Motors

Electronic Speed Control

2x Skylord 40A ESCs with XT60 connectors

Propeller

Counter-rotating 10.5x8 propellers

Servos

9g standard with one 550mm lead and one 300mm lead : left aileron, right aileron
9g standard with one 550mm lead : left outboard flap, right outboard flap
9g standard with one 300mm lead : left inboard flap, right inboard flap
9g standard with one 550mm lead : nose gear steering
17g standard with one 550mm lead : rudder, elevator


Landing Gear

Electric servoless retracts

Required Battery

4S 14.8V 4000mAh LiPo Battery

Required Radio

6+ Channel

Ailerons
Yes

Elevator

Yes

Rudder
Yes

Flaps

Four Panel

Lights

Yes

Hinge Type

Foam

Material
EPO Foam
Skill Level
Intermediate
Build Time
2 Hours
Recommended Environment
Outdoor
Product Videos
Product Questions & Answers
NOTE:
Questions submitted on this page are answered by customers who have previously purchased this item. If you have a support related question that requires immediate assistance, please visit our
Help Center
.
Product Support
Product Manuals:
If you need any additional assistance, please visit the Motion RC Help Center
Product Reviews
Customer Reviews
Write a Review
Ask a Question
12/09/2019
jesse p.
United States
This plane is beautiful, but not for beginners
It is a beautiful and comes together fairly quick if you know what you are doing. The extremely limited instruction will not help you at all. I still havent figured out the decals. There must be some kind of trick because I cannot get the to peal off the sheet to apply them to the cleaned surface of the plane. I cannot wait to get it finished so I can take it out on the maiden flight.
11/30/2019
MikeP51D
United States
Dynam B 26
OK, I know Motion isn't caring Dynam anymore, but I did buy it from Motion a year or so ago. Anyway I have learned a lesson in that if you do not intend to immediately build it do more than just open the box for a look. TAKE IT OUT AND EXAMINE IT! I finally decided to build it and what a disappointment. I know Dynam is supposed to be a value model, but come on. Where's the value when you have to spend hours fixing all the defects; like flap linkage that doesn't allow the flaps to close after re-gluing the loose flap hinges. Trouble shooting retract problems only to find you need to replace one. And oh by the way Motion doesn't have any in stock and I doubt they ever will since they are not carrying Dynam.. More dings, scrapes and broken guns than is reasonable. Wish I would not have bought it.
11/27/2019
Tom S.
United States
B-26
Overall quality of the model is not up to par compared to other manufacturers. Had to order a new main gear servo since the installed one would not retract completely. Main gear mounts both had to be re-glued after three smooth grass landings. Otherwise flys great. Looks very realistic on final with full flaps down. Overall it's a keeper.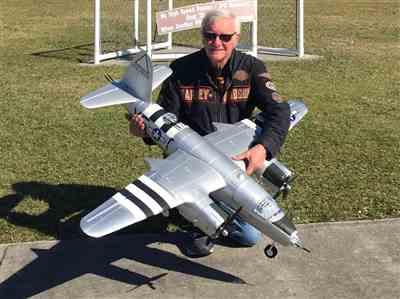 10/30/2019
Michael T.
United States
Very Little Glue
On the maiden flight the left wing folded. The plane was totaled when it crashed. I and others found a panel that holds the spar in place had not been glued. I would not recommend this plane.
10/28/2019
Timothy A.
United States
Old school. No Freewing but with work is nice.
Nearly all hinges loose. Servo wires ran through spar slot. Had to open up the main wing to fix. Couldn't get main spar in. All servos worked. Highly recommend visiting Hobby Squawk to get required mods. Flew well if done correctly. Not for beginners. Looks killer!
Scale warbird
What a stunning plane and really enjoyable to fly yet it can be a handful from grass. I found the B-26 to be a little under powered and be prepared to spend a fortune on props. The take offs and landings are to scale. Full flaps help with landings, especially on grass landing. I must admit that that decals are water/slide on and do come off quite easily. Spare parts are plentiful at the moment. I bought a new gun set which showed x4 guns in the pack but the price was only for x1. Fortunately Motion rc customer service were great and sent me x3 others (thanks again motion rc).
08/21/2019
JOSEPH V.
United States
Dynam B 26
Beautiful. I have not flown it, I am going to paint up to be a replica of the B26 which was piloted by my uncle and all but 2 crew were lost when it was hit by flak over Germany. The Plane was New York Central II
Heads up!!!
WARNING!!! The rear wing mount screw brackets can pull out very easily from over tightening, rough runways, or high G maneuvers!!! Mine did and luckily I was able to land it with the fuselage hanging from the front mounts. Relocated them lower, below more foam and reinforced area. Read other reviews. Great value, fly's great and lots of fun for the buck!!!
Be ready for some work
Ok, I'll admit it, I have two B-26's. It's a beautiful airplane. The only thing is you get what you pay for. I.e. misaligned parts, hanging up gear, and nonworking flaps. Otherwise, she's a doll. If you don't mind frustration along with a bad feeling about wanna be aircraft manufacturers, get one,or two, or...
Motion RC has a new European website
Go there instead?
Top