Dynam Hawker Hurricane V2 1250mm (49") Wingspan - PNP
This product is discontinued
Spare parts available below
DY8966PNP
Dynam Hawker Hurricane V2 1250mm (49") Wingspan - PNP - DY8966PNP
This is the new and improved version (V2) of the Hawker Hurricane. This new version now includes a Tomcat Skylord 40 Amp ESC with XT60 connector, pre-installed flaps, pre-installed flap servos, LED lights with pre-soldered connector ends and LED light controller for static and flashing operations.  The Hawker Hurricane is a British single-seat fighter aircraft that became renowned during the Battle of Britain, accounting for 60% of the RAF's air victories in the battle, and served in all the major theatres of the Second World War.  Dynam brings the Hurricane back to life with this exciting new 1250mm (49") wingspan - PNP version.  All you need is a 5 channel radio, 5 channel receiver and 4S 14.8V 2200 mAh Li-Po battery to take to the skies!
Features:
NEW!

 

Tomcat Skylord 40 Amp ESC with XT60 connector

NEW!

 

Flaps and flap servos are now pre-installed and fully operational
NEW!

 

LED navigation lighting with LED control board (no more bare leads)

Realistic scale features including WWII RAF paint scheme, hand painted pilot figure, gun turrets, and molded panel lines

Servoless electronic retractable landing gear

Powerful

BM3720A-KV600 Brushless Outrunner motor
Scale 3-blade propeller
Includes:
Dynam Hawker Hurricane V2 1250mm (49") wingspan - Receiver Ready

40A ESC with XT60 connector, servos, motor, flaps, LEDs and electronic retractable landing gear come pre-installed for your convenience
Requires:
Product Specifications:
SKILL LEVEL : Intermediate
| | |
| --- | --- |
| Wingspan | 1250mm / 49in |
| Length | 1003mm / 39.48in |
| Flying Weight | 1460g / 51.6oz |
| CG (Center of Gravity) | 65 - 70mm from the leading edge at the wing root |
| Power System | BM3720A-KV600 Brushless Outrunner Motor |
| Electronic Speed Control | 40A Brushless with XT60 connector |
| Propeller / EDF | 13x7 3-Blade Prop |
| Servos | 4x 9g standard |
| Landing Gear | Electronic retractable main gear |
| Required Battery | 4S 14.8V 2200mAh 25C LiPo with XT60 connector (required) |
| Required Radio | 5 Channel (required) |
| Ailerons | Yes |
| Elevator | Yes |
| Rudder | Yes |
| Flaps | Optional (requires 1 forward and 1 reverse 9g servo) |
| Lights | No |
| Hinge Type | Foam |
| Material | EPO Foam |
| Skill Level | Intermediate |
| Build Time | 2-3 Hours |
| Recommended Environment | Outdoor |
Product Videos
Product Questions & Answers
NOTE:
Questions submitted on this page are answered by customers who have previously purchased this item. If you have a support related question that requires immediate assistance, please visit our
Help Center
.
Product Support
Product Manuals:
If you need any additional assistance, please visit the Motion RC Help Center
Product Reviews
Customer Reviews
Write a Review
Ask a Question
09/04/2019
Peter J.
United Kingdom
Dynam Hawker Hurricane V2 1250mm PNP
This is based on unboxing /assembly only as I have yet fly due to a spell of wet and windy weather that just won't give up. The kit makes up to be a sturdy and attractive model with a scale like and impressive presence. My only comment at this stage is that the underside of the wing is very untidy with the wiring channels untaped and wires exposed, this is a pity as model is well equipped with flaps/ailerons and U/C all being power supplied by numerous wires.
09/04/2019
Butch M.
United States
Hawker Hurricane
The instructions left much to be desired, and were yellowed from age, so I have no idea how old this plane was. The decals could have been better and the paint was chipped in several places and missing in a few. The rod for the rudder was 2 inches short and had to be replaced which was no small task.
07/13/2019
lee d.
United States
Dynam hurricane
Love this plane for its detailed scale look. This is my second in two months after I crashed my first. Unfortunately, I've had a few quality issues. Most notably a bad ESC in the new model. I had to use the ESC from the crashed model which works perfectly. It would have been a major problem if I didn't have that. Overall beautiful looks and flies well. Motion RC is a great company to do business with. The best online hobby supplier that i have dealt with and that's quite a few.
06/22/2019
mark E.
United States
Awsome customer service
Hurracain arrived in good time and good condition unfortunately it had a bad servo ,but motion rc sent me a new one no problem and fast..i really like there customer service there knowledgeable and sort out problems asap,i will definitely be buying again from these guys..
Ok plane for its price
Nice plane, quality ok for its price... Flies well, no surprises in behaviour. It's a pity that flaps and exhausts are not scale... Although in the air it looks nice. Had to add 90 grams of wheight in the nose to have CG in range with Admiral 4s 2200 mAh. During first flight left landing gear failed to come down and had to belly land. Landing gear strut came loose, had to fix it by changing the screws in the electric retract, works well now. Flaps do help slowing the plane down but even without flaps landings are easy. Have around 10 flights, I'm happy how it performs and enjoy flying it. It's a keeper. Was my first motion rc experience. Loved it, ordered during lunch break on Monday, delivered on Tuesday (next day) in the morning.
dynam hurricane
Very good looking warbird alot better looking than I expected,the foam is the toughest I have seen,flies nice very stable with a 28004s ,had to replace rudder servo little 9g servo not up to rudder and tailwheelwould not center put in a 12g servo works fine now ,new tomcat motor is smooth plenty of power I give it 5 stars even with servo change, great plane for the money as usual great customer service and fast shipping ,got to love motion rc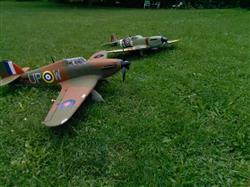 Horrible CG
I don't know if it's just me and mine but my Hurricane was way out of CG. The suggested battery was nowhere near enough to keep the nose down. I added almost two pounds in the nose to make it barely into limits. Even then, it still wanted to keep the nose up in flight. I know its a fighter and they're supposed unstable but this guy seemed all over the place. The gear malfunctioned before my first flight, only one wheel would come back down after going up. Had that replaced and it worked great, until I flew it. Brought the other gear up and belly landed in the grass so it wasn't too terrible. All in all, I'd love to keep her flying, the Hurricane is my favorite warbird of them all and this model looks amazing, but it's just not worth it.
Quick Landing Gear Fix
The landing gear struts on Dynam warbirds are little better than coat hangar wire. I used Hangar 9 40 size landing gear struts with the coil, drilled out the trunnions to 5/32nds and installed them in the Hurricane. We fly off grass and with the shock absorbing struts have experienced no problems. When the gear is retracted the missing gear covers are not an issue. With a little effort the gear doors could be attached if desired.
How to correct tip stall which makes this airplane difficult to land.
I was having great difficulty when slowing and flaring to touch down. When attempting to flare the airplane would roll quickly, usually to the left and if you weren't really quick with rudder and aileron you would catch a wing tip and flip over. With no shock absorbing coils in the landing gear struts a bent strut was usually the result. I solved the problem by raising both ailerons 1/16th of an inch thus inducing some washout due the ailerons being at the wing tips. With 15% exponential on the elevator I can now make smooth slow gentle landings as with my Dynam Spitfire and P-51.
Motion RC has a new European website
Go there instead?
Top