Dynam Mini P-51 V2 762mm (30") Wingspan - PNP
This product is discontinued
Spare parts available below
DY8964PNP
Mini P-51 V2 762mm (30") Wingspan - PNP from Dynam - DY8964PNP
This is the version 2 (V2) of the Dynam Mini P-51.   Easy to assemble and a blast to fly.  We love this little gal and we think you will too!  
Features:
Nice scale looks and performance
Quick and easy assembly
Includes:
Dynam Mini P-51 V2 762mm (30") Wingspan - PNP
ESC with JST connector, servos and motor come pre-installed for your convenience
Decal set
Requires:
Product Specifications:
SKILL LEVEL : intermediate
| | |
| --- | --- |
| Wingspan | 762mm / 30in |
| Length | 665mm / 26.2in |
| Flying Weight | 300g /10.6oz |
| CG (Center of Gravity) | 50 - 55mm from the leading edge at the wing root |
| Power System | BM2804 KV1900 Brushless Outrunner |
| Electronic Speed Control | 18A Brushless with JST connector |
| Propeller / EDF | 8x4 prop |
| Servos | 4x 3.7g standard |
| Landing Gear | Removable |
| Required Battery | 2 Cell 7.4V 800 mAh LiPo Battery with JST connector (required) |
| Required Radio | 4 Channel (required) |
| Ailerons | Yes |
| Elevator | Yes |
| Rudder | Yes |
| Flaps | No |
| Lights | No |
| Hinge Type | Foam |
| Material | EPO Foam |
| Skill Level | Intermediate |
| Build Time | 1+ Hour |
| Recommended Environment | Outdoors |
Product Videos
Product Upgrades
Product Questions & Answers
NOTE:
Questions submitted on this page are answered by customers who have previously purchased this item. If you have a support related question that requires immediate assistance, please visit our
Help Center
.
Product Support
Product Manuals:
If you need any additional assistance, please visit the Motion RC Help Center
Product Reviews
Customer Reviews
Write a Review
Ask a Question
Dynam Mini P-51 V2 762mm
I bought this little airplane to flight it in a small park just in front of my apartment and this airplane is awesome.I combine it with a lemon-rx receiver with stabilizer plus satellite and this little airplane handles the wind super well and flies like a kite.I'm very happy with this buy.
Nice little plane
I haven't flown in about 25 years. I got myself a UMX Timber several weeks ago and re-learned how to fly. Soon I wanted something little sportier and faster, but didn't want to invest allot knowing there is a good chance I'd crash it while learning. Well, I've flow it about two dozen times and haven't crashed yet! I had to remove the landing gear and hand launch do too my flying sight. No problem, plane fly's great. This plane is 800mm which is a little bigger than most in this class. I attribute that to it's stable flight. The only problem I had was that the rear fuselage was cracked where the horizontal stabilizer goes. Glued it back no problem. I don't understand this damage however because the box was in perfect shape. Everything else was straight and all parts where there, including glue and an extra prop. Nice plane, fly's great!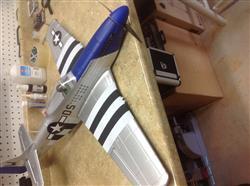 You get what you pay for.
This plane is NOT a PNP. Mine had 2 of the 4 servoes fail on the workbench. I had to go through my spare servpe stash to replace them. Can't critique the flying though, haven't finished the build. I'll keep ya posted.
Motion RC has a new European website
Go there instead?
Top