Dynam Tiger Moth 1270mm (50") Wingspan - PNP
This product is discontinued
Spare parts available below
DY8957PNP
Dynam Tiger Moth 1270mm (50") Wingspan - PNP - DY8957PNP
The de Havilland DH.82 Tiger Moth is a 1930s biplane designed by Geoffrey de Havilland and was operated by the Royal Air Force (RAF) and others as a primary trainer. The Tiger Moth remained in service with the RAF until replaced by the de Havilland Chipmunk in 1952, when many of the surplus aircraft entered civil operation. Many other nations used the Tiger Moth in both military and civil applications, and it remains in widespread use as a recreational aircraft in many countries. It is still occasionally used as a primary training aircraft, particularly for those pilots wanting to gain experience before moving on to other tailwheel aircraft.
We are happy to add Dynam's Tiger Moth PNP to our fleet of Dynam product. Created with a classic appearance with vivid scale details. The wingspan is 50 inches long and the fuselage has an overall length of about 41 inches. Under the cowl you will find a 650KV brushless outrunner motor connected to a Detrum 40 amp brushless speed controller. The control surfaces are handled by (4x) 9 gram Dynam servos for precise movement. The entire electronics and power system is powered by a recommended 14.8v 2200mah LiPo battery for power and efficiency. The Dynam Tiger Moth is stable in flight due to the balanced center of gravity and bi-plane design. You will find this model to be stable yet agile in its maneuvers allowing a wide scope of skill levels to enjoy.
This almost ready to fly version comes with all the essential electronics installed. The servos, brushless speed controller (ESC), and brushless motor are all installed. Simply add your own radio, receiver and battery to begin to grace the skies with this classic!
Features:
Realistic scale features including attractive Tiger Moth yellow paint scheme, molded panel lines and decal set

Powerful

BM3720A-KV650

Brushless Outrunner motor
Steel cable to enhance scale detail for the wings
Includes:
Dynam Tiger Moth 1270mm (50") Wingspan - Receiver Ready

ESC with XT60 connector, servos and motor come pre-installed for your convenience

Decal set
Requires:
Product Specifications:
SKILL LEVEL : Intermediate
| | |
| --- | --- |
| Wingspan | 1270mm / 50in |
| Length | 1050mm / 41.3in |
| Flying Weight | 1450g / 51.2oz |
| CG (Center of Gravity) | 115-120mm from the leading edge of the top wing at the root |
| Power System | BM3720A-KV650 Brushless Outrunner Motor |
| Electronic Speed Control | 40A Brushless with XT60 connector |
| Propeller / EDF | 2-Blade Prop |
| Servos | 4x 9g standard |
| Landing Gear | Fixed |
| Required Battery | 4S 14.8V 2200mAh 25C LiPo (required) |
| Required Radio | 4 Channel (required) |
| Ailerons | Yes |
| Elevator | Yes |
| Rudder | Yes |
| Flaps | No |
| Lights | No |
| Hinge Type | Foam |
| Material | EPO Foam |
| Skill Level | Intermediate |
| Build Time | 2 Hours |
| Recommended Environment | Outdoor |
Product Videos
Product Spare Parts
Product Questions & Answers
NOTE:
Questions submitted on this page are answered by customers who have previously purchased this item. If you have a support related question that requires immediate assistance, please visit our
Help Center
.
Product Support
Product Manuals:
If you need any additional assistance, please visit the Motion RC Help Center
Product Reviews
Customer Reviews
Write a Review
Ask a Question
10/17/2019
Robert K.
United States
Will need some work
Elevator and rudder push rods were reversed. Some guide wires were an inch too short. Motor was positioned to left causing plane to turn left. After repairing/ adjusting plane flies well Battery needed to be mounted outside of plane on bottom of cowling all the way toward nose to achieve correct CG
10/13/2019
Lee S.
United States
Good Deal
Purchased a second Tiger Moth because the first is such a great plane. Always great to have a backup. Learned that lesson with my "Calypso" glider. I crashed and repaired it half a dozen times, and when I decided to replace it, they were no longer available.
Dynam Tigermoth
She came with only a few tiny dings in the foam on the fuselage and a slight warp in the vertical stab. The warp was easily removed and the foam dents were almost invisible so I took to assembling it. There is a great thread on RCG about this model and I read the entire thing before commencing assembly. There were some very useful tips in there that I incorporated and it made the build even nicer. It goes together very easily and flies even better. This is one of the nicest flying models I have ever owed, and I have built and flown a lot in my 54 years of RC modeling.
Great little plane
Very fun to fly seems to be a little bit tail heavy so am adding a couple of ounces to the nose. As you can see in the photos we did a camouflage scheme on the top of the plane. Only could give it 4 stars as to the instructions leave something to be desired. Other than that great plane for the money.
Nice Biplane
Build was pretty easy with the exception of the flying wires. As I had no one to help, it was impossible for me to get the flying wires to attach to the lower wing struts because of the tension required. I solved the problem by using slightly longer bolts on the lower wing struts from my spare parts so I could get the wires over the bolt and attach the nut. Once the nut was attached, tightening the screw tension up the wires nicely. Only other mod I did was raking the landing gear forward as described in numerous web articles. I fly off a grass field that can be quite rough and needed the mod to prevent nose overs. Painted the upper wing surfaces with spray paint from a rattle can. Very pleased how it turned out.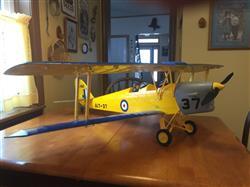 Fantastic
Fantastic plane. Fly slow very well. Recomended
TIGER MOTH
I like it..Dynam makes good kits. I have a few issues with it, but not enough to be worried about.
Motion RC does it again
Always pleasure dealing with motion RC came on time nice packaging putting together this weekend and Wayne the representative that I spoke to help me picked out a beautiful plane thanks again motion RC and Wayne for your service blessings
Top