E-flite UMX Aero Commander BNF Basic 715mm (28.1") Wingspan - BNF
This product is discontinued
Spare parts available below
EFLU5850
UMX Aero Commander BNF Basic 715mm (28.1") Wingspan from
E-flite

 - (Bind-N-Fly) - BNF - EFLU5850

We are pleased to offer our Motion RC customers this uber-cool UMX Aero Commander Bind-N-Fly model.  Legendary pilot Robert A. "Bob" Hoover wowed crowds for decades performing incredible maneuvers in an Aero Commander, a highly efficient, high performance twin-engine civil aircraft.

E-flite brings this model to life with the use of their exclusive AS3X® stabilization technology that fights moderate winds and keeps your Aero Commander behaving more like a larger model.  Comes out of the box completely assembled so you are spending no time building and all of your time flying.  Lightweight with a carbon fiber-reinforced wing guarantees excellent durability and aerobatic performance.  Nice scale details such as 3 blade props, panel lines and a sharp 3-color livery all conspire to give this model excellent visual appeal.
Features:
Powerful 3000Kv brushless twin motors for superb performance

AS3X® stabilization technology supports smooth flights even in moderate winds

Removable landing gear with steerable nose wheel for options of smooth surface takeoffs and landings or realistic looks in the air with grass belly landings

You can use up to a 2S 800 mAh Lipo Battery for long flights upwards of 15-20 minutes

No assembly required.  Simply bind your Spektrum radio, plug in your charged 2S and go fly!
Includes:
E-flite UMX Aero Commander BNF Basic 715mm (28.1") Wingspan - BNF
Requires:
4+ Channel Spektrum Compatible Radio - Select a minimum 4 channel Spektrum compatible radio from our Radio Collection
2S 7.4V 450-800 mAh LiPo battery with JST Connector - We recommend

EPR08002J

2 Cell Compatible Battery Charger - Select a minimum 2 cell (2S) charger from our

 

Charger Collection
Product Specifications:
SKILL LEVEL : intermediate
Wingspan

28.1in / 715mm

Length

20.1in / 512mm

Flying Weight

5.1-5.6oz / 145-160g

CG (Center of Gravity)

18-23mm from the wing's leading edge at the root

Power System

Powerful 180-size 3,000kV brushless motor

(installed)

Electronic Speed Control

Micro brushless (installed)

Propeller / EDF

Twin 3-blades

Servos

Micro (installed)

Landing Gear
Removable with nose steering

Required Battery

2 Cell 7.4V 450-800mAh LiPo battery with JST connector (required)

Required Radio

Full-range, 4+ channel DSMX®/DSM2® transmitter (required)

Ailerons
Yes

Elevator

Yes

Rudder
Yes

Flaps

No

Lights

No

Hinge Type

Foam

Material
Foam
Skill Level

Intermediate

Build Time
None
Recommended Environment
Large indoors (like a gym) or outdoors
Product Videos
Product Questions & Answers
NOTE:
Questions submitted on this page are answered by customers who have previously purchased this item. If you have a support related question that requires immediate assistance, please visit our
Help Center
.
Product Support
Product Manuals:
If you need any additional assistance, please visit the Motion RC Help Center
Product Reviews
Customer Reviews
Write a Review
Ask a Question
The best little plane in my hangar
Well, this is an spare one, I couldn't pass the opportunity of such a great deal. Plane came and worked as expected from an E-flite product. Thanks Motion
Aero Commander
Only flower a few times. A lot of fun.
E-Flight Aerocommander
Great plane, lot's of detail but weak landing gear. Especially the nose gear. You must land with the nose up or else have spares! The plane flew almost perfect out of the box with the battery (2c 800mah) at the back of the mounting area. Would have given it a 5+ if not for the gear.
E-flite UMX Aero Commander
One of the most fun planes I have ever flown. Wow! Powerful and lasts at least 8 minutes. This plane will do anything as it is very responsive. Hard to believe this lasts 8 minutes per flight (flying hard) with only a 2 cell battery. Lands nice on tar and also great for hand-launch so I can fly at grass fields as well. You need this plane for the pure fun of it!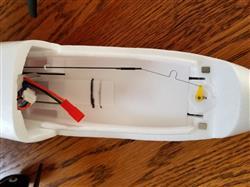 Awesome plane, bad electronics
I bought the UMX Aerocommander back in December of 2017. First impressions were good. The model was detailed well and in great condition. I planned to use it as a grass landing model so I decided to remove the gear. The landing gear were a bit hard to remove so be warned. I bought 4 800 mah batteries. The CG was still a bit forward even with the battery as far aft as I could get it in the fuselage. I bound the plane to my DX6I and tested the controls and throttle. This is where my trouble began. After adding throttle and having AS3X enabled, the planes controls would sporadically twitch to max throw in any given direction and then return to center. It happened repeatedly and seemingly more at higher power settings. I called horizon hobby and after some trouble shooting they assured me it would not be an issue in flight. Fast forward to spring and summer and after about 10-15 flights on the plane I can say this issue resulted in my plane crashing. When it did fly it was a joy, unlimited vertical, long flight times and good sport aerobatic capability. This was however offset by spontaneous dips and twitches in flight. On my last flight this week in July, directly following a hand launch the plane became unresponsive to control inputs, spun hard into the ground and crashed. On inspection I found the rudder was stuck in full left with the servo locked up. Overall the plane flew great when it worked and looked great in the air but the serious issues with the electronics in this plane ultimately resulted in a crash. I am currently in communications with Horizon Hobby concerning a replacement. I have read on forums and other reviews that people are having similar issues with the plane.
Flys good NOW
First the motors would not run at the same RPM .so Horizon sent me a new receiver board, then the motors ran at the same RPM,but the Ailerons acted like flaps,so Horizon sent me a reverser wire to make the ailerons work but that just shut down the receiver all together, so now I fly it on one alieron and it flys great & very fast.....
Nice little model
Today I maiden this little plane. I hand launched it and landed on a very crusty snow, which scratched its belly really bad. Its flying characteristics are wonderful, very responsive with the throws as per the manual recommendations. The plane didn't do the elevator thing that some reviews have mentioned. It can be flown slow or fast without ant bad behavior but, I don't think it would handle windy conditions very well. I used the 450's and I was getting around 6 minutes with some reserve on the batteries; I took over 9 batteries so, I had plenty of flying time. Overall, this model doesn't have a lot of details but, it does the job right. I would recommend it.
Fantastic Twin
Although it uses light ultra micro construction it can take any crazy flight loads. The Top 2 tips I would give to a new buyer is to put some glue on the wheel nuts in case they snap off and to set ALL throws under 90%. Since they are linear servos if they go close to the edge you might ruin them and end up with servo problems. It doesn't really have a servo problem just be modest with the throws. It holds inverted very well and rolls very nicely too. It cant knife edge too much though despite the rudder size by apparent effectiveness. The aircraft is very stable in pitch it is easier than a trainer to land the flare is not required once you have it you will see it flies itself nicely down.
Gear
Weak gear. Nice looking aero commander. I shared a hanger with one in the 60s.
Motion RC has a new European website
Go there instead?
Top