Eagle A3 Super 3 V2 Programmable 6-Axis Airplane Gyro
HEA3S3
A3 Super 3 Version 2 Programmable 6-Axis Airplane Gyro from Eagle - HEA3S3
The A3 Super 3 is a high-performance 6-axis gyro and stabilizer designed for R/C airplanes. This flagship model can be used with nearly any size and type of R/C airplanes; electric or gas. This Eagle Super 3 gyro now includes the latest version 2.0 firmware.
Why use an airplane gyro? Gyros (also called flight stabilizers) help keep your airplane stable during take-off, flight maneuvers, and landings which can be helpful during windy days or when learning how to fly RC planes. Gyros also help you master aerobatic maneuvers like knife edges and hovering. Once thought to be for beginners only, gyros are now common in all classes of aircraft and are utilized by all levels of flyers. Gyros are great for learning, they let pilots practice advanced aerobatics, they give you piece of mind in less than ideal flight conditions, and they can often help you avoid costly crash damage.
Important:  The A3 Super 3 is an advanced flight stabilizer. You must have a Windows PC, know how to install drivers, and have a working knowledge of Windows applications in order to program this gyro. If you are interested in a gyro which does not require a computer for setup and programming, please consider the A3-L or A3-Pro.
Features:
NEW! Version 2.0 Firmware
32-bit MCU, high-precision 6-axis MEMS sensor
Improved hardware platform and new firmware provides even more reliable performance
6 Pre-programmed flight modes:

Gyro Off Mode - when this mode is selected, the gyro will be deactivated completely.
Normal Mode (2D Mode) - This is the standard flight stabilization mode.
Atti-Lock Mode (3D Mode) -

The gyro will attempt to hold your last position by making constant corrections to rotational movements on each axis. An example would be holding a knife edge maneuver.

NEW! Trainer Mode - In this mode you can only tilt the plane to a certain angle and rolls and loops are not allowed. Great for beginners.
Auto-Level Mode - The plane will be brought to normal, level flight automatically when releasing the sticks.
Auto Hover Mode - Provides the same functionality as the Auto-Level mode, except when you release the sticks, the plane will be brought to the vertical position (nose up) and hold a hover.

7 Wing Types including Dual Aileron, Dual Elevator, Standard Wing, Delta Wing and V-Tail
6 Position mode switching - this new feature allows you to switch the flight modes by using a mixing of a 2-position and 3-position switch on your transmitter.
Compatible with most standard, PPM single-line and Futaba's S.Bus and S.Bus 2 receivers
External LED module integrated with interface
Various mounting orientations supported (flat or upright)
Sub trim and travel limit settings for servos, separate stick rate and EXP settings for each mode
Customizable hardware and software low pass filters
Quick setup supported via programming card
Firmware upgradeable
Includes:
Eagle A3 Super 3 V2 6-Axis Airplane Gyro
External LED module
USB adapter and cable
16V EZ-Plug capacitor to help maintain a secure voltage level during flight
Two pieces of 3M Foam mounting tape
Five 150mm (6") male-to-male servo wires to connect the A3 Super 3 to your receiver
Specifications:
Main Controller: 32-bit MCU
Sensor: High-precision 3-axis gyroscope and 3-axis accelerometer
Gyroscope Scale Range: ±2000 dps
Accelerometer Scale Range: ±4g
PWM Output: 920uS ~ 2120uS with 1520uS center length / 50 ~ 333Hz
Input Voltage: 4.8V ~ 8.4V
Operating Temperature: -10 ℃ ~ 50 ℃
Size: 43×27×14mm
Weight: 10g (excluding wires)
Which Eagle Gyro is right for me?
| | | | | | | | | | | |
| --- | --- | --- | --- | --- | --- | --- | --- | --- | --- | --- |
| | Sensor | 2D Mode | 3D Mode | Auto-Recovery | Auto-Hover | Remote Gain | S.Bus | HV | Upgradable | Price |
| A3-L | 3-Axis | ✔ | ✔ | | | ✔ | ✔ | ✔ | | $ |
| A3 Pro | 6-Axis | ✔ | ✔ | ✔ | ✔ | ✔ | ✔ | ✔ | | $$ |
| A3 Super 3 | 6-Axis | ✔ | ✔ | ✔ | ✔ | ✔ | ✔ | ✔ | ✔ | $$$ |

IMPORTANT - Please Read This Carefully
Proper setup of the Hobby Eagle Gyro is crucial. Read the gyro instruction manual completely before attempting to fly your aircraft. Failure to follow setup instructions can result in loss of control and inevitable damage to your aircraft.
Ensure the gyro is installed in the proper orientation (see manual) and is mounted to a hard surface near the aircraft's CG point.
When you first plug in your aircraft battery

 

DO NOT

 

move your aircraft for at least 10 seconds to allow the gyro to perform self-calibration.
It is crucial to verify that the gyro is moving the control surfaces in the correct direction BEFORE attempting to fly your aircraft. Failure to do so could result in loss of control during flight.
Setup one of your gyro control switches (3 position switch on your radio) to activate Gyro Disable. This safety feature will allow you turn off the gyro if you encounter any issues during flight.
ANY

 

warranty claim for Hobby Eagle gyros applies to the gyro only, not the aircraft in which the gyro was installed. 
Configuration Screens
Box Contents
Product Videos
Product Questions & Answers
NOTE:
Questions submitted on this page are answered by customers who have previously purchased this item. If you have a support related question that requires immediate assistance, please visit our
Help Center
.
Product Support
Product Manuals:
Software Downloads:
Adding New Update Firmware:
Download the Firmware Update Utility.
Download the V2.0 firmware file for the gyro.
Download the V2.0 firmware file for the A3 Super 3 programming card.
Connect the A3 Super 3 gyro to your computer.
Run the Firmware Update Utility downloaded from step 1.
Point the Firmware Update Utility to the V2.0 firmware file downloaded from step 2.
Connect the Programmer Card to your computer.
In the Firmware Update Utility point to the V2.0 firmware file downloaded from step 3.
Download and install the newest PC Config Utility V2.
Notes:
The current configuration of the gyro will be migrated to the new version when updating to V2.0. However please confirm again before the test flight.
The A3 Super 3 programming card will no longer support the previous firmware v1.x.
The PC config utility V2.0 will no longer support the previous firmware v1.x.
Changes in V2.0:
Stick Reverse, Rate and Expo removed.
Control algorithms improved and default gain level enhanced to get a much more precise reaction of the gyro.
R/R mode (Rotation-Rate-Based control mode) restored.
User-defined mode restored.
Response gain has been renamed to "Gain Drop Curve"and offers 5 options for different control behavior, including L0-Never Drop, L1-Stable, L2-Normal, L3-Sport, L4-3D.
WiFi module support added to use the APP configuration in the future.
If you need any additional assistance, please visit the Motion RC Help Center
Product Reviews
Customer Reviews
Write a Review
Ask a Question
01/23/2020
Angela M.
United States
Will by again
All surfaces are controlled as it states.
01/02/2020
Bob R.
United States
A3s3 gyro
Have to admit I've always used spectrum as3x receivers. Got tired of paying a $80- $100 each so I bought one of the a3s3 gyros. It was easy to setup with many more options than the spectrum receivers. Installed it in a FMS 80mm BAE Hawk edf jet. Tested everything, couldn't believe it was that easy. Be sure to update the gyro and software. Had it set for 3 position switch, gyro off, gyro normal, gyro trainer. Took off, turn on the gyro after I got to altitude, it was really smooth and locked in. Tried switching to trainer mode, again it worked much better than I expected, used it for landing, really easy. Will try other modes in future. Great gyro!!!!!
12/23/2019
Joseph M.
United States
Quick a d easy
The motion rc videos on YouTube sold me on a new gyro.
12/23/2019
CHEOLHUN P.
South Korea
eagle a3
I'm satisfied. It's not difficult to install.
12/18/2019
Gilbert V.
Switzerland
Easy Gyro
Very easy to configure and helpful to use ! ;-)
11/04/2019
Ray M.
United States
Eagle A3 Super Airplane Gyro
Quality Gyro, Reasonable Price
09/26/2019
Fausto D.
Italy
Veramente facile
Cercavo un gyro che fosse semplice da utilizzare ed efficace, questo prodotto qualità prezzo e ottimo
09/25/2019
martin b.
United States
Honest Review, Real User Here and I now own three.
Put this in my 53 inch wingspan Ryan ST-A ARF which is my favorite airplane, balsa models just fly better. I am a new in the hobby, but have been working on real airplanes for over 35 years. I hoped this GYRO system would help me land the airplane better, as I have had some moments landing it. it comes in hot with no flaps, so you don't have allot of time to spend hoping for a nice approach. With normal stabilization mode this tamed the Ryan down to my level, when its a bit windy, even better, and in my opinion adds allot to the beauty of flight making the airplane look super smooth as it passes by. I now own three, and may purchase a couple more, as I add airplanes into my favorites. It also saved one of my planes on a "maiden from ****" as it was so out of trim, I switched the Gyro on and it became flyable, so I could get it trimmed out. Did a thorough final check on the system after install, and it worked great in flight. Set up with the lap top it also very nice. Love that feature. Very easy to use. I will add you don't really need the little programming box if you bring your laptop to the field, I have yet to use it. I will also add it is nice thing to have in a very expensive airplane, just in case. Everyone knows some planes get very valuable quickly.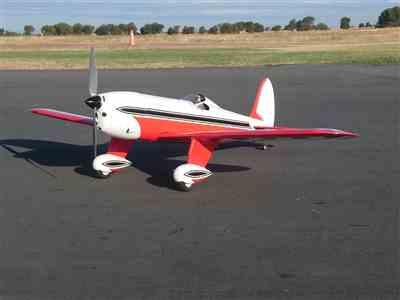 Motion RC has a new European website
Go there instead?
Top