FlightLine Fw 190 D-9 Dora 850mm (33") Wingspan - PNP
FLW102P
Fw 190 D-9 Dora 850mm (33") Wingspan - PNP from FlightLine - FLW102P
Motion RC and FlightLine are pleased to offer the next in our line of Pocket Warbird Series, the Fw-190 D-9 Dora.  Like the first in the series, the P-51D Mustang, the Dora can be flown on both 3S and 4S LiPo batteries. With a wide flight envelope from 3S slow and stable to high adrenaline yank and bank on 4S, the Dora will surely check off a lot of boxes for RC pilots. Simply underhand toss and boss and land on grass with confidence due to the skid-proof underside covering. Easy to transport and easy on the wallet, make the Dora one of your models you can't leave behind when headed to the flying field.
  Visit the Official FlightLine Fw 190 Dora 850mm Discussion Thread on HobbySquawk.com for additional photos, videos, reviews, and customer Q&A.
Features:
Compatible with both 3S and 4S LiPo batteries without any modifications
60+ mph with 3S LiPo battery
80+ mph with 4S LiPo battery
Gyro-ready
Beginner-friendly wing loading
Upgrade-friendly components and layout
Durable structural enhancements
Skid-proof underside covering 
Screw-on one-piece wing
Includes:
FlightLine Fw 190 D-9 Dora 850mm (33") Wingspan - PNP
Motor, ESC and servos pre-installed
Requires:
Product Specifications:
SKILL LEVEL : Intermediate
Model Scale

1/12 Scale

Wingspan

850mm / 33.5in

Length

820mm /32.3in

Empty Weight

540g / 19.04oz (w/o battery)

CG (Center of Gravity)

67mm (2.63") from the leading edge of the wing at the root

Power System

3S-4S 2836-950kV Brushless Outrunner Motor

Electronic Speed Control

30A, XT60 Connector

Propeller / EDF

9x6 2-Blade Propeller

Servos

9g plastic gear standard with 300mm lead : left aileron, right aileron
9g plastic gear standard with 200mm lead : elevator


Landing Gear

None

Required Battery

3S 11.1V 1600mAh to 4S 14.8V 2200mAh LiPo with XT60 connector (required)

Required Radio

4 Channel (required)

Ailerons

Yes

Elevator

Yes

Rudder

No

Flaps

No

Lights

No

Hinge Type

Nylon Reinforced

Material

EPO Foam

Skill Level

Intermediate

Build Time

1 Hour

Recommended Environment

Outdoors
Product Videos
Product Questions & Answers
NOTE:
Questions submitted on this page are answered by customers who have previously purchased this item. If you have a support related question that requires immediate assistance, please visit our
Help Center
.
Product Support
Product Manuals:
Product Updates:
June 10, 2019  -  The following link shows the FlightLine 30A ESC Audible Programming Guide to provide a chart in case you are needing to re-program the ESC for any reason. Click here for the link.
If you need any additional assistance, please visit the Motion RC Help Center
Product Reviews
Customer Reviews
12/08/2019
Eddie R.
United States
Flightline fw 190 D-9 Dora 850mm
you guys are fast on delivery.
11/29/2019
Mark W.
United States
Dora rating
I really love the scale detail on this long nose FW-190D9. My only issue is that it's too hot for my skill level. Even after I programmed much lower servo response, I just fly it with bare knuckles. Not for a novice flyer like me - I'll stick with flap-equipped motor glider models for the time being!
11/11/2019
Dustin B.
United States
FW-190 D9 Dora My first FlightLine/Freewing Product.
Bought this since I love FW190s and didn't have a D9 version. I wanted something that would use the Lipos I already owned. I flew it with 3s 1400 mAh batteries. and it flew great. It climbed good and rolls great with the 3s. I will try it with 4s soon but I am already sold flying with the 3s batteries. Nice paint and good overall quality. Thanks.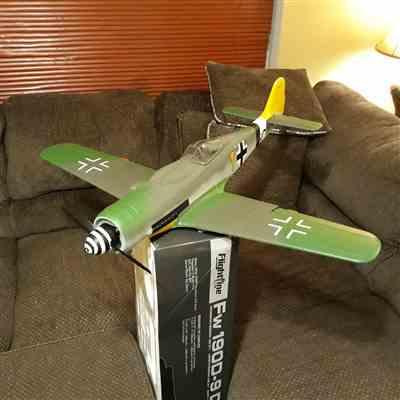 10/06/2019
John I.
United Kingdom
FW 190 D9
Great little model, performs well and great fun.
09/18/2019
Richard W.
United States
Flightline FW190 Dora
Arrived quickly with no problems or damage. I have not built it yet, but looks great, I have the FL P-51 that flies fantastic, which is why I bought this one. Hope to build and fly it very soon.
09/15/2019
Al s.
United States
D-9 Dora Excellent at this price point
I recently purchase the D-9 Dora for myself and the sister plane, P-51 for a friend. The overall quality of the D-9 is excellent. I did add paint to a few minor spots, such as the nose guns. My friend found his P-51 motor was stiff to turn. Wires running from the motor were hard against the motor body. He push the wires away from the motor body which solved his problem. We have not had a chance to fly our planes yet but I'm expecting both to fly well.
Nice little flyer
Overall a nice littel flyer. I fly with 3S 2200 and the flighttime is about 9 min.! After I broke the stock prop (9x5) I changed to APC 9x7,5 Thin Electic. This prop gives way more punch and the plane handels very well with it. The amperage rised from 15 A with the stock prop to 21 A with the new APC 9x7,5 and the flightime is reduced to 8 min., which is also a very good(long) time. Give it a try, when your stock prop is broken...
Fun Flyer
This little bird is definitely fun to fly! Once you get it dialed in and trimmed to how you like your planes set up, it is a blast to fly. (I use 75% high rate and 55% low rate. 30% expo for both). I bundled the recommended admiral receiver with it to put in. This is my first time setting up this receiver so I used the video series as a guide. Easy to follow and I went with combo C on the gyro setting so I can turn it off/on as desired. As far as the plane's performance, it will fly out of your hand on 3 or 4 cell. If you use full throttle launch with a 4 cell, be ready to correct the initial torque roll. What I'm most impressed with is the flight duration. My other war birds have a typical flight time in the 5-7 minutes range so I set my timer for 7 min. I checked the battery after bringing it in and still had a solid 2-3 minutes left before reaching low voltage shut off. Maybe more time if I stayed off the throttle but with this plane, that's hard to leave alone! Typical war bird landings as you'll have to fly it down. **** the throttle just before touch down and watch it belly slide. Don't forget to turn the motor brake off before your maiden flight so as not to break a prop. I also had to arm the esc before it would run on throttle command. (Video tutorial for all that.) My aileron servo had to be reversed, but no big deal. The plane is large enough to see in the air but small enough you won't have to disassemble to transport. That was another reason for my purchase of the fw-190. Eagerly awaiting the next model release in this series! I love my high wings and motorized gliders, but this little gem brings a lot of raw fun back to flying for me.
FANTASTIC
since buying and my first review i have now put a 2200 4cell in ,fantastic performance,even longer flight times, Thanks FLIGHTLINE !
Motion RC has a new European website
Go there instead?
Top