FlightLine OV-10 Bronco 1400mm (55") Wingspan - PNP
$37900
$37900
FlightLine OV-10 Bronco 1400mm (55") Wingspan - PNP
FLW305P
OV-10 Bronco 1400mm (55") Wingspan from FlightLine - PNP - FLW305P
The OV-10 Bronco is an American twin-turboprop light attack and observation aircraft that was developed in the 1960s. Purpose-built for Forward Air Control and intended to fly off unimproved short fields with its high lift narrow wingspan wings, the Bronco excelled in observation, target marking, ground attack, and troop deployment roles. In recent times, Broncos continue service as firefighting aircraft and flying specialized evaluation missions against ISIS, and in 2020 is set to serve as a US Air Force JTAC training aircraft.
FlightLine by Motion RC delivers the historic OV-10 Bronco as an easy-to-transport, easy-to-fly, and easy-to-land RC model with pre-upgraded lights and metal suspension landing gear at a superb pricepoint. Presented in 1/8.5 scale and standing taller than other FlightLine twins like the 1/10 scale 1600mm P-38, the OV-10's twin boom and high elevator configuration displaces more volume during transport, so we designed the outer wing panels to unscrew for convenient transport standing on the model's retractable landing gear. DayBright LEDs, a large cockpit, tasteful detailing, and removable ordnance underscore a model that looks as great as it performs, while still being Beginner-Friendly and geared toward Every Day fliers.
  Visit the Official FlightLine 1400mm OV-10 Bronco Discussion Thread on HobbySquawk.com for additional photos, videos, reviews, and customer Q&A.
Armed to the Teeth




Four plastic machine guns, four removable rocket pods, and a magnetic centerline tank comprise the Bronco's menacing ordnance package.
Large Battery Bay




The battery bay in the Bronco has ample space for your batteries and peripheral equipment including a gyro or gyroceiver. Achieve 5-8 minutes of flight time with two economical 4s batteries.
Four Panel Flaps




Wide four panel flaps enhance the FlightLine Bronco's STOL (Short Take Off and Landing) capability. Ideal for new warbird pilots looking for their first Big Twin, the Bronco assembles with only screws and is backed by a full line of easy-to-replace spare parts.
FPV-Friendly Cockpit




As an observer platform, the OV-10 is especially suited to visibility. Remove the two included pilots and install your own FPV camera equipment for the ultimate scale warbird FPV experience!
Grass Friendly




Designed for practical every-day RC use, tall pre-upgraded aluminum suspension struts and adequate ground clearance give the FlightLine Bronco the best off-road capabilities of any FlightLine aircraft. The large nose wheel and trailing-link main struts are especially suited for operating off of the toughest RC airfields, intended to fully compress without damaging the fuselage or props. Due to practical size constraints, the largest main wheel is used that can still fit in the reinforced foam boom without hydraulic compression assistance.
LED Lighting




The onboard MFCB powers five pre-installed LED lights, with ports for additional LEDs added by you. The model features two red/green wingtip static LEDs, one white dorsal LED,  a flashing red ventral LED (shown), and one white landing LED in the nose that illuminates whenever the landing gear is extended.

Magnetic Centerline Tank




Flying with or without the removable ordnance, from any angle the FlightLine OV-10 Bronco has style in spades!
Efficient Power System




Our proven three blade 4s brushless outrunner power system provides power for all scale maneuvers including loops and rolls for 5-8 minutes based on throttle usage and flight conditions. Molded plastic parts throughout the model resist dents and dings during transport. 85% scale size props, that are counter-rotating, prevent tip damage during hard landings even when the landing gear is fully compressed.

Removable Ordnance




Remove the ordnance in seconds for easier storage or transport, or for clearing higher grass RC airfields. At 1/8.5 scale, the foam FlightLine OV-10 PNP is an excellent size for additional customization and everyday transport, as an alternative to the larger 1/6.5 scale balsa wood OV-10 ARF from Black Horse Models also available here at Motion RC. Both are excellent!
Short Takeoff




The FlightLine Bronco excels at short-field takeoffs, and is capable of steep angle landings with flaps down and power on. Generous rudder authority helps train new pilots to fly with rudder to keep the Bronco tracking on target throughout its very wide flight envelope!
Easy To Transport




The OV-10's outer wings are easily removable for convenient transporting to and from the flying field. This design allows the aircraft to stand on its three landing gear without its outer wings.
Easy To Land




The Bronco's four flap configuration and tricycle landing gear makes for an easy to land platform. A high mounted elevator provides excellent control authority in all conditions.
Features:
Easy-To-Transport with Removable Outer Wing Panels

Easy-To-Assemble with no glue required for main components

Easy-To-Program with pre-wired MFCB for dual motors/rudders and four flaps

Easy-To-Takeoff with four-panel flaps and high clearance, high power brushless motors

Easy-To-Fly with large size and low wing loading

Easy-To-Land with flaps, tall wheels, and trailing link aluminum suspension landing gear struts

Easy-To-Own with pre-upgraded suspension landing gear, pre-installed DayBright LED Lights, and readily available spare parts

Includes:
FlightLine OV-10 Bronco 1400mm (55") Wingspan - PNP
Motors, ESCs, servos, LED lights and retracts pre-installed
Requires:
Product Specifications:
SKILL LEVEL : intermediate
Model Scale

1/9

Wingspan

1400mm / 55.1in

Length

1390mm /54.7in

Weight

3050g / 107.5oz

CG (Center of Gravity)

76mm From leading edge at the wing root

Power System

2x 4S Brushless 3530-860kV (included)

Electronic Speed Control

2x 30A (included)

Propeller / EDF

2x 9.5x7, 3-blade standard and reverse propeller (included)

Servos

9g digital hybrid gear standard with 600mm lead: left rudder, right rudder
9g digital hybrid gear standard with 500mm lead: nose gear steering
9g digital hybrid gear standard with 400mm lead: left inboard flap, right inboard flap
9g digital hybrid gear standard with 300mm lead: left aileron, right aileron, elevator
9g digital hybrid gear standard with 200mm lead: left outboard flap, right outboard flap


Landing Gear

Electric retractable tri-gear (included)

Required Battery

TWO 4 Cell 14.8V 3300 - 4000mAh LiPo batteries with XT60 Connector (required)

Required Radio

6+ Channel (required)

Ailerons

Yes

Elevator

Yes

Rudder

Yes

Flaps

Yes

Lights

Yes

Hinge Type

Nylon

Material

EPO Foam

Skill Level

Intermediate

Build Time

1 Hour

Recommended Environment

Outdoors
Product Videos
Product Questions & Answers
NOTE:
Questions submitted on this page are answered by customers who have previously purchased this item. If you have a support related question that requires immediate assistance, please visit our
Help Center
.
Product Support
Product Manuals:
Product Updates:
June 19, 2020 - This is an image to help explain how to hook up the flap system for your OV-10. Click here to view.
If you need any additional assistance, please visit the Motion RC Help Center
Product Reviews
Customer Reviews
Write a Review
Ask a Question
07/25/2020
Major K.
United States
Very Poor Instructional Manual
I can tell the manual was written in a hurry because it is useless as a go by. Many important steps are missed or simply taken for granted. Although the video is very useful, the manual does not even mention wiring. Unless I am gone totally blind now, I do not see an exit slot for the nacelles wiring. I must be missing something here. No, they can only go on one way from what I can see and the wiring must exit some where. I suspect I need to do some carving for the exit; however, the again, this is not mentioned anywhere in the manual. I am going to put this one aside for now and come back when I feel better about his one. Perhaps a bad purchase.
07/24/2020
Dave N.
United States
Excellent little twin
This is an excellent little aircraft. Fit and finish were spot on with everything very nice quality. Only one issue that is easily fixed with no extra money is the wiring on the receiver to the plane. They give you what you need but the directions are not completely correct. Other than that the plane went together quickly. I am running two 4S 3300mah packs with 8 minutes of flight time. I'm sure I could even get more. I put an AS3X receiver in it because I had it but I set it up to be shut off. I fly it mostly off every time. It's plenty smooth enough without it. Plenty of power for very short takeoff runs on grass and vertical is impressive. It has become one of my favorites very quickly. Great looking airplane in the air as well.
07/19/2020
JACK D.
United States
OV-10 Bronco
Great plane real stable in light wind. was missing lead ext. from connector block to reciver.
07/19/2020
Joseph A.
United States
Great looking Plane but wiring is an issue.
I have not flown the OV-10 yet so will just talk about the build. First off the assembly was fairly easy until you get to the wiring. Motion needs to upgrade the instruction manual by at least 4 or 5 pages to include wiring! Between emailing support, watching YouTube videos and going through the squak threads I think I finally have the info to get it wired up properly. Elevator, Flaps and Throttle all go directly to the receiver but it does not tell you any of that. nor does it explain how to sync the motors. The Instruction manual gets a rating of 2 now. It really needs to be redone. Here is a quote from the Blue box explanation. "Please note that when the AUX Channel is used as a throttle channel to access the throttle channel on the receiver." ..... What???? I am sort of new to the electrics but have been flying for over 20 years. I have never been so confused by instruction as I was with this model instructions. Motion, Please take the time to rewrite your Instruction/Assembly Manual!! Please also include a very specific and step by step explanation of syncing the motors. This is my first twin electric. I am clueless as to how to do this and the instructions are no help. Overall I am happy with this OV-10 but wish I had been able to get it in the air much sooner.
07/19/2020
Darryl P.
United States
Flightline OV-10 Bronco Re-Build
I recently submitted a product review for my original Flightline OV-10 Bronco. Unfortunately, after only 6 flights I crashed it due to what I believe to be a faulty gyro unit I installed separately. I had to re-build it since seeing the Bronco in full landing configuration; wheels down and four panel flaps deployed with those short wings is quite a sight. I was able to salvage all the servos, motors, ESC, landing gear, MCB Blue box, ribbon cables and the outer wing panel MCB ribbon cable connector plugs. I bought all the major sub-assemblies; center main fuselage, left / right booms, main wing and outer panels, horizontal stabilizer, cockpit canopy set, left / right sponsons, a screw set and push rod set. If anyone is having to do a major re-build as I did, here are some small hints. 1. Label each servo, servo plug, ESC plug, landing gear and servo extension before you begin to thread the wires through the center wing and booms. It will save you plenty on having to guess which lead plugs into where later. 2. All the sub assemblies have the servo pockets and covers installed. The elevator, rudder, flaps and ailerons are pre-hinged with the control horns and ball links attached. The left boom has the elevator servo wire and LED wire lead factory pre-installed. The outer wing panels have the wing tip LEDs pre-installed. The plastic landing gear mounts are pre-installed in the center main fuselage and right / left booms. The nose wheel steering servo mount is also factory installed. 3. Using the "go get'em" wire makes wiring everything through the center wing fairly straight forward. The rudder servo leads are long enough the straight enough to drop through the booms from the servo pockets. 4. I bypassed the Blue Box (MCB) since I wanted to reduce the amount of wires coming out of the center wing area. I used (2) long "Y" harness leads, one for the ailerons and one for the outboard flaps instead of the ribbon wire harness. The ribbon wire harness weighs 77 grams and seemed like alot of wires for just the aileron and outboard flaps. I plugged the aileron lead directly into my receiver, similar to the elevator lead. The outboard flap lead plugged into the tri-lead, which already has the 2 inboard flap leads plugged into it. I plugged the flap lead directly into my receiver. 5. I added a Y harness for both rudder servos and plugged that lead directly into the receiver. 6. The MCB is still functioning, controlling the landing gear, nose wheel steering and LED lights. 7. The pushrod set includes the ball link snap connector and the servo arm keeper. NOTE: The following items do not come with the major sub assembly replacement parts: 1. The center line fuel tank and center line mount are not included with the right / left sponsons, even though the page reads fuel tank set. The plastic machine guns are separate included with plastic part set C package. 2. The nose pitot tube for the center fuselage is sold separate with plastic part set B package. 3. The landing gear covers are not included with the main center fuselage or the right / left booms. Brad from MotionRC e-mailed me and said these items are not currently available. It may take approximately 4 months to get these covers. So, if you can salvage the ones you have or you will need to fabricate your own for now. Overall the re-build using the spare parts was a success. All the parts fit just as in the original kit. Watching the wiring video by James at MotionRC is really helpful in getting everything plugged in correctly the first time out. First test flight was a success and the Bronco flew just as the original.
07/18/2020
Mikeal D.
United States
OV 10 Bronco
After receiving the Bronco and scratching my head I reviewed the updated Motion build video.. This being the 6th aircraft , I found it very helpful..After 6 flights ,I found it to be a little lacking in the speed arena.. I have the P-38 and was considering that maybe a prop update may be in the Broncos future.. One note that pilots need to do is when testing the stall have plenty of air under you. Mine snapped over on the right wing. Dove down ward building speed, slowly feed in elevator. And as you pull out feed in power..Take offs are straight forward, but landings have been a little fun as its hard to get both props synced, one always shuts off first no matter how many times I reset to throttle.(?) I really like the looks of the plane but wished they would of made the dual antennas.. All in all a pretty good looking and flying plane. Now how about a Cougar /F7/ F100?
07/18/2020
R. Jones
United States
Crashed 1st Flight
Great plane even though I crashed 1st flight. Pilot error. Too eager to get in air and didn't set low rates or follow instructions on control surface deflections. So it was way too responsive during msiden and rolled over int to unrecoverable dive as turning to land. New pilot section and nose gear arrived and all almost back together. Pilot and canopy out of stock so fixed original as much as possible. To more easily wire, remove blue board, place center wing as close to fuselage as possibe and pull wires all the way through fuselage into battery area. Then much easier to make connections. I would never attempt to wire with blue board in place.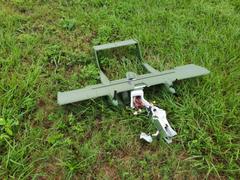 07/18/2020
Edward F.
United States
Well Made
Well made and visually very stunning. Marred by a esc failure on the fifth flight. replaced broken rt prop, provided by Motion RC, replaced esc and aircaft flys well. Motion is sending me a replacement esc. Very robust landing gear that has survived several hard landings due to windy conditions.
07/15/2020
Dimitrios
Greece
Motion RC has a new European website
Go there instead?
Top