FMS B-25 Mitchell Bomber Green 1470mm (58") Wingspan - PNP
This product is discontinued
Spare parts available below
FMS025GREEN
FMS 1470mm (58") B-25 Mitchell Twin Engine Bomber Green - Receiver Ready (PNP) - FMS025GREEN
The North American B-25 Mitchell was an American twin-engined medium bomber manufactured by North American Aviation. It was used by many Allied air forces, in every theater of World War II, as well as many other air forces after the war ended, and saw service across four decades.
The B-25 was a safe and forgiving aircraft to fly. With an engine out, 60 banking turns into the dead engine were possible, and control could be easily maintained down to 145 mph (230 km/h). However, the pilot had to remember to maintain engine-out directional control at low speeds after takeoff with rudder; if this maneuver was attempted with ailerons, the aircraft would snap out of control. The tricycle landing gear made for excellent visibility while taxiing. The only significant complaint about the B-25 was the extremely high noise level produced by its engines; as a result, many pilots eventually suffered from varying degrees of hearing loss.
The high noise level was due to design and space restrictions in the engine cowlings which resulted in the exhaust "stacks" protruding directly from the cowling ring and partly covered by a small triangular fairing. This arrangement directed exhaust and noise directly at the pilot and crew compartments. Crew members and operators on the airshow circuit frequently comment that "the B-25 is the fastest way to turn aviation fuel directly into noise". Many B-25s now in civilian ownership have been modified with exhaust rings that direct the exhaust through the outboard bottom section of the cowling.
The Mitchell was an exceptionally sturdy aircraft that could withstand tremendous punishment. One well-known B-25C of the 321st Bomb Group was nicknamed "Patches" because its crew chief painted all the aircraft's flak hole patches with high-visibility zinc chromate primer. By the end of the war, this aircraft had completed over 300 missions, was belly-landed six times and sported over 400 patched holes. The airframe was so bent askew that straight-and-level flight required 8 of left aileron trim and 6 of right rudder, causing the aircraft to "crab" sideways across the sky.
The B-25 was named in honor of General Billy Mitchell, a pioneer of U.S. military aviation. By the end of its production, nearly 10,000 B-25s in numerous models had been built. One of the most iconic warbirds of World War II.
The FMS 1470mm B-25 is a true jewel to fly and with detachable main wings even easy to transport! Take to the skies like one of Doolittle's Raiders!
  Visit the Official FMS B-25 Mitchell Discussion Thread on HobbySquawk.com for additional photos, videos, reviews, and customer Q&A.
Features:
Super scale details including forward, rear, top and side gun turrets with clear canopies
Large wingspan, twin engine design provides power, reliability and smooth performance
Main landing gear and nose gear use worm drive electronic, servoless retracts with sequential retract doors
Bright LED navigation lights
Detachable main wings allow ease of transportation
Durable EPO Foam
Requires:
Product Specifications:
SKILL LEVEL : Intermediate
| | |
| --- | --- |
| Wingspan | 1470mm / 57.87in |
| Length | 1130mm / 44.5in |
| Flying Weight | 1930g |
| Power System | Two KV1000 Brushless Motor |
| Speed Control | Two 40A ESC, T Connector |
| Propeller / EDF | 9x6.5 Three Blade Propeller |
| Servos | 9g×8 |
| Landing Gear | Main and Nose Gear Electronic Retracts |
| Required Battery | 11.1V 3300mAh 25C 3 cell LiPo |
| Required Radio | 5 Channel |
| Rudder | Yes (dual) |
| Flaps | No |
| Ailerons | Yes |
| Lights | Yes |
| Hinge Type | Foam |
| Material | EPO Foam |
Product Videos
Product Spare Parts
Regular price $4319 $3229
Product Questions & Answers
NOTE:
Questions submitted on this page are answered by customers who have previously purchased this item. If you have a support related question that requires immediate assistance, please visit our
Help Center
.
Product Support
Product Manuals:
If you need any additional assistance, please visit the Motion RC Help Center
Product Reviews
Customer Reviews
Write a Review
Ask a Question
10/14/2019
Chris
United States
Love it
Love this plane. Flies great. Not fast but a great scale flyer. Looks great on them low, scale, flybys. Build was not too bad but I gave an overall rating of 4, because the carbon tube didn't go in very well, and the wings state that there are screws to hold them to the fuselage, but there are no screws for it, and even if there was, there's no place to put them. There's holes in the wing for them but they don't match up to anything. I glued my wings to the fuselage. That wasn't a big deal for me. The wiring is kind of a pain with three wires for each wing, ailerons, lights, and gear. The gear all goes into a sequencer and this MUST be used to work properly. The gear is awesome tho. There's a pause between the doors and gear, and it's cool. Not much room for all the wires under the canopy tho. It's a bit of a mess and must be shoved behind the battery bay, in order to fit the suggested battery. There's no real good place to mount a receiver either. I ended up putting mine on the top of the fuselage, glued from the top of the receiver. Not ideal but it worked for me. I would suggest buying some servo extensions for the rudder and elevator, just to make it easier to feed them thru the fuselage. The wiring is just messy but that's the only real problem I ran in to. Don't let the wiring stop you tho, it a beautiful plane. I love it.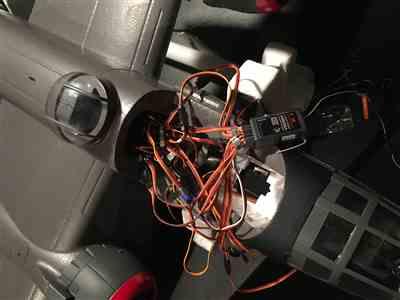 Awesome.
I finished assembly of my B-25 yesterday. It took an ever so long 1 1/2 hours. She baances fine, and she's begging to fly. That's tommorow. I just hope she's as well mannered as she looks
Assembly-- ;
Tail/fuselage assembly screw line up not very accurate . Wing fit in Fuse took some fixing. Lots of extra length wing and LG wiring to stuff in fuselage.
Very happy
I've got about 10 flights on my FMS B-25, and figured it's time for a review. Plane flies very nice and has no vices. It's what you'd expect for a multi-engined warplane, but pretty stable and solid. Trimming was pretty simple...just a few clicks here and there. Seemed to need a lot of nose up trim, but otherwise pretty basic. It's not a speed demon, but looks very scale buzzing by. It has enough power to do some nice maneuvers, but I wouldn't recommend any aerobatics. Love the counter-rotating props. I'm getting about 5 minutes out of a 3S 3300 battery with no issues. Battery compartment is pretty tight, so no bigger battery will fit in there, unless you do some carving, and I would not recommend that. The plane looks great, and I get lots of nice comments from folks at the flying field. I have the OD version. It was a fairly easy build, no problems. Lots of wiring coming in from the wings, but it all came together well. I definitely would not recommend taking the wings back off once you've put them together. So, make sure you have a way to transport this bird with it's wide wingspan. There is too much going on with wiring and screws to start messing with removing the wing unecessarily. All mechanical and electrical components work great (so far). Sequenced doors are very cool and have a nice scale function to them. I put slightly larger Dave Brown Lectra Lite tires on. They look a lot better than the small rubber tires that came with the plane, and they really grab the runway. No bounce at all. Plane doesn't have flaps, but they're really not needed. Would be nice for scale effect and to slow it down a little more, but the plane glides in very well without them, so no biggie. The plane has 2 lights (one on each wing) that look nice in the air. Very strange though that they plug into a channel on the receiver, but they don't turn on or off with a switch assigned to that channel. I can't figure that out so far. Will keep trying. Highly recommend this as a first venture into bombers and multi-engined. It's very easy to fly and a fairly straight-forward build, and it looks great. I know you'll like it. It's one of my favorites now. Enjoy!
Dream come true...
Have been flying models for 63 years and today I made the first flight on the FMS B-25 Mitchell bomber! Little down trim, and I was in the groove. Flies like a trainer...and the landings were smooth as silk. What a great buy...can't build one from scratch, or a kit, for the price!
What a great Warbird
This is one of my favorites. Flies great, easy to put together!
Fantastic plane
Ordered the B-25 and received it from Motion Rc very quick. Very happy with the plane, no issues with shipping everything came out of the box A1 condition. Had the maiden 2 days ago have to say this thing uses a bit of the runway but came off the runway with no issues. Climbed out like the real one, had to put 4 or 5 clicks of down in it but that was all. If your looking for a sweet flyer this plane in my book is a winner. Going to try the F-104 next then the B-17 will let you know what I think of them also..
There is a new B-25 in town
When I first saw an ad for the FMS B-25 Mitchell Bomber Green 1470mm (58") Wingspan - PNP, I was immediately "hooked." After watching a video, I quickly put in my order. From the time it arrived until the landing gear dropped down for the first time, my excitement about the plane never waned. FMS has done a beautiful job with the details and the setup of the airplane before it shipped out. The motors have plenty of power to accommodate all of the maneuvers. This is a B-25 that will please the owner and everyone in the audience. It goes together quickly on the workbench, and then out the door to taxi and finish readying for flight. Prepare to be excited!
Had a flight on the full size Tondelayo had to have an R/C version
Motion R/C delivered in its usual manner, with speed and customer satisfaction. The FMS B-25 came well packaged and with a few minor modifications will be a great model in my stable
Motion RC has a new European website
Go there instead?
Top