FMS Extra 300 3D Aerobatic Airplane 1300mm (51") Wingspan - PNP
This product is discontinued
Spare parts available below
FMS063
FMS 1300mm Extra 300 3D Aerobatic Receiver Ready RC Airplane - FMS063
The FMS Extra 300 is without a doubt one of the best built aerobatic RC planes on the market. This plane is built like a tank with high quality feature throughout. Multiple carbon spars give the wing the perfect combination of strength and flexibility, the entire plane utilizes 17g metal gear servos (no 9g or plastic gear servos on this plane!), the rudder has pinned hinges for extra safety and performance, and the elevator halves are joined by a thick plastic spar to ensure strength and perfect alignment during fast maneuvers. The Build quality of this plane is second to none.
This plane has the amazing versatility to handle perfectly at both very high speeds and very low speeds. Hovering, harriers, knife edge flight, and outside loops can be performed with relative ease. This is one great plane which is capable of most, if not all, 3D maneuvers. While the FMS Extra 300 is very easy to land, the scale rubber tires and heavy-duty, thick gauge metal landing gear are ready to absorb the shock of the occasional not so perfect landing.
FMS considered every detail when designing this plane. There is even a separate compartment on the bottom of the plane for your receiver and antenna. The receiver compartment is easily accessible by removing a magnetic hatch cover. The separate battery compartment on the top of the plane also has a strong magnetic hatch and plenty of room for a variety of battery sizes.
Many customers ask if this plane can be flown by individuals who do not have any 3D skills or are not 3D pilots. The answer is absolutely YES! The other question we are frequently asked about the FMS 3D planes is how they handle in windy conditions. These FMS 3D planes are absolutely amazing in windy conditions. We developed the video below to demonstrate how the Extra handles the wind and also how the plane can be flown as a fun, super-responsive sport airplane in addition to all out aerobat.
Features:
Exceptional scale detail including hand painted pilot figure, factory applied graphics, and three blade sport propeller
Built from the ground up for durability with heavy gauge metal landing gear, 17g metal gear high torque servos, carbon fiber reinforced main wing panels, plastic spar reinforced elevator, and nylon pinned rudder hinges
Made with durable, damage resistant EPO foam
Separate receiver and servo compartment with magnetic hatch cover
Spacious battery compartment gives pilots the option of flying light weight 4S batteries for full 3D or larger 4S batteries for more sport and longer run times
Large, scale control surfaces for advanced 3D and aerobatic flight
Powerful 60A ESC and 760Kv Motor
Motor, ESC, and servos come pre-installed for your convenience
Large scale, stable flight platform handles windy condition and bold graphics make the Extra 300 easy to see even at far distances
Requires:
Product Specifications:
SKILL LEVEL : Intermediate
| | |
| --- | --- |
| Wingspan | 1300mm / 51.2in |
| Length | 1285mm / 50.6in |
| Flying Weight | 1880g |
| Power System | 3948-Kv760 Brushless Motor |
| Speed Control | 60A ESC, Internal 3A SBEC with EC3 Connector |
| Propeller / EDF | 13x5 3 Blade Scale Propeller |
| Servos | 17gx4 metal gear |
| Landing Gear | Fixed |
| Required Battery | 14.8V 2500-2600mAh 25C 4 cell LiPo with EC3 Connector |
| Required Radio | 4 Channel |
| Rudder | Yes |
| Flaps | No |
| Ailerons | Yes |
| Lights | No |
| Hinge Type | Pinned rudder hinges, foam aileron/elevator |
| Material | EPO Foam |
Product Videos
Product Spare Parts
Product Questions & Answers
NOTE:
Questions submitted on this page are answered by customers who have previously purchased this item. If you have a support related question that requires immediate assistance, please visit our
Help Center
.
Product Reviews
Customer Reviews
Write a Review
Ask a Question
FMS Extra 300
The Operating Manual states on page 16 that the CG is forward from the leading edge of the wing when they mean towards the trailing edge. The picture is correct. The Operating Manual, on page 18, Landing - states that after a few flights the model can be set down lightly on the main landing gear and you can hold the nose wheel off balancing the model on the mains till it slows and gently settles the nose. This aircraft is a tail dragger. It has no nose wheel. They are correct in stating use 1/4-13 throttle on final. Almost have to land with some power. The aircraft is not real fast. After the second flight in had to remove the wheel paints. They were rubbing on the wheels. It is a good flyer and looks nice in the air.
Some modifications = Perfection
alright...i own this plane for a few months and after a few hard core 3d flights noticed ***** in the surfaces joints (this plane's surfaces are not hinged) solution is very simple. - Take a sharp blade or a box cutter and cut off the the surfaces. - buy some small size cotton/cloth hinges (amazon got some good one) - glue back the surface with CA and the the hinges you gonna love this plane. Not sure why FMS did not make this plane a come with hinges, as they did with yak 54
Good plane but not with out its flaws
Fly's great in the air but not the best on the ground. The first problem I ran into was that the rods connecting the servos to the flight controls were of greater diameter than the holes in the horns but that was easily fixed. My second problem was that the instructions **** but that expected with fms. My last and biggest problem is the landing gear, I fly off a bumpy grass runway which my FMS 1400mm corsair and all my other nitros handle just fine but after 3 perfect landing with the extra 300 I ran into compilations. On my forth landing I I touched down just as smoothly as before but this time and all the three landings after it the landing gear bent back so far backwards that the wheel skirts punctured the lower part of the wing and the caused a prop strike and a nose over. Damage to both the lower wing and tail is fixable but will need do something with the landing gear before I can take this beautiful bird up again up again .
Just a few glitches
As is seen from time-to-time in products from China, the FMS Extra 300 had a few minor things of interest. The rods connecting the servos to the flight controls were of greater diameter than the holes in the horns. A few minutes with the pin vice fixed that. The labeling on fillets at the wing root were mis-labeled - took a while to figure that out. The recommendations for setting control throw high and low rates on the transmitter made absolutely no sense. Have not flown yet, hopefully all will be well. So far, the CG seems to need some lead weight at the tail as the recommended battery cannot be moved far enough aft to balance the airplane unless some structure at the aft end of the battery compartment is cut away. But make no mistake, the overall quality seems among the best. Anticipating first flight soon.
Great looking plane
Got it fairly fast, everything nicely packed ..thanks Motion RC The assembly went all together well. This is a huge plane, and not so much because of 51" wingspan but because of the very fatty fuselage. By far the biggest 3D plane I have ever owned, but I like it . It 's light and yet the carbon fiber tube in wing and stab and screw in construction makes it very sturdy. Nice rod and servo arms and high quality FMS metal servos . On the minus side, I would have really preferred to have detachable canopy and more space to mount the receiver and possibly a gyro. The tinny receiver compartment underneath is a pain in the neck to work with, flipping a plane of this size back and forth is not easy. Another problem would be having to change a gyro or a built in stabilizer receiver 's mounting position on a computer , given in most likelyhoid you 'll need to mount it inverted. All in all, great looking plane ...pretty sure it 'll fly great at this size. If I was to change anything, I 'd prefer exact same plane in the 47-48" wingspan, a little thinner fuselage, and of course being able to mount receiver on the top instead of under. (Therefore 4 stars)
My Input
My input on the FMS300 extra is for the most part good. There is some issues with the rudder fastener that holds the tail wheel and ultimately the servo horn. I did catch in time which avoided a catastrophe. The fix I used involved drilling thru fastener epoxy tooth picks and epoxy fastener. Fix is great and should not have any more problems with this part. As far as the center of gravity is concerned. It will appear to be a ton nose heavy at 120mm. Do not try to balance out by putting weight in tail. I am running a 3000mah 4s adjusted back as far as plane will allow, no modifying. One thing I failed to mention, get rid of part of the bottom of rudder. Go from square to a nice curved lower rear rudder. This will help with the rudder from dragging it off and putting​ a lot of stress on the tail section. So this sounds like a night mare but it's not bad. Pretty plane and durable. Like plane enough that this is my second one.
300 x
The plane is bigger then on the video but other then that it Flys great and looks good in the air good job fms and motion l got the Douglas have not flown it yet good looking plane one problem the dive brakes were badly worped needs to be made out of plastic your fend clifford rebiero carson californ8a
Great plane!
Awesome flying plane! Flys great 3D and Sport. Plenty of power, I fly with a 3600mah had to add a little weight to the tail, but got a longer flight time then the recommended 2500mah battery with no loss aerobatic ability. Forgot to mention this plane looks great I love the color of the trim scheme. Overall one my favorite planes.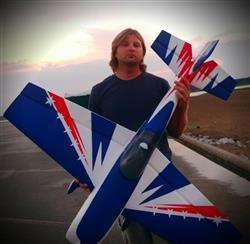 really fun little airplane
really fun little airplane
Motion RC has a new European website
Go there instead?
Top