FMS F-15 Eagle V2 Sky Camo 64mm EDF Jet - PNP
This product is discontinued
Spare parts available below
Product Reviews
Customer Reviews
Great flying
Still in testing... Several flights in using as belly lander several coats of modge podge over custom paint and calli graphics.. Little fast with no flaps for landing but would get ripped off ... Overall great flying good vertical and stable in the air.. Would like to see a 70mm with retracts flaps and rudder.. I would honestly say 8 out of 10 because there is no such thing as perfect..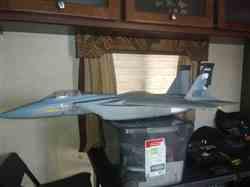 01/19/2019
Steve Y.
United States
F-15
Arrived on schedule, well boxed/protected, plane went together quickly, looks fabulous. Had no power to the motor after hookup, did the throttle full on before battery hookup, when the throttle was dropped, motor activated. So far can't get my my 2.4 receiver to bind, had to use 72 mz to test, and find that the room for a receiver with battery (2600mAh 4s) installed - almost none. Hopefully a maiden flight in spring, more info then.
01/07/2019
Rick D.
United States
I love this little jet !
I have owned one for many years and it has served me well.This jet flys like its on rails and very easy to control and land.This is a great value for your hard earned cash!
08/01/2018
timothy d.
Cedar Rapids, Iowa
This Jet is the ****'nit!
Talk about impressive! I have been flying Motion RC jets for several years now. I have the F-16, F-18, F-22, F-35 and now this F-15. All aircraft are 4S models. This is by far the best. I definitely would not say it has a 1 to 1 thrust ratio, but it certainly has quite a bit. Not only is it very fast, the sound is incredibly realistic! I also have the 80mm, 6s A-10 as well. That is a much larger aircraft with a very realistic jet sound. But to get a little 64mm aircraft that sounds like this is crazy. I flew this one right out of the box with no adjustments. It is highly maneuverable and has excellent glide and flare abilities. Just like with all of the other military jets, you gotta have fast eyes. The small size, deliberate camouflage, and quick speed can make you lose orientation before you realize it. Don't blink! Cons: Of course no aircraft is perfect and this one isn't either. First issue is the battery compartment. It will barely hold a 4s 2200mAh battery. If you have a larger receiver or your battery swells even the slightest, it may not fit. The battery compartment leaves much to be desired. I also am not a fan of the elevators. They mount to the body with glue only. Some screws or a small plastic rod would have been awesome. If the glue fails in flight, you already know what happens. That's about it folks. Regardless of a few cons, I still gave this one 5 stars. You definitely get your money's worth with this one!
07/14/2018
Dennis S.
United States
F-15
This F-15 is a joy to fly. Stable at any speed. Just wish the LG was more robust. Flew for the first time today (7-14-18). Temps were 90 degrees,no wind, field surrounded by corn. No trim inputs needed. I would consider it a good DF trainer.
04/21/2018
DiPenta D.
United States
Bob D.
Very cool 64 mm jet. 4s has lots of power.
Big Surprise
I have some earlier FMS small jets that were just OK. I recently bought the F-15 though and found this FMS model to be excellent. It is upgraded design and flies amazing on a 4 cell 2200. Mine came with 11 blade fan 3150kv motor and 40 amp esc. I am really happy with it. I did fly a 3s 2200 and found it sluggish and tail heavy so 4s is the way to go.
Flies great
My first EDF, so I can't complain about anything EXCEPT the aircraft markings. This bird is supposed to be ac 80-033 of the 57th FIS "The Black Knights of Keflavik", well known for the black and white checkerboards on the vertical stabs, at the now-closed Naval Air Station Keflavik, Iceland. We had an Air Force squadron of F-15C/Ds there and intercepted the Russian Bears during the Cold War. I worked with the real 80-033 while I was up there. The problem is the Boar painted on the inside of the vertical stabs- that particular marking was not on the 57th FIS birds, it is from the 390th FS "Wild Boars" at Mountain Home AFB in Idaho, which I also worked with. SOME 57th FIS F-15s DID have a black painting of Iceland on the inside of the vertical stab, however, 033 did not. Here is a pic of her before she was painted as the AFI (Air Forces Iceland) group marking Note the iside of the vertical stab. http://www.verslo.is/baldur/1024/F-15C_33_firstl_024.jpg
Beautiful scale model. It flies too!
I had always wanted a "lobby scale" F-15 model like I saw at work to commemorate my time working on the F-15. This is a beautiful scale model that never fails to wow visitors to my "hangar." It also flies reasonably well for a scale airplane, and looks Very Much like its namesake when in the air. While it is a challenging plane to fly, it a reasonable first EDF jet as long as you have plenty of stick time on high-performance propeller aircraft. Here is an example of the scale aerobatics this jet can perform in the hands of an average pilot like myself. Like the real jet, what it most wants to do is go fast. https://www.youtube.com/watch?v=NhUfph6GY_Y I highly recommend you make the nose mod shown in the video below. The liability of the nose to damage is the only reason I wouldn't give this plane 5 stars. https://www.youtube.com/watch?v=LD5Jq9y4FS0&t=330s Overall a good value for the money, and I've never had a bad experience from MotionRC.
Motion RC has a new European website
Go there instead?
Top