FMS P-51D Mustang V8 Ferocious Frankie 1450mm (57") - PNP
This product is discontinued
Spare parts available below
FMS008FF-V8
FMS 1450mm P-51D Mustang V8 Ferocious Frankie Receiver Ready (PNP) - FMS008FF-V8
This latest version of the FMS P51D Mustang has the most scale detail and most refined features of nearly any EPO foam RC plane on the market. Since this is the 8th version of the FMS P-51D, the attention to detail and quality is simply amazing. The control surfaces use 17g hybrid metal gear servos and the servoless e-retracts feature metal trunnions for extra durability. The landing gear struts on the FMS P51D are all metal and shock absorbing. The large tires and shock absorbing struts allow for easy flight from a grass field and also help to take the force out of an occasional hard landing. The flaps on the FMS P51 feature an extra slow moving servo for scale detail. The inner and outer landing gear doors open and close using a sequencer to allow for the most detailed landing gear ever seen on an FMS P-51 Mustang. In addition to all the features, the FMS P-51 is simply an amazing flyer. The latest version features an upgraded motor for more power to pull scale acrobatic maneuvers. This is simply one of the best foam planes around.
**UPDATE**: We have many customers asking us what new features are included on this plane. Newly updated features:
Upgraded, shock absorbing struts with new 4mm diameter lower section
New Removable battery tray (same as P-51B)
New upgraded FMS sequencer which closes the gear doors after gear is down
Newly upgraded tail feathers with hardpoints for glueless assembly
New 17g hybrid metal gear servos
New open air intake (same as P-51B)
New gold PAEP motor
New 70A ESC with 

EC3 connector

New single wire connector for easy wing removal (same as P-51B)
New FMS retracts with 6 second open/close for more scale operation
Features:
Upgraded, shock absorbing struts
Scale details like sliding canopy, functional air scoop, drop tanks (removable) and sequenced landing gear doors
Realistic 14" Four Blade Propeller
Scale pilot figure
Reinforced control surfaces (ailerons, elevator, and rudder)
High visibility LED navigation lights
Full functioning drop-hinge flaps for quick takeoffs and smooth landings
Durable EPO Foam
Requires:
Optional Upgrades:
Product Specifications:
SKILL LEVEL : Intermediate
Wingspan

1450mm / 57.0in

Length

1240mm / 49.0in

Flying Weight

2350g / 82.9oz

CG (Center of Gravity)

110mm from Leading Edge

Power System

4250-Kv540 Brushless Motor

Electronic Speed Control

70A ESC, Internal 5A SBEC, EC3 Connector

Propeller / EDF

14x8 Four Blade Propeller

Servos

9g Digital Metal Gear Servo : left aileron, right aileron, rudder
9g Reverse Digital Flap Servo : left flap, right flap
9g 54 Degree Metal Gear Steering Servo : steering
9g Reverse Digital Metal Gear Servo : left gear door, right gear door
17g Digital Metal Gear Servo : elevator

Landing Gear

Electronic Retracts (main gear and tail)

Required Battery

14.8V 3000-3600mAh 30C 4 cell LiPo with EC3 connector

Required Radio

6 Channel

Ailerons

Yes

Elevator

Yes

Rudder

Yes

Flaps

Yes

Lights

Yes

Material

EPO Foam
Skill Level

Intermediate

Build Time

2 Hours

Recommended Environment

Outdoors
Product Videos
Product Spare Parts
Regular price $1999 $1389
Product Questions & Answers
NOTE:
Questions submitted on this page are answered by customers who have previously purchased this item. If you have a support related question that requires immediate assistance, please visit our
Help Center
.
Product Reviews
Customer Reviews
Write a Review
Ask a Question
Well built and ideal for newer pilots.
This mustang has been such a great second RC plane for me. I have flown it about 7 times each time getting braver and braver. Assembly was easy, if you have ever assembled lego's in your lifetime you can assemble this plane. Yes I looked at the pictures in order to assemble it. Connecting it to your transmitter and getting everything setup with that was the most difficult part of the whole process. Only because the direction of motion of the ailerons, elevator and rudder was backwards, easy fix. I purchased a Spektrum DX6i 6-Channel Transmitter works great with this plane after some minor tweaks. The only flaw I have seen so far is the landing gear doors and landing gear mount are very easy to break. Since this plane is so awesome minus these parts you should defiantly buy the aluminum version of the retract housing much better worth every cent. Find them here http://smallpartscnc.com/index.php?route=product/product&path=20_123&product_id=193 Also if your planning to land on cement you might want different wheels stock wheels are to hard and make your plane bounce pretty easily. Of course I am pretty noob so this just might be me. Also the wheels are held on by eclips. I hit the grass once at a higher speed and one came lose and I lost it. You may want to have a few spares. After this the plane fly's very smooth and super easy to fly nothing happens to fast in the sky. Battery lasts longer then ten minutes if your casually flying the mustang at 65%. I spent a whole summer flying a trainer cub without ailerons, then spent a winter on a simulator maybe 20 hours total. I have no problems flying this thing. It looks awesome in the sky, plus you can do some tricks with it. 5 Stars.
Almost didn't give it five stars
I gave the 1450 ferocious Frankie P 51 Mustang five stars due to motion RC' outstanding service. I had a few problems with the build. I could not get the motor to fully engage. I called Motion RC and spoke to a service tech and told him the problem. within seconds he told me it sounded like The motor was unplugged from the ESC. That was the problem. The second problem both flat servos were not working. Within a couple of days I received two new ones without any question. The plane now flies amazing! Thanks Motion RC for all your support and quick turnaround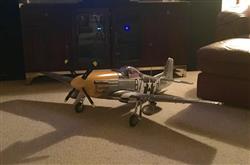 Well made foamy !
As a long time modeller and builder of many, much larger, balsa/plywood etc. model warbirds I had the opportunity to fly this 57" FMS P-51 at a recent meet and decided that I had to have one ! A few easily solved problems were run into - to be expected maybe - which I dealt with and Motion R/C were great in their support when I let them know that I had a dead flap servo. They sent me a replacement right away ! Great ! Thanks !
Fabulous plane, great flyer, bad landing gear
Everything about this plane I love except the main landing gear. I just finished assembling my second plane and the left main gear trunnion's ear snapped off on a very nice landing. I have replaced 4 main retracts on 2 planes for this very same reason. Motion RC has been very helpful on many fronts and they are replacing the most recent retract. The trunnions are made from pot metal and are brittle. Very little impact will crack the ears that the worm gear rides in to lower and raise the gear. This part definitely needs attention.
A'-typical; P51 Mustang with std. Mustang traits.
I have had this bird for several months now with about 20 flights ranging from the ever so cautious 'maiden', to the "all balls out",'G-fest' & bring her in with a very warm battery. The original motor was a bit anemic (IMHO), so I upgraded to the recommended FMS replacement and could see a measurable improvement in on-demand speed and low end power reserve. The fit and finnish on my bird, as delivered was impeccable. It went together easily and CGd' spot on with the very nice (adjustable fore & aft), battery tray and recommended Admiral 4S battery. Scale aerobatics and landings are (Mustang) par-for-the-course. I found she descends level but plummets like a rock on approach with full flaps (steep and rapid glide slope)…1/2 flaps is about all you'll need at most fields. I LOVE the bright yellow nose for height & orientation cues. I went a step further and painted my vertical and rudder flat white for further visual effect. Painted the pilot figure into accurate WWII USAAF uniform & equipment colors…as delivered it is a dead-ringer for a Luftwaffe 'Jagdflieger'. This is a fine scale warbird with a good size and presence in the sky. I did in fact have to replace both retracts under warranty in the first few flights…I wish these folks that build these retracts would switch to a current sensor instead of mechanical stop switches to serve as the full up or full down/ motor OFF indication. Great plane for the money…love it! Fly it…you'll like it!
My second Mustang from FMS
I bought FF to replace my Gunfighter v7. I literally wore it out from flying it so much. I received the Ferocius Frankie in good shape with no damage within 4 days of ordering. I spent a good deal of time just checking the fitment and did a leisurely build. It took just over three hours. I maidened it this morning with zero issues and no trim adjustments needed. The 1400 FMS Mustang is such a sweet bird. I would never use the word docile but it has zero bad habits. I fly scale aerobatics using the Admiral Pro 3600 batteries and using a Wakera Devo 12S with telemetry I get from 9-12 minutes with battery to spare. I have numerous other birds, but they mostly set in the hanger because I enjoy these Mustangs so much.
ready to maiden this weekend
The build was awesome....great looking beast,should maiden this sunday.....if she flys as well as she looks ........WOW
Looking Forward to First Flight!
Received the Mustang three working days after I ordered it. The plane arrived in excellent shape. No problems with dents, missing paint, or parts.The plane went together in one evening. No problems were encountered assembling the plane. It looks just like the Mustang I saw at Duxford, England, just amazing detail. While I was waiting for my receiver to arrive I found a great forum on RC Groups for this plane. Lots of great advice and support. I 12ided to add thread locker to various screws as the thread suggested. That's when I discovered numerous cracks in the landing gear flanges around the screw holes. I called Motion RC about what I had discovered. I was asked to send an email with a picture showing the damage. Good news, I have a new set of E Tracts are on their way to me. A big thanks to Martin at Motion RC for real customer support. Looking forward to my first flight as soon as I get the E Tracts swapped out. This is my first plane from Motion RC and it won't be the last.
My second V8!!
Great airplanes. They look great, fly great and very affordable for what you get. I would buy 2 more! I love them! Not to mention the great service from the guys at Motion! It's a must have!
Motion RC has a new European website
Go there instead?
Top