FMS Sky Trainer 182 V2 5ch Red 1410mm (55.5") Wingspan - PNP
This product is discontinued
Spare parts available below
FMS007-ATRED
FMS 1400mm (55.5") Sky Trainer 182 V2 5 Channel in Red Color Scheme - Receiver Ready (PNP) - FMS007-ATRED
This is a slightly upgraded version of the FMS Sky Trainer V2. The primary change from the previous model is a new shock absorbing nose gear which is more resilient after hard or off-balance landings. This plane is a favorite of Motion RC because of the awesome scale flaps, bright LED navigation lights, and overall level of detail. In addition, we absolutely love flying this plane when relaxing, scale flight is needed.
While the plane offers excellent scale characteristics, it is still capable of non-scale maneuvers such as rolls, loops, and inverted flight. Scale landings and takeoffs look fantastic and are equally enjoyable for the pilot and onlookers. We think everyone should have a Sky Trainer in their hangar. We return to this plane again and again even though we have a huge selection of planes to fly.
  Visit the Official FMS Sky Trainer V2 Discussion Thread on HobbySquawk.com for additional photos, videos, reviews, and customer Q&A.
Features:
New shock absorbing nose landing gear with heavy duty strut
Upgraded version of the best-selling FMS Sky Trainer. Upgrades include new LED lights, flaps, carbon wing tub, and higher power motor.
Scale details including smoked glass canopy, ribbed control surfaces, steerable nose gear, reinforced wing struts and chrome spinner
Working flaps add to the realism and help with takeoffs and landings
5 bright LED navigation lights: wing tips, landing light, and flashing red on vertical stabilizer
Removable EPO cowl
Large battery compartment with locking hatch
Durable EPO Foam
Requires:
Product Specifications:
SKILL LEVEL : Intermediate
| | |
| --- | --- |
| Wingspan | 1410mm / 55.5in |
| Length | 1100mm / 43.3in |
| Flying Weight | 1520g |
| Power System | 3536-KV850 Brushless Motor |
| Speed Control | 40A ESC with XT60 Connector |
| Propeller / EDF | 11x6 Three Blade Propeller |
| Servos | 9g x 6 |
| Landing Gear | Fixed main gear with steerable nose |
| Required Battery | 3 Cell 11.1V 2200 to 2600mAh 25C LiPo with XT60 Connector |
| Required Radio | 5 Channel |
| Rudder | Yes |
| Flaps | Yes |
| Ailerons | Yes |
| Lights | Yes |
| Hinge Type | Foam |
| Material | EPO Foam |
Product Videos
Product Questions & Answers
NOTE:
Questions submitted on this page are answered by customers who have previously purchased this item. If you have a support related question that requires immediate assistance, please visit our
Help Center
.
Product Support
Product Manuals:
Product Updates:
October 12, 2018  -  

The leads in the wings of the 182 labeled GEAR are actually the leads for the FLAPS.  The three leads in the wings labeled as FLAP are actually just the LED leads.  These three leads are all 2-wire leads that go into a 3-wired connector on the corresponding Y-harness that has an additional connector for the tail LED.

November 9, 2013  -  Note to beginners:  The FMS Sky Trainer is a fabulous flying plane, but we do not recommend it for hobbyists new to RC airplanes.  If you are a beginner and already have success on a high wing trainer, this plane is fine for you.  If you are brand new to the hobby and have never flown, there are much better options.  Beginners will NOT have success with this plane.
If you need any additional assistance, please visit the Motion RC Help Center
Product Reviews
Customer Reviews
Write a Review
Ask a Question
Great price.
Good quality. Landing gear screws missing but other than that I'm happy with the purchase and the price was great!
Mixed emotions
I have always been satisfied with FMS planes. They build easily and fly great. Not this time, the build was a nightmare. Many of the parts had to be shaved to fit, the instructions were horrible, parts were missing and the spinner does not fit the prop. After all the corrections, the plane looks great and flies really nice.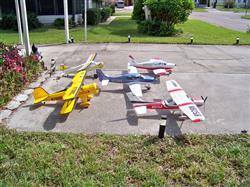 Sky Trainer 182
The instructions are not very good. the wires are a mess. battery box is small. the only thing good to say about it is the price.
182 Skytrainer
Running servo wires a pain to get through. Instructions not very thorough. Found several YouTube videos that were helpful. Fitment of vertical stabilizer not good.
FMS SKY TRAINER 182
GREAT PLANE TO FLY
Cessna 182 Sky Trainer
This was for sure the most difficult build I have ever encountered. I have built countless airplanes and am a semi skilled modeler if I do say so myself. The most difficult part was trying to mate the elevator, rudder with the fuselage. I had to trim foam to make it fit and the end result still was not good. There is still a good 1/8 inch gap where they meet and the fit is very poor. The inst. manual is virtually useless. There were screws loose in the box that were found to be from the motor mount. Luckily they were found and installed. Most of the wiring was mislabeled. The only correct labeling of the leads was the Rudder and elevator. The light leads were labeled "Gear" and the Aileron labels were also not correctly marked. There is really not enough room in the battery compartment for all of the wiring. My trusty 7 channel Lemon with stab Rx, cannot be used as it is just a bit too large. I will have to go with the much smaller Orange 6 channel Rx. I probably won't miss the stabilizer function as it is really a trainer and should be very stable in flight. This model will also be difficult to store due to it's size and the fact that taking the wing off for storage would be a pain in the rear. I also don't like the decals, specifically the FMS advertising decals. I removed them from the tail and the wing. What I liked was the great attention to detail. The scale features were good and I also like the fact that FMS puts a few extra screws and nuts, bolts etc. in the package for you. This is tremendously helpful in case something gets knocked off of the building bench and can't be found because the carpet "absorbed" it.
Great trainner
This my 4t sky trainer I love the detail and sale
FMS 55.5 Sky Trainer instructions a big disappointment
The packaging was very good and I received it without any damage. Shipping time was prompt. The product was as it had been describe. The book of instructions is a big disappointment, very poorly written and poor quality pictures. That is why the three star rating. It has been extremely difficult assembling this plane using the book of instructions. There needs to be far more detailed information to make assembling this plane a great deal easier and enjoyable. A pity, as everything else in this kit is very good. I am unable to comment on how the plane flies as I am still in the process of assembling.
Motion RC has a new European website
Go there instead?
Top