FMS Stuka Ju 87 1400mm (55") Wingspan - PNP
This product is discontinued
Spare parts available below
Product Reviews
Customer Reviews
Write a Review
Ask a Question
Check Those Hinges!
Loose control surface hinges seems to be a common issue with this plane. Two of my aileron hinges were swinging loose in the box and one of the flap hinges was actually broken in two. I was able to get most of the other hinges to loosen up with some gentle tugging. Not a deal-breaker for me, but disappointing since I spent over 300 bills for this thing - I guess I expect a little more at that price point. Otherwise the plane seems well-made and the parts were well-packed. I haven't flown yet since I'm in the process of reworking the antenna behind the gunner and doing some weathering.
Check Those Hinges!!!
I received this yesterday and have not put it together yet, but I can tell you what I've seen so far - Check ALL of your hinges. One of my flap hinges was broken in half and 2 aileron hinges were flapping around loose. With some gentle nudging I was able to get 2 others to start peeling off. Do they use rubber cement at the factory?! The construction overall seems to be nice and the parts seem to be good quality. I would have given at least 4.5 stars if not for the hinge issues. Not a deal breaker but I paid over 3 bills for this thing and maybe expected a little more.
FMS STUKA
Nice foam quality and detail Instuctions are horrible no contolsurface staring points for throws ect. tiny small pics with no explination But very Pretty aircraft also no swastikas on plane. would like the choice to use them or not. It is history ingmoring it doesnt make it go away. will paint my own.
Good plane....poor instructions.
Plane went together fine, but instructions were straight out of the 80s. Black and white pictures with a sentence every forth picture. Plane looks good though. Still have yet to maiden her.
An odd and unfortunate maiden flight.
After a careful, methodical and somewhat easy set up, and noting eye candy galore, this Stuka made me glad I was a remote pilot and not actually sitting inside it yesterday afternoon! She lifted off on her maiden flight as gentle, scale and smooth as one could ask…climbing out and turning crosswind…then downwind adjusting trims at about 1/2-2/3 throttle, then the LH base leg turn is where she spun-in CCW without warning, straight down into the weeds. Turns out that the RH aileron hinges all let go from the three glue-down points all at once! Nothing left to do but chop throttle and weep! I am certain that I tugged on all of those Stuka specific hinge points while I was setting her up…just not hard enough I guess. Started a claim ticket with MotionRC and FMS today…just have to wait & see, what happens next. The plane is way cool to look at and took off from a grass field with no problem….other than that…? I highly advise all current and future owners of this bird to go ahead and use some 30 min epoxy or anything other than what is used at factory on all of those unique Stuka aileron and flap hinge points, or likely YOU will suffer my same fate! MotionRC did not build this plane. I have purchased many, many warbirds from MotionRC and will continue to do so…"My name is Johnny…and I AM a RC-aholic"…...
The FMS JU-87 is a nicely made aircraft
The JU -87 arrived quickly in great condition, if it flies as good as it looks it is a winner
Very Scale Model, Excellent Flying Stuka
One of my favorite FMS models. A very scale outline and just a terrific flying model all around. Takeoffs and landings are a breeze. Give yourself a little added throw on high rates for authoritative rolls (the Stuka by nature and design isn't a huge fan of rolls). Robust gear....Looks terrifically menacing with the tank bustin' cannons. Flies and lands silly slow with those expansive flaps. One of my go-to models when I just want to go fly without stress. I really wish FMS would make this exact model in the 1700mm class.
Excellent plane
This is by far the best flying most forgiving warbird I have ever flown. Slow flight is excellent w/ no tendency to wing over post stall. Details are amazing. Just be wary of the narrow stance & tall height of the landing gear, but that comes w/ flying a scale airplane. Packs a lot of power, takeoffs are short unless you don't gun it & do a scale takeoff, landings are easy & you don't need to come in w/ too much speed like most warbirds. Overall a great buy & a sweetheart of an airplane to fly.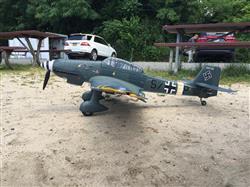 Poor product
I bought the JU 87 Stuka foamy. It isn't a good kit for a beginner cuz of problems (2harness's incorrect, plugs don't fit receiver w/ out alteration), however, the guys at motion were very helpfull & got it sorted, so are back on the good guy list. The bad thing is I had to wait a week for parts. You guys should think more about dealing w/ the chicoms. Cheers Bob
Motion RC has a new European website
Go there instead?
Top