FMS T-28 V2 Red 800mm (31.5") Wingspan - PNP
$9999
$9999
FMS T-28 V2 Red 800mm (31.5") Wingspan - PNP
This product is discontinued
Spare parts available below
Product Reviews
Customer Reviews
Write a Review
Ask a Question
T28
Very good detail and easy to put together outstanding price
T-28
Flys good even in a good breeze. But its to small to see 300ft away
T-28 Easy Travel Option
I took a trick from a nano talon with the magnetic v-tail. I added magnets to the T-28 stabilizer and the inside of the fuselage. I can break the plane down and store in in the box for transport. I fly the plane with a FrSky S6R stabilizer to make those windy days more manageable.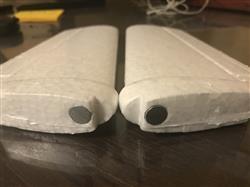 FMS 800mm Warbirds are a Blast!
Love the way these FMS 800mm warbirds go together and fly. They are easy to modify for 3S power and they are a hoot to fly.
T28 Awesome plane to a
T28 Awesome plane to a real joy in the hands of any pilot
T-28
I got this as a park flyer and its a fun little plane to fly. with a 2s it flies scale very well, but if you toss in a 3s 1000mah battery it really screams. I had to cut a hole and glue a scoop for more cooling but on the stock motor and ESC it does great without overheating on both. I bought an extra just to have as a spare and i think i'm going to add flaps to this one just for kicks.
Motion RC is the Amazon of Radio Control
Always fast! Always correct and always superior products....can't beat it anywhere.
T-28
Great airplane, flies like the larger models. great glide rate and lands like a dream. A little fast for a beginner but perfect for intermediates.
Flys Beautifully , no need for gyro' stabilization assist ....
I'm sure all that new stabilization 'units' are fantastic for some applications, certainly not needed though with this plane. In a short time I have bought way too many planes from edf to pylon racers, this plane is so much fun and small enough to take anywhere. It's small yet substantial enough you can see it in the air and don't need to send it out into the stratosphere to have fun, 2s is great, 3's is even better, 4's is great but not needed. This plane is hard to destroy, very durable. Easy to assemble , maintain, fix , tends to take more punishment gracefully and in stride than my bigger planes. I would though like to leave a list of some cons though for prospective buyers,,,, just for the record: 1) ,,,,,?? 2) uh.....?? 3)...mmm...?? 4) ,,, check back later, I'm sure there was something.......... Things to make note of : Will hand launch like butter, but practice in tall grass of brush, until you get it right. Gear is fantastic, excellent engineering, snap latches for removal of mains,,/ nose gear ; allen screw (hex). Wheels are small as would be expected, pebbles on runway may tip plane over easily on landing after you have slowed down, taxi slow but steady enough to keep the momentum to be able to roll over most of the smaller pebbles and ruts, if any. Will launch off runway just about as quickly as you want it too, especially on 3s, ( but of course 2s is fine). Motor Removal ; take off cowling with the two side screws, there is a hole on either side in the foam to allow access to motor to mounting base assembly, I think they are allen/hex . Flies well inverted. Very impressively stable in no to mild wind, like any smaller plane , gusts over 7 or 8 mph will rock the wings and jostle the plane up or down a bit, but that should not be too much of a surprise. Always room in the car for this plane.
Motion RC has a new European website
Go there instead?
Top