Freewing 70mm 6 Blade EDF
P0701
Freewing 70mm 6 Blade Ducted Fan Unit
This EDF is used on the following Freewing planes:
Product Questions & Answers
NOTE:
Questions submitted on this page are answered by customers who have previously purchased this item. If you have a support related question that requires immediate assistance, please visit our
Help Center
.
Product Reviews
Customer Reviews
Write a Review
Ask a Question
Freewing F-35
Well this is a really good jet. The build was easy, the EPS is smooth as silk, the Thrust Vectoring was a snap to set up, and it flies really well. There are a couple of modifications you can do like cutting a battery hatch in the top that will let you put in any battery you want, then you can also put in a stronger EDF/Power unit. It is a great first EDF jet because the size from the 64mm planes is easier to see and it just flies with more authority. Everything works for me and I really don't understand when there are so many negative comments sometimes when part of the fun of this hobby is to be able to tweak something to what you want it to do and to be able to fix a small mistake. If most of the people that complain would take the time to go over every part of a new plane and actually tug on some things that we know might not get enough glue, or have a screw tightened enough and oh yeah.....get the CG correct you would be a lot better off and start having some fun. I can't imagine what the techs at Motion must want to do when the miserable people call in ******** about everything. Matt, Michael, Martin, Alpha, Wayne, thank you for always helping out. Tom has built a great team over there and it's you guys who are the reason I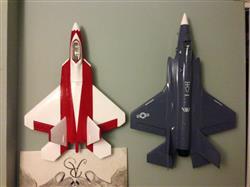 70 mm ducted fan
Recently bought the 70mm ducted fan. Recieved it in 3 days, exactly as advertised. Just be sure to balance it prior to installation, mine was off quite a bit.
Freewing 70mm 6 Blade EDF
For the price, it's the best little fan for the coffee cup foamie jets I build...just finished one a minute ago....quick, economical delivery and backed by Motion's customer service...
Freewing 70 mm fan
Great value, plenty of thrust for my application, quick, economical delivery and backed by Motion's customer service... I'll keep buying them
Motion RC has a new European website
Go there instead?
Top