SKU: S35D002001
Freewing 70mm SU-35 60A Dual Brushless ESCs
Sale price

$7399

Regular price

$9899

(Save $25.00)

Overview
CLEARANCE MERCHANDISE
Clearance items are NEW merchandise in factory sealed boxes.
Because of their deeply discounted prices, all Motion RC clearance items are sold "AS IS" and cannot be returned or exchanged under any circumstance.
Clearance merchandise DOES NOT have a warranty. The buyer is responsible for any problems or repairs after purchase.
Dual 60 Amp Brushess Electronic Speed Controllers (ESC) for the 70mm EDF Freewing SU-35
Specifications:
Silicone wire:14#
L1=290mm ; L2=120mm ; L3=150mm
Connect to motor:banana connector Φ3mm
Connect to battery:EC5
This is a set of two Freewing 60A ESC pre-wired for the SU-35.

Spare Parts
Product Spare Parts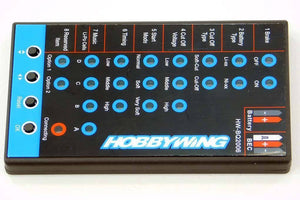 Freewing ESC Programming Card
SKU: E9901
$1499

Q&A
Product questions & answers
NOTE: Questions submitted on this page are answered by customers who have previously purchased this item. If you have a support related question that requires immediate assistance, please visit our Help Center
SKU: S35D002001
Freewing 70mm SU-35 60A Dual Brushless ESCs
Sale price

$7399

Regular price

$9899

(Save $25.00)
Adding product to your cart
Customer Reviews