Freewing 80mm 12-Blade EDF 6S Power System w/ 3658-1857kV Inrunner Motor
$10799
$10799
Freewing 80mm 12-Blade EDF 6S Power System w/ 3658-1857kV Inrunner Motor
E72311
80mm 12-Blade EDF 6S Power System w/ 3658-1857kV Inrunner Motor from Freewing -
E72311
Product Questions & Answers
NOTE:
Questions submitted on this page are answered by customers who have previously purchased this item. If you have a support related question that requires immediate assistance, please visit our
Help Center
.
Product Reviews
Customer Reviews
Write a Review
Ask a Question
09/08/2020
Michael D.
United States
Excellent materials and workmanship, great value!
I haven't powered her up yet so I didn't give it 5 stars but I am sure I will later. I purchased this for the Free Wing MIG-21PNP Plus that I am modifying and repainting.
09/05/2020
Don B.
United States
upgrade from standard F-86 power system.
I replaced the standard fan and esc on an older F-86. Wonderful improvement in flying performance. It was worth doing...
08/28/2020
Richard L.
United States
12 blade 6s inrunner
Very disappointed with the thrust output...heavier and about the same as outrunner...
08/12/2020
Rick .
United States
High Performance??
I bought this for the A-6 Intruder.....I felt like it needed just a bit more oompff......Very disappointing with this one....I can't say it's any better than the stock edf....I put the upgraded one into my F5....was really happy with that one.....this one however is really lacking.....
07/22/2020
David M.
United States
No increase in performance
I was looking to upgrade an older 2016 era motor to get increased thrust. I purchased this unit as I generally prefer drop-in modifications, but the older 3525-2050kv Freewing motor produced almost identical thrust numbers at ~2,050 grams as this new unit and is significantly lighter. I returned this unit without flying it and put the older motor back in.
06/01/2020
Lon L.
United States
So glad I purchased
My Freewing A-10 stock 9 blade setup has always performed very well since I received mine, which was the very 1st shipment when this plane came out. I was hesitant to purchase this EDF setup "If it's not broke, don't fix it". But I'm so happy and impressed with my A-10's performance with these 1857kV Inrunners installed. I thought I would have less flying time with this setup..NO. Better vertical performance and a noticeable increase on your top end passes.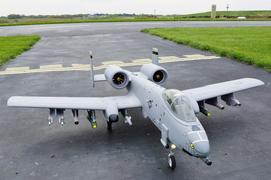 05/28/2020
Jeff T.
United States
Power to spare.
This is a fantastic upgrade for your Avanti S. I am still flying my original Avanti S that came out in the very beginning and with all it original hardware, electronics, motor and so on. And now I have added this new higher output motor to it. Wow!!! this has made a fantastic plane even better. This as is all Motion Rc products….Top of the line high quality. I have purchased from Motion Rc for almost a decade and their parts nor their customer have ever failed me. Buy today and enjoy…...
04/29/2020
Jens S.
Germany
Power top, noise could be more "whoooosh", but is ok
Power top, noise could be more "whoooosh", but is ok
03/13/2020
Robert B.
Germany
Freewing 80 mm 12-Blatt EDF 6S Power System mit 3658-1857 kV Inrunner Motor
Gute Verarbeitung,etwas hoher Preis.
Top