Freewing 80mm EDF A-10 Nose Gear Door
FJ31111091
80mm EDF A-10 Nose Gear Door from 
Freewing - FJ31111091
Product Questions & Answers
NOTE:
Questions submitted on this page are answered by customers who have previously purchased this item. If you have a support related question that requires immediate assistance, please visit our
Help Center
.
Product Reviews
Customer Reviews
04/10/2019
Howard S.
United States
A-10 80mm nose gear door
Always the second casualty after the nose retract case on a bucking bronco landing.
04/05/2019
Douglas G.
Australia
A10 spares
Good product and fast shipping thanks
11/30/2018
Jim G.
United States
Freeing A10 nose gear door
Shipped and received quickly, Fit perfectly.
07/09/2018
Rob M.
United States
Admiral 500 6s Battery
These ae by far, the best batteries I have ever owned. All my planes use these and I have some that are two years old and still going! I'm careful to balance and slow charge, and they have rerded me with great life and performance!
06/18/2018
Ron R.
United States
Redesign this please
After a normal landing the triangular piece fell off. I glued it back on and it held in place for several more flights. The last time it fell off I didn't notice until I brought the plane home. I couldn't find the piece so I ordered a new door. I've read on HobbySquak of other pilots having the same problem. It's a poor design that I'd like to see fixed. Perhaps a one piece 3D printed part would be more durable.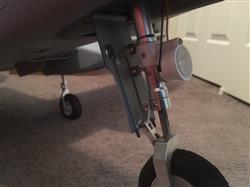 Freewing A10 Nosewheel door
I was surprised at the fast delivery, and found the replacement door to be exactly as needed in every way. Easy installation, and works perfectly