Freewing 80mm EDF F-86 Fuselage
FJ2031101
Fuselage for the Freewing 80mm EDF F-86 Sabre
Material: EPO Foam
Product Questions & Answers
NOTE:
Questions submitted on this page are answered by customers who have previously purchased this item. If you have a support related question that requires immediate assistance, please visit our
Help Center
.
Product Reviews
Customer Reviews
07/04/2019
Ron L.
United States
05/30/2019
William R.
United States
Perfect replacement fuse
After 4 years, I needed a new fuselage for the F86. This fuse arrived with all decals applied, contrary to the online photos. Very nice, and everything went together perfectly.
04/10/2019
Howard S.
United States
F-86 fuselage
Excellent replacement fuselage, my only gripe is cosmetic. The original fuselage that came with the aircraft had a very dark shading at the exhaust end. Something in the manufacturing process must have changed as the replacement fuselage the color was so light on the exhaust end that it barely contrasted against the silver paint of rest of the fuselage.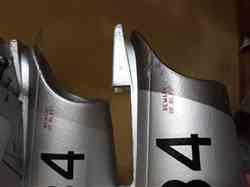 07/26/2018
William C.
United States
Me fuselage
Comes with all the decals on it. UPS should be ashamed of themselves though. First one came and the box and fuselage were broken in half. Motion immediately sent a new one. It arrived and the box was significantly damaged but somehow the fuselage was intact. The wings, now gear, tail feathers and fan want in just perfect. This is a great plane.. I have over 400 flights on it and would not be without one. Easy to get parts and repair. Rugged plane.
F 86
The Image is confuseing … It shows no decals . it comes with all the decals… Good job motion rc
Excellent replacement if you take a dirt nap
The most important part of this was the packaging, came very well protected in bubble wrap. No issues. The wire extensions come installed from rudder and elevator. The 12als are already placed on fuse perfectly. No canopy included. The rebuild time can be quick depending on what else is damaged on your jet. The toughest issue was trying to get nose gear retract and streering arm correctly. Use the manual to save time.
Motion RC has a new European website
Go there instead?
Top