Freewing 90mm 9 Blade EDF 6S Power System w/ 3748-1750kV Outrunner Motor
E7228
90mm 9 Blade EDF 6S Power System w/ 3748-1750kV Outrunner Motor from Freewing - E7228
This power system is used for the 6S version of the Freewing F-4D Phantom II and Freewing F/A-18C Hornet.
Product Questions & Answers
NOTE:
Questions submitted on this page are answered by customers who have previously purchased this item. If you have a support related question that requires immediate assistance, please visit our
Help Center
.
Product Reviews
Customer Reviews
Write a Review
Ask a Question
12/08/2019
Howard S.
United States
90mm blade 6s 3748-1750kv
I purchased this power system for the FW 90mm F-16. With the impressive performance of these 9 bladed setups, I was hoping for moderate performance for my F-16. I tried a 4000 70c, 5000 55c, 5200 90c, 6000 50c, and a 6200 50c. No matter the fuel delivery behind this edf and motor all results were full throttle, full length field runs while jerking her into the air at the departure end. Climbs are accomplished at 10° to 15° nose high and anything less than 70% throttle results in a loss of altitude. I'm sure this would be great an another bird, but the falcon weighs a ton.
10/08/2019
William L.
United States
Initial evaluation of Freewing 9 bladed 90 mm 6S EDF
Initial testing in my fly fly f86 shows good power and great jet like sound. No balancing or vibration issues to report. Have not had a chance to fly my old F86 90mm as of yet. There was not enough room in this jet to install the tail motor cone so just left it open. Will report further after maiden flight. So far so good. Must comment on the prompt delivery to Canada, less than 2 days. Very satisfied with Motion RC Service and products. Also bought 2 F104 70 mm Starfighter and a70 mm 12 blade fan upgrade which works very well in this jet.
09/28/2019
JOHN K.
United States
08/21/2019
Saeed I.
United States
Saeed
Excellent service overall, good price, it will be great if each item has some illustrated instructions, (e.g, wiring and connectors on edf, esc. Etc) it will really help people who are switching from gas to electric or vice versa.
05/23/2019
Richard P.
United States
Upgrade
This motor fan combo was a great upgrade for my F16 90mm. It reduced the full current draw from 130 amps to 108 amps keeping my batteries cooler with little flight performance reduction. Sound is a little different but not much.
09/28/2018
Ron R.
United States
Light and powerful power system!
After flying the Freewing F-4 Phantom with this power system I decided to install it in the Freewing F-15 Eagle ARF I recently purchased. My F-15 can takeoff in 100 ft and that's with my wheels tightened. If I loosened my wheels and greased them I'm sure I could reduce the takeoff distance to 75 ft. Top speed is excellent and vertical performance is excellent. I posted a couple videos on YouTube and more are on the way. https://youtu.be/Ru_kHa_J4dY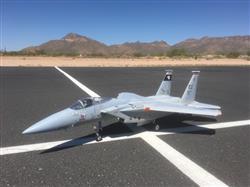 Motion RC has a new European website
Go there instead?
Top