Freewing 9g Digital Metal Gear Servo with 550mm (22") Lead
MD31092-550
Freewing 9g Digital Metal Gear Servo with 550mm (22") Lead - MD31092-550
This servo is used on various Freewing jets.  It can be used with other aircraft with compatible specifications (see below).
Features:
Lightweight, efficient high torque metal gear servo perfect for mid-sized to large EDF jets
Includes:
Freewing 9g Digital Metal Gear Servo with 550mm (22") Lead
4 mounting screws
3 servo horns
Product Specifications:
| | |
| --- | --- |
| Servo Class | 9g |
| Servo Type | Digital |
| Gear Material | Metal |
| Direction | Standard / Normal |
| Operating Voltage Range | 4.8V to 6V |
| Speed (4.8V) | 0.12 sec @ 60 deg |
| Speed (6V) | 0.10 sec @ 60 deg |
| Torque (4.8V) | 1.6 kg/cm (22.21 oz/in) |
| Torque (6V) | 1.9 kg/cm (26.38 oz/in) |
| Current Draw at Idle | 10mA |
| Current Draw Operating (No Load) | 80mA |
| Dimensions (L x W x H) | 23.5 x 12.2 x 26.4mm |
| Weight | 12g (.42oz) |
| Lead Length | 550mm |
Product Questions & Answers
NOTE:
Questions submitted on this page are answered by customers who have previously purchased this item. If you have a support related question that requires immediate assistance, please visit our
Help Center
.
Product Reviews
Customer Reviews
11/13/2019
Allen E.
United States
Freewing 9g servos
Smooth, great quality for the money.
10/14/2019
miles s.
United States
Freewing digital metal gear servo
Very good servo use it in my 3D foamies works excellent conditio
Servo replacement for Timber
I purchased these to replace the stock servos on my Timber 1.5 which failed. So far they are working great. Good servo for the money spent. I could have used the shorter lead version , though , as I did not know the originals had 4 inch leads.
Freewing 9g MG servo with 22in/550mm lead review
I bought 2 of these long lead servos to replace the aileron servos in my FW F/A-18C. I bypassed the blue box for everything except the LG and LEDs. Using these long lead servos allows me to not have to use extensions to the ailerons. They can go directly to where I need them to go. The only problem I have with the product is the fact that FW has placed them in plastic mounts that pretty much dictate that these specific servos must be used. That's fine since these servos work well in THIS specific application. But I would like FW, and the other manufacturers to design and build the models so that any generic brand of servo can be used rather than a specific model of a specific brand. I have 21 flights during 70 mins of flight time with these servos. They have performed as they should. I highly recommend them.
08/30/2019
Luis M.
United States
Good price
Good servo for the money
T
07/21/2019
Thomas
I've had 2 out of 6 Strip Gears
First, let me say that I really love MotionRC, their product line and delivery times are incredible. I have not mentioned my issue with them, but I'd wager they'd make an effort to make it right, so this is no reflection on them as a retailer. This is a review of this particular product. Additionally, the Digital MG servos that gave up are both on the tail feathers of a Fun Cub, so they are getting a good workout. However, when you disassemble these servos, you'll find there are several nylon/plastic gears under the main brass gears, and there's a large grey colored nylon/plastic gear at the bottom of them all, this is the one that has broken in both instances. If you're using these for aileron/flaps. . . I'd say "yes", but for a surface that is connected to a tailwheel or elevator on a taildragger, I'd say "avoid". The whole idea behind MG servos is durability, but I've been flying these for 3 weeks and they are already toast. Anyway, of course YMMV, but be aware, these are priced according to their durability. I've used Emax MG and Hitech HS-65MG in similar builds without issue. Actually, I'll be replacing the FreeWing MG with a HS-65. Replacing servos typically isn't an issue, but the FunCub is built such that it will be easier to cut/solder a new servo in place rather than pull/rethread the lead through the fuselage. This hassle is probably what has spurred me to write the review ;-) Still a huge fan of MotionRC though. Fantastic company and they've replaced HobbyKing as my go-to retailer for all things RC.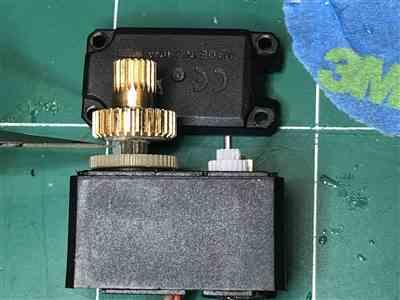 07/10/2019
Steve O.
United States
good servos
my original getting jumpy so oem replacement was good, they work fine
06/28/2019
Allen E.
United States
Freewing Servo
Servos work great!
06/13/2019
MICHAEL W.
United States
Great Servo
The stock servos that came with my aircraft were noisy. Having used Freewing servos in a Freewing aircraft before and liking them, I replaced all the stock servos with these Freewing servos and as expected, the difference was amazing. Not only were the Freewings absolutely quiet, but they were fast, strong and accurate.