Freewing A-10 Thunderbolt II Twin 64mm High Performance EDF Jet - PNP
FJ10612P
Freewing A-10 Thunderbolt II Twin 64mm EDF Jet High Performance Edition in Gray - Receiver Ready (PNP) - FJ10612P
This is the NEW High Performance edition of the famous close air support A-10 Thunderbolt II, also known as the "Warthog" or "Tank Killer" available exclusively at Motion RC. This is the heavily upgraded version of the Freewing A-10. Some of the upgrades include 12-blade EDFs, electronic retracts, 4S battery capability, dual 40A ESCs, and high-speed 2836-3300KV motors. Typical to Freewing quality, this plane looks amazing and flies steady and fast. The twin 12-blade EDFs produce amazing realistic jet engine sound, while giving it plenty of power for high speed maneuvers, and the the wide wingspan allows stable flight at slow speeds. The main wings are also flaps ready, just add two 9g servos and you can experience shorter take-off distances and slower speed landings with the flaps deployed. Many customers have asked Motion RC to bring a high quality A-10 to the market, and we believe the Freewing A-10 is the perfect choice.
  Visit the Official Freewing 64mm A-10 Discussion Thread on HobbySquawk.com for additional photos, videos, reviews, and customer Q&A.
Features:
Model officially licensed by Northrop Grumman.
Ultra-scale design including US Air Force graphics, hand-painted pilot, detailed cockpit, machine guns, bombs, drop tanks
Twin 12-blade 64mm Electronic Ducted Fans (EDFs) produce incredibly realistic turbine sound
Two 2836-3300KV brushless motors produce over 1700grams of thrust
Upgraded twin 40A Hobbywing ESCs are housed in a special compartment designed for effective cooling
Electronic retractable main landing gear and retractable steerable nose gear both with metal trunnions
Flaps ready (just add two 9g servos) for quick take-offs and slow, scale landings
Nylon hinges on all control surfaces (superior to foam hinges)

Brushless motor, ESC and servos come pre-installed
Requires:
Product Specifications:
SKILL LEVEL : Intermediate
Wingspan

1100mm / 43.3in

Length

1000mm / 39.4in

Flying Weight

1680g / 59.26oz

Power System

2836-3300Kv

Speed Control

2 x 40A, XT60 connector, internal SBEC

Propeller / EDF

Twin 12-blade 64mm EDFs

Servos

9g digital standard with 300mm lead : elevator, rudder, nose landing gear steering
9g digital standard with 550mm lead : left aileron, right aileron

Landing Gear

Electronic retractable main and nose landing gear. Steerable nose gear.

Required Battery

4S 14.8V 3300mAh to 3600mAh 30C LiPo with XT60

Required Radio

5 Channel radio (6 channels if using flaps)

Rudder

Yes

Flaps

Optional

Ailerons

Yes

Lights

No

Hinge Type

Nylon hinges on all control surfaces

Material

EPO Foam
FEATURE VIDEO: Onboard video from the Freewing A-10 Thunderbolt II - PNP
/fw-64-a10/
Product Videos
Product Questions & Answers
NOTE:
Questions submitted on this page are answered by customers who have previously purchased this item. If you have a support related question that requires immediate assistance, please visit our
Help Center
.
Product Support
Product Manuals:
Product Updates:
November 18, 2013 - If you are adding flaps to your A-10, you will need one

9g standard servo with 300mm lead

and one

9g reverse servo with 300mm lead

. Click the Spare Parts tab above.
If you need any additional assistance, please visit the Motion RC Help Center
Product Reviews
Customer Reviews
Write a Review
Ask a Question
Crashed on maiden
I had this airplane before, but I sold it so I could buy a different airplane (limited space). I bought it again since I liked it, and on maiden flight I crushed it. We all watched me straggling for 2 minutes to keep it in the air, until I could not control it anymore and it dived into a ground. The airplane had strong tendency to roll to left and down. I still do not know what happened. After the crush we verified everything was functioning fine, all servos, both EDFs. Big unknown why it was behaving the way it was. Will buy another one. I am experienced pilot and this was my worst maiden flight. Since I do not know what happened, and I crushed it on maiden for unknown reason I am giving it 3 stars.
05/16/2020
William A.
United States
Freewing A10
I got my order in on Friday, and FedEx delivered it on Monday. Packaging was great. No damage. Assembly was uneventful. The wiring for the tail feathers were a little aggravating, but doable. I flew it with my Zippy Compact 4s,4500,and got a clean 4.5 minutes out of it. BUT.......a big problem arose. I ordered an Admiral 6ch rx,with stabilization for it. I was using a Lemon rx w/stabilizer and satellite, but it had came out of another plane,so.......... I got my Admiral rx in yesterday, installed it in my A10, and proceeded to set it up. Syrange,i couldn't get it to go into "stabilization mode",but,the A10 flys like it's "on rails",so i figured,why not? I should not have done that. After rotation,it went completely haywire, like it had a mind of its own. It fly away,until i saw it go into a "nose dive"with no control on my end. So.......I'm out $255.00 jet $30.00. Rx $65.00 battery,for a grand total of $350.00. 3 flights out of the jet using my Lemon rx w/stabilizer,and not even one with the Admiral rx. But i gotta say,it's a good flying, good looking,and great sounding jet. Or...it was
05/07/2020
Kevin H.
United States
A-10 Fun
Beautiful plane with lots of detail. Heavy wing loading, but flies great.
05/02/2020
JOHN N.
United States
64mm and full of fun!!!
One fine airplane!!! blast to fly
03/07/2020
Andy
United States
Amazing little A10
Wow, MotionRc!!! I ordered this A10 at 10:30 on a Wednesday night and when I woke up this Saturday morning, it was sitting at my fromt door! 2 days and its here! Outstanding! I haven't flown it yet but like my other freewing models, im sure it will fly just fine. I will be installing flaps also. If they got em, must be a reason for em! I use flaps on a lot of my modles and it really is noticeable on landings and from what a lot say on here, this A10 comes in hot. Can't wait to take this A10 to the skies!
01/15/2020
Michael M.
Canada
A 10 thunderbolt
Haven't flown it yet, but it went together great. Wish it had suspension, but I'm sure it will fly amazing. Thanks
11/23/2019
michael d.
United States
Very quick delivery
My a 10 arrived very quick, and it's over all condition was excellent, its first flight was almost 3d but found out you need very little control on the plane to fly smoothly, Al's took 45 percent rudders 50 percent. The balance was right on, I used zee, 5200 nah 14.8 volt . Awesome flying a 10.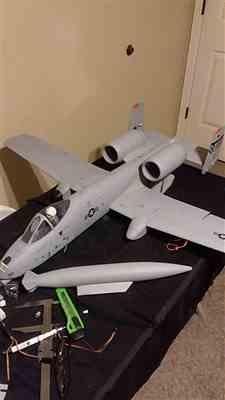 Looks Great the A10 64mm EDF
Good value for money. Flies great and looks good in the air considering it's size. Most of my flying is done off a grass strip and so far l have had no issues with the take-off's. Never added the flaps and have had no problems with take-off or landing. My A10 was flown with a 4000 4's and l could achieve around 4 minutes flying at half throttle.
07/14/2019
Bob R.
United States
A-10 Review
This is my second Freewing A-10. The first one flew well for several flights. The last flight, while I was turning right to the runway, the right aileron servo locked-up (full right), and the plane rolled right into the ground. When I received the first A-10, the nose steering servo was d.o.a., and I replaced it before the first flight. Although both A-10's are well worth the money, I find them slightly underpowered. I'm using a 2700(4s) battery and the CG is fine. These are nice planes, but use a lot of runway to get airborne. Once in the air they fly fine. I definitely need to use flaps to stop on the runway. I highly recommend this A-10, but now I would like to purchase the larger 80mm version.
Motion RC has a new European website
Go there instead?
Top