Freewing ABS Hinges Type C (8 pack)
N410
Freewing ABS Hinges Type C - 8 Pieces
Product Questions & Answers
NOTE:
Questions submitted on this page are answered by customers who have previously purchased this item. If you have a support related question that requires immediate assistance, please visit our
Help Center
.
Product Reviews
Customer Reviews
08/08/2019
Lloyd D.
United States
Freewing hinges
these hinges work as well as the original ones that came with the plane. Easy to install, they fit the opening. Goood product!!
07/03/2019
Tomas H.
Spain
Bisagras ABS tipo C
Perfecto recambio.Gracias
06/26/2019
Ian F.
United States
Great Replacement
Factory replacement. Works great
01/13/2019
Victor S.
United States
ABS Hinges Type C (8 pack)
Thanks so much for stocking these, Go figure things like this can break but the can if you play hard!
12/26/2018
RALPH B.
Canada
ABS hinge
Its a hinge !!!. I thought they were to small for my project but when placed side by side with the Avanti EDF hinge they are the same size.
11/15/2018
Marco Z.
United States
Freewing Hinges
I scratch build often and found this little hinges interesting. while not easier to install than that of other pin-hinge brand, this ones offer an additional safety feature; the cross pin will hold it in place even if the glue "did not do the job".. Great for working with foam models.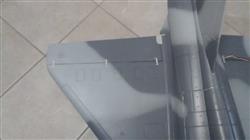 07/10/2018
Ricardo S.
Spain
Freewing hinges Type c
Very good product. Good performances
07/09/2018
Max K.
United States
ABS hinges Freewing
They showed up just fine
Freewing hinges
Excellent product. Easy to fit and hinges very strong.