Freewing Electronic Retract with 4.1mm Shaft - Type D
$1190
$1190
Freewing Electronic Retract with 4.1mm Shaft - Type D
ET8104
Electronic Retract with 4.1mm Shaft Type D - ET8104
Specifications:
Body material: plastic
Trunion material: black anodized metal
Strut diameter: rotating shaft pin is 4.1mm in diameter
This retract is used on the nose gear of the following Freewing aircraft:
80mm EDF F-86
80mm EDF A-6
80mm EDF Mirage 2000
80mm EDF Scorpion
80mm EDF F-5
Product Questions & Answers
NOTE:
Questions submitted on this page are answered by customers who have previously purchased this item. If you have a support related question that requires immediate assistance, please visit our
Help Center
.
Product Reviews
Customer Reviews
Write a Review
Ask a Question
09/17/2020
Ronald L.
United States
Geat fit
Drop right in the F-86.
09/15/2020
Joe L.
United States
Electronic Retract
This retract was bought to replace the same unit in a Freewing F-=86 I had bought at a Swap Meet back in February. The first time I flew it, when it landed, it ran off of the end of our short runway and the nosewheel folded . I bouight this unit which is the exact same retract that was in the F-86. I this case , on my very first takeoff attempt, the plane was almost ready to lift off when it ran our of runway and went into the grass. The nose wheel colapsed again. The sides of the thin plastic case the trunion rotates in just split open. Just like the first one did. I do think it should preform well on a smooth hard surface runway.
09/05/2020
Joseph Y.
United States
OEM Replacement part
This is a derect OEM replacement part. Easy to replace. Works as it should. I am very happy with this Part. If need be Id buy it again.
08/01/2020
Dave G.
United Kingdom
Still not sure
Not strong enough for grass landings. OK if you get it exact every time. Now had to reinforce the front plate area.
06/12/2020
Eric R.
United States
Nice, inexpensive... fragile??
This is the third or fourth one of these I have purchased since I started flying this jet in February 2nd... now it's mid-June. I guess I am hard on the nose-gear on my Freewing F-86. The plastic case of this retract unit cracks when I pound that nose-gear into the runway, forcing the locked extended gear into the "gear-up" position.. (I have had a couple of CRASHES, too.) I can super-glue the case, but I will again bust it on the ground. Maybe having the nose-gear snap shut is better than causing actual structural damage to the fuselage. ... at about $12, these are a super bargain. They simply drop-in to replace the OEM unit.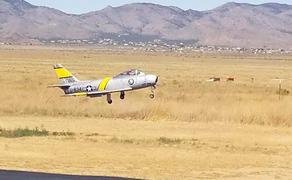 04/30/2020
Eric R.
United States
Inexpensive metal-gear Nose Gear Retract - Solid at a low price.
I have been flying my Freewing 80mm F-86 for couple of months as my first EDF and I have been HARD on the landing gear as I experiment with batteries, CG and "landing technique"! I have split the plastic outer-housing on this Nose Gear Retract TWICE by smacking the plane into the dirt with Gear down. (I have purchased TWO of these units, so far...) The thing is all metal except for the plastic housing. ... in my "testing", nothing broke or failed except that outer case. ... The unit is held together with five small screws and disassembly/reassembly is easy. The large pivoting landing-gear mount follows a metal block driven on a worm screw, and that block LOCKS the gear in the down position. It's a solid lock that only fails when the plastic casing splits upon impact! ... As I said, I have replaced the original nose gear in my F-86 twice after splitting the case as a result of a hard landing... and the new unit simply drops into place... an exact replacement. You can probably pay more money, elsewhere, and maybe get a tougher, more durable unit... but for the low price of this unit and its apparent quality, it's an outstanding value.
11/07/2019
Gary
United States
Retract Electronics
These retracts are functional but not very strong and they sometimes get stuck. Had one brand new malfunction for no real reason. Understanding that inexpensive does not always mean cheap, in this case, cheap is cheap and inexpensive.
07/26/2019
Rich W.
United States
retract for saber jet
I ponder why my product replacement does not appear similar in build to that shown in above image. Mine came without radius re-inforcement in the case side walls. Since my first unit failed in this area I thought I was getting an improved product. It would seem to me , that I got a replacement identical to the original retract. Jeez , I ordered 2 thinking I was getting ahead of the curve. A lot has been written concerning the overall weakness of the retract system, on this model. I only hope my added skill and wisdom will bring good fortune. LOL
F-86 80mm shaft is too short.
This is supposed to be a direct replacement for the FW F-86 80mm nose gear retract. However in order to use it you have to disassemble both the old and new retract and swap the shaft, as the new one is too short to accept the wheel assembly. If it weren't for the major surgery on what should be a plug and play item, I'd be giving 5 stars.
Top