Freewing F-105 Thunderchief 64mm EDF Jet - PNP
FJ10911P
64mm Freewing F-105 Thunderchief - Receiver Ready (PNP) - FJ10911P
Freewing and Motion RC have done it again! Lightning strikes twice and following up on the wildly popular F-8 Crusader, we are excited to announce our latest addition to the Park Jet Series, the F-105D Thunderchief! Relentless in its bombing missions during the Vietnam War, the supersonic F-105 excelled as a single seat F-105D fighter bomber and a two seat F/G SEAD or "Wild Weasel" platform. Never before available in foam PNP format, with the release of this Freewing F-105D Thunderchief we are proud to commemorate the service and sacrifices of all the Thud's crews who fought unbowed against terrible dangers.
Optimized for affordability and accessibility, the Freewing F-105D truly delivers the fun factor for park jet pilots. Continuing the popularity of our Freewing Stinger 64, F9F Panther, F-22 Raptor, and F-8 Crusader, the F-105D is perfect for pilots seeking standoff scale appearance of a rarely modeled aircraft in an affordable and easy to own package.
The Freewing 64mm F-105D Thunderchief is designed to be an ideal first hand launch EDF, for novice pilots wanting to learn how an EDF jet handles versus a propeller driven model aircraft of a similar size. The Thunderchief is surprisingly stable yet nimble, with axial rolls and predictable behavior. A shoulder mounted wing and embedded plastic "skid plate" along much of the belly protects the aircraft during carefree belly landings. Assembly is straightforward, and using only two servos minimizes weight, complexity, and cost. Like the F-8 Crusader, the F-105D Thunderchief is configured to be flown using a radio that has Elevon mixing, as each side's aileron and elevator surface are connected together. The model's low wing loading and manageable slow speed handling in the landing pattern negated the need for a heavy and costly variable incidence wing. The battery bay can also accommodate a small gyro for additional stabilization.
Powered by an efficient 64mm 5 blade EDF fan unit, 30A ESC and 2627-4500kv brushless outrunner motor, the Freewing 64mm F-105D Thunderchief reaches a top speed of 116kph/72mph using a single inexpensive 3s 1000mAh-2200mAh lipo battery with XT60 connector. While designed with simplified flight control surfaces and intended for hand launches and belly landing on grass runways, an optional landing gear set is sold separately for steerable operation on paved runways.
The F-105D Thunderchief has never been modeled in foam PNP before, and we know you'll be as pleased as we are with how this model flies. Own this rare model today!
  Visit the Official Freewing 64mm F-105 Thunderchief Discussion Thread on HobbySquawk.com for additional photos, videos, reviews, and customer Q&A.
Motion RC's Senior Product Developer Alpha Enos discusses the Freewing 64mm F-105 and much more in this podcast from RCafterhours.com: 
Features:
Durable EPO foam and reinforced construction
Realistic shape and detailing
Dynamically balanced 5 Blade EDF fan for efficient power
Minimal assembly
Optional steerable landing gear (sold separately)
Includes:
Freewing F-105 Thunderchief 64mm EDF Jet - PNP
Requires:
Product Specifications:
SKILL LEVEL : Intermediate
Wingspan

530mm / 20.8in

Length

800mm / 31.5in

Weight

360g / 12.69oz (w/o battery)

CG (Center of Gravity)

365mm from the trailing edge of the tail (refer to manual)

Power System

2627-4500kV Brushless Outrunner Motor

Electronic Speed Control

30A, XT60 Connector

Propeller / EDF

64mm 5-Blade EDF

Servos

9g digital standard with 100mm lead : elevator
9g digital standard with 300mm lead : left aileron, right aileron

Landing Gear

Removable

Required Battery

3S 11.1V 1000 - 2200mAh LiPo with XT60 connector (required)

Required Radio

4 Channel (required)

Ailerons

Yes

Elevator

Yes

Rudder

No

Flaps

No

Lights

No

Hinge Type

Foam hinges

Material

EPO Foam

Skill Level

Intermediate

Build Time

1 Hour

Recommended Environment

Outdoor
Product Videos
Product Questions & Answers
NOTE:
Questions submitted on this page are answered by customers who have previously purchased this item. If you have a support related question that requires immediate assistance, please visit our
Help Center
.
Product Support
Product Manuals:
If you need any additional assistance, please visit the Motion RC Help Center
Product Reviews
Customer Reviews
Write a Review
Ask a Question
05/27/2020
Chris Z.
United States
F-105 Thud 64mm EDF Jet
Unfortunately, the model did not work as advertised. My son attempted two launches and both times it didn't come close to achieving flying speed. It was hand-launched as depicted in the video (well above the horizon and into the wind). My son is an avid RC flyer and is very familiar with controls and settings. Everything was set according to the instructions and online video. We verified everything following the first attempted launch but the result was the same after a second try. The only thing we can think is that the EDF was somehow defective since it was not producing enough thrust. We contacted customer service and they were helpful but needed a video to help diagnose the problem. It was not possible to video a third launch following the damage from the second attempt. It is a great looking model but I won't be trying another one.
05/17/2020
Ryan E.
United States
Very good but a few small acknowledgments
This plane is an amazing starter and very fast on a downwind with a tail wind. This plane can do rolls for days and can fly like a dream though you need quite a big field to operate this aircraft. Also be careful on turns for you can easily tip the wing over and go into a dive. I never have but I have come close. Also the plane functions best without gear and is for sure a good run for its money. I would solidly recommend this jet but for a first I would have to go with the freewing f9f. Overall this plane is as good as expected and I hope to continue business with the high quality of freewing jets.
02/09/2020
juan p.
United States
Revision General
Gracias por su atencion y rapidez de la entrega, agradable producto, me encuentro satisfecho
02/03/2020
Wayne
United States
0ver 50 flights so far!
Well built and well made. Flies much differently then the 86'. Fly's more linear because it's longer and the wingspan is smaller. I add a couple of new intakes just in front of the fan to pick some more static thrust. Very challenging at first. But once you learn it's flight characteristics it's just like any other edf. I love it. Very durable and long lasting fun jet. I wouldn't recommend it as a first jet due to being a little tricky to throw then gain control learning curve. When you huck it make sure you have the nose pointed about 40 degrees because after the throw it's going to sink down until you pick up flying speed. Other then that don't blink because it calls for all your attention while flying! It's an awesome little silver bullet. Get one if you think your skills are capable. You won't be disappointed at all! Motion has great products and even better service! Top Notch all the way! Hit that order button!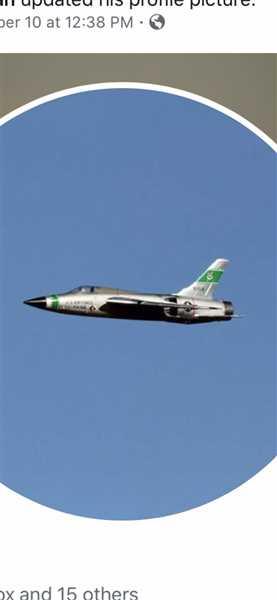 01/27/2020
Martin C.
United Kingdom
Great little edf jet
Ordered on Xmas eve, and delivered very quickly. Everything arrived in good order. Fit and finish of all parts very good. Assembly took a very leisurely 40 mins without any rushing. First attempts to fly were thwarted by a faulty receiver, causing 2 hard crashes, going in vertically from about 60 or 70 feet. Did not expect to be able to repair after second hard crash, but hot water on the damaged areas straightened most of the damage. Nose cone is badly split, but repaired with tape for now. Some 'gatoring ' of the nose caused by the hot water , but may sand and fill this soon. Third attempt with new receiver was much better. Model launched easily, either traditional over arm style, or my preferred under arm lob. No loss of height in either case. Flight performance is very good, quite fast, but not tricky to fly. Used Nano Tech 1300 3s 45-90c batteries which seem well suited to the model. Overall flight time of around 3 mins 20 sec, though I will probably spend more time at higher throttle when more familiar with it. Certainly does not need full throttle to stay airborne - will maintain height on just over half throttle. Landing presented no problem, and it slows down pretty well to flair out. Will need to get a replacement nose cone at some point, and may sand and fill the damaged foam at the nose, and may have a go at the SEA camouflage pattern as depicted on 'hobbysquawk '.
10/10/2019
Richard P.
United States
Unboxing and set up. Waiting on battery delivery to fly.
Fantastic fit and finish. Very pleased on opening the box. Instructions don't cover RX location and some IMPORTANT details about the battery. Says takes 1000-2200mah packs. I could not get the plane to balance when using the 2200 pack AND the wheel package. You need the 1600 pack if running the steerable nose gear. Motion Technical support was fantastic, answered right away and was knowledgable. Anyway, I've ordered a couple of the 1600 mah packs and look forward to taking her up...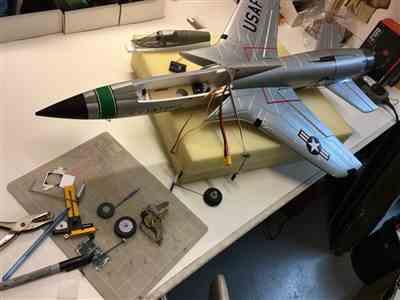 09/14/2019
Robert S.
United States
Gotta compromise for scale...
Small wing means a necessity for high speed. Small wing span means a sensitive roll behavior. But it's a Thunderchief! It took three flights to get it trimmed, but now it flies quite well. If you want a sport jet, look elsewhere, but...it's a Thunderchief!
Great flyer but has some issues
I've owned my F-105 for about 2 months now and here's what I've encountered. It's a very simple build with pretty much everything you need. However, I was a little disappointed with how they cut corners to make it affordable. For example, the underbelly tail skid is made of plywood and not foam like I thought. Maybe that's for durability on landing but I don't know. Speaking of durability, the airframe is pretty much the only thing that's durable on the plane. On my first flight, one of the elevons on the horizontal stabilizer came off after a rough landing and I had to jerry rig a solution to glue it back in. While fixing the tail, I also found all of the ESC leads had come unplugged from the motor. So I had to rip open the plane and reattach the leads to the ESC. Could've had a tighter fit. But beyond that, it's a great flyer! I found that it can only run off a 2200 mAh 3 cell and not the 1000-2200 mAh range as specified in the manual. First flight was a little nose heavy with the battery shoved almost all the way back in the cockpit but regardless it flew great! Slowed down nice but it can also really move if you make it. Would I recommend this as your first EDF? Eh. Not really. The only other EDF I've flown is the Flite Test Viggen and that's a phenomenal EDF trainer. But if you're looking for a second EDF with a little higher performance, this is your plane!
06/23/2019
michael v.
United States
F-105
After flying the F-86 for a while. I purchased this 105. I'ts a little harder to fly then the F-86, just because of the smaller wing. But it is still a lot of fun. You need a strong arm to get it flying.
Motion RC has a new European website
Go there instead?
Top