Freewing F-16 V2 6S 70mm EDF Jet - PNP
FJ21111P
Freewing 6S F-16 70mm V2 EDF Jet - (Plug-N-Play) - PNP - FJ21111P
The F-16C "Fighting Falcon" is a single-engine multi-role fighter aircraft originally developed for the United States Air Force (USAF). Designed as an air superiority day fighter, the aircraft evolved into a successful all-weather multirole platform. The F-16C features an internal M61 Vulcan cannon and multiple locations for mounting weapons and other mission equipment. Operating in nearly 30 countries to this day, the F-16 has distinguished its place in aviation history.

Freewing has modeled this brilliant aircraft in EPO foam with a 70mm electric ducted fan (EDF) power system. With a 1306mm length and 878mm wingspan, this 1/12 scale flying replica including many exciting features! An accurate scale outline with sharp surface details and panel lines make this model stand out at your airfield. Removable main wings and a magnetic nose cone make transport very convenient. The cockpit battery bay cover is secured with a sliding latch to prevent separation during flight, and the entire aircraft is reinforced with strategic placement of carbon tubes to withstand vigorous flying maneuvers. A control board helps to consolidate all the wiring for a clean battery bay. For pilots who want an extra "scale" touch, an optional ordnance set is sold separately, containing two AIM-120 AMRAAM and two AGM-88 HARM missiles.

The Freewing 70mm F-16C V2 features electric retractable landing gear for lower drag and better scale appearance during flight. The aircraft is designed for stability, strong vertical climbing performance, and short takeoff distance. The aircraft can also maintain a high alpha of 30 degrees to demonstrate its superior low speed stability. We recommend the 6S version for skilled intermediate or advanced pilots with experience flying at least two EDFs.

We are proud to feature this exciting aircraft in the modern three tone gray US Air Force base colors, and three decal sets are included inside the box for you to choose from to customize your model from various actual Air Force squadrons. Visit www.callie-graphics.com to purchase other optional decal sets for this model.
  Visit the Official Freewing 70mm F-16 V2 Discussion Thread on HobbySquawk.com for additional photos, videos, reviews, and customer Q&A.
Features:
Model officially licensed by Lockheed Martin
Durable EPO Foam and Reinforced Construction
Realistic Shape and Detailing
Electric Retractable Landing Gear
12 Blade EDF Fan For Realistic Sound
Removable Wings and Magnetic Nose Cone for Easy Transport
Minimal Assembly
Three Decal Sets Included
Optional Weapon Set (Sold Separately)
Optional Suspension Strut Set (Sold Separately)
Includes:
Freewing 6S F-16 70mm EDF Jet - PNP
Requires:
Product Specifications:
SKILL LEVEL : intermediate
Wingspan

34.57in / 878mm

Length

51.4in / 1306mm

Flying Weight

2000g (approx)

CG (Center of Gravity)

90mm / 3.5" from the leading edge of the wing at the root

Power System

3048-2150KV Brushless Outrunner

Electronic Speed Control

80 Amp with EC5 Connector

Propeller / EDF

70mm 12-Blade

Servos

9g Hybrid standard gear with 100mm lead : nose steering
9g Hybrid standard gear with 300mm lead : left aileron, right aileron
9g Hybrid standard gear with 750mm lead (+ 100mm extension) : left elevator
9g Hybrid reverse gear with 750mm lead (+ 100mm extension) : right elevator
9g Hybrid standard gear with 750mm lead (+ 200mm extension) : rudder

Landing Gear

Retractable

Required Battery

6 Cell 22.2V 4000mAh Li-Po battery with EC5 Connector

Required Radio

6+ CH 2.4GHz Full Range Transmitter

Ailerons
Yes

Elevator

Yes

Rudder
Yes

Flaps

No

Lights

No

Hinge Type

Foam

Material
EPO Foam
Skill Level
Intermediate
Build Time
2+ Hours
Recommended Environment
Outdoor
Product Videos
Product Questions & Answers
NOTE:
Questions submitted on this page are answered by customers who have previously purchased this item. If you have a support related question that requires immediate assistance, please visit our
Help Center
.
Product Support
Product Manuals:
If you need any additional assistance, please visit the Motion RC Help Center
Product Reviews
Customer Reviews
10/11/2019
Paul W.
United Kingdom
F16. 70mm
Great jet. Not in the 90 league. But still a great jet. After all it came from motion RC
Superb!
What a beautifully flying aircraft. I made my maiden flight today and it was just awesome. I programmed in 2 stage flaperons and she lifted off in about 60ft on rough grass with first stage flaps. I did not need any trimming and she flew as on rails. The 70mm fan just sounds awesome and she is quick! I worried about the narrow tracked main gear and tipping over on the grass, but those flaperons slowed her down beautifully and she greased in! I bought the grey scheme as I wanted to repaint for something a little more easy to orientate. I chose Isreali airforce cammo and used the marvellous decals from Callie. All in all a beautiful flyer and great value for money. Many thank Motion RC for your great customer service.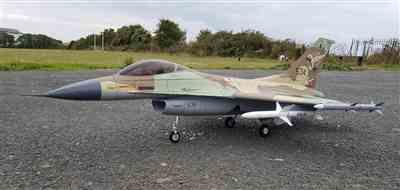 07/06/2019
Andersson Ø.
Norway
F16
Nice plane. Not easy to fly, but it was not expected. Good building solutions. One landing gear motor was broken. The rest of the plane worked as it should.
05/22/2019
Perry W.
United States
Dream bird!
Awesome! I've been waiting to get my hands on this bird since it came out and finally have it! This is my 3rd EDF jet and I'm loving it! It's quick so you really have to make sure you reign it in quick and keep it close so you don't lose orientation, but man it looks and sounds great in the air! Love it!
05/20/2019
Jim L.
United States
70mm Freewing F 16
Really like this EDF went together very well with no problems and in a short time .Fly and sounds great but be careful on those grey murky days ,the grey camouflage does it's job very well best left to those blue sunny days and then it looks great .Easy to fly if you are use to EDF Another great model with the usual high standards I have come to expect from Freewing .If you want an F 16 this is the one
This is an awesome jet!
I have to tell everyone considering purchasing this jet, you will not be disappointed. For the basic, mid-grade package, it definitely satisfies your jet cravings, with scale realism and retracts. As always Motion Rc was on top of my initial problems, and sent out replacements quickly. I felt it was unnecessary to purchase the upgraded landing gear and i'm running a 4000mah pack just fine with this bird. Plenty of power and can throttle it back to experience longer flight times. I am very satisfied, looking forward to the next one from Motion Rc!!
02/24/2019
Kevin K.
United States
Great Jet
Although I have not been able to fly it due to weather I can tell you it came and looks awesome. Went together well. The wiring to my Spektrum receiver from the blue box was not as easy to get right off but I did figure it out and all channels work well. Safe mode included. Can't wait to fly it. If this flies as well as the 64mm I will be delighted.
Budget friendly and flies well
I'm still new to EDFs, but have been flying props for nearly a decade, so take this review with a grain of salt. I'm surprised by how rock solid this plane flies, like most of my fleet, I'm running it on an FrSky integrated gyro receiver, and I don't think it needs the gyro at all. It was just flying where it was pointed, even where my props get tossed around a bit and show their gyro working around the field, this just stayed solid. There's plenty of speed available, it looks really good on the flight line, and the sticker decals are easy to apply compared to waterslide decals. I decided to go ahead and program in flaperons, and noticed a slight nose down attitude when they were deployed. Doesn't really require an elevator mix, but I'm going to work on one and post it on the hobbysquawk forum when I have it completely figured out. It always makes me a little nervous when the mix needs to raise the nose, so that might take a while. Assembly is pretty straightforward, nothing too surprising for a PNP model. I can only rate ease of use and assembly as average, assembly was a total breeze, but I still find 70mm+ EDFs to be a little difficult to fly. More experienced EDF fliers will probably find it pretty easy, but this is easily twice as fast in all aspects of flight than what I have a lot of experience with. There is an included livery sheet for the three included liveries, and you will need something to cut the vert stab top decal you choose at the rudder hinge. My only complaint is that there is not an option to order it with the upgraded gear installed. My only joking complaint is that Freewing doesn't make a 70mm 6ch F-18, preferably the E model like their 64mm and discontinued 90mm offerings, as a Navy veteran who served on a carrier, I have my preferences. I'm familiar with the FMS offering, but the fit and finish of Freewing is much better in my opinion.