Freewing F-16 V2 70mm EDF Jet - ARF PLUS
FJ21111K+
70mm F-16 V2 EDF Jet - ARF PLUS - from Freewing - FJ21111K+
Version Info: This is the ARF+ version for pilots who wish to install their own power system. All primary electronics including servos and landing gear come pre-installed, just add your own power system (EDF, motor, and ESC) to begin flying.
The F-16C "Fighting Falcon" is a single-engine multirole fighter aircraft originally developed for the United States Air Force (USAF). Designed as an air superiority day fighter, the aircraft evolved into a successful all-weather multirole platform. The F-16C features an internal M61 Vulcan cannon and multiple locations for mounting weapons and other mission equipment. Operating in nearly 30 countries to this day, the F-16 has distinguished its place in aviation history.

Freewing has modeled this brilliant aircraft in EPO foam with a 70mm electric ducted fan (EDF) power system (not included in the ARF PLUS). With a 1306mm length and 878mm wingspan, this 1/12 scale flying replica including many exciting features! An accurate scale outline with sharp surface details and panel lines make this model stand out at your airfield. Removable main wings and a magnetic nose cone make transport very convenient. The cockpit battery bay cover is secured with a sliding latch to prevent separation during flight, and the entire aircraft is reinforced with strategic placement of carbon tubes to withstand vigorous flying maneuvers. A control board helps to consolidate all the wiring for a clean battery bay. For pilots who want an extra "scale" touch, an optional ordnance set is sold separately, containing two AIM-120 AMRAAM and two AGM-88 HARM missiles.

The Freewing 70mm F-16C V2 features electric retractable landing gear for lower drag and better scale appearance during flight. The aircraft is designed for stability, strong vertical climbing performance, and short takeoff distance. The aircraft can also maintain a high alpha of 30 degrees to demonstrate its superior low speed stability. We recommend the 6s Pro or this ARF PLUS version for skilled intermediate or advanced pilots with experience flying at least two EDFs.

We are proud to feature this exciting aircraft in the modern three tone gray US Air Force base colors, and three decal sets are included inside the box for you to choose from to customize your model from various actual Air Force squadrons. Visit www.callie-graphics.com to purchase other optional decal sets for this model.
  Visit the Official Freewing 70mm F-16 V2 Discussion Thread on HobbySquawk.com for additional photos, videos, reviews, and customer Q&A.
Features:
Model officially licensed by Lockheed Martin
Durable EPO Foam and Reinforced Construction
Realistic Shape and Detailing
Electric Retractable Landing Gear
Removable Wings and Magnetic Nose Cone for Easy Transport
Minimal Assembly
Three Decal Sets Included
Optional Weapon Set (Sold Separately)
Optional Suspension Strut Set (Sold Separately)
Includes:
Freewing F-16 V2 70mm EDF Jet - ARF PLUS
Requires:
Brushless motor, EDF unit and ESC (see specifications for details)
6 Channel Radio - Select a minimum 6 channel radio from our Radio Collection 
6 Channel Receiver - Select a minimum 6 channel receiver from our Receiver Collection
4 to 6 Cell 14.8V 3600 - 4000 mAh Li-Po Battery with EC5 Connector - We Recommend the Admiral 6S 4000mAh 
4 to 6 Cell Compatible Battery Charger - Select a minimum 4 cell (4S) charger from our Charger Collection (6 cell charger if you plan on using a 6 Cell battery).
Product Specifications:
SKILL LEVEL : intermediate
Wingspan

34.57in / 878mm

Length

51.4in / 1306mm

Flying Weight

1800g (approx)

CG (Center of Gravity)

90mm / 3.5" from the leading edge of the wing at the root

Power System

2849-2850Kv Brushless Outrunner with 12-Blade Fan Unit (recommended)

Electronic Speed Control

70+ Amp (recommended)

Propeller / EDF

70mm 12-Blade (recommended)

Servos

9g Hybrid standard gear with 100mm lead : nose steering
9g Hybrid standard gear with 300mm lead : left aileron, right aileron
9g Hybrid standard gear with 750mm lead (+ 100mm extension) : left elevator
9g Hybrid reverse gear with 750mm lead (+ 100mm extension) : right elevator
9g Hybrid standard gear with 750mm lead (+ 200mm extension) : rudder

Landing Gear

Retractable

Recommended Battery

4-6 Cell 14.8V 3600 - 4000mAh Li-Po battery

Required Radio

6+ CH 2.4GHz Full Range Transmitter

Ailerons
Yes

Elevator

Yes

Rudder
Yes

Flaps

No

Lights

No

Hinge Type

Foam

Material
EPO Foam
Skill Level
Intermediate
Build Time
2+ Hours
Recommended Environment
Outdoor
Product Videos
NOTE: This is the 6S version showcased
Product Questions & Answers
NOTE:
Questions submitted on this page are answered by customers who have previously purchased this item. If you have a support related question that requires immediate assistance, please visit our
Help Center
.
Product Support
Product Manuals:
If you need any additional assistance, please visit the Motion RC Help Center
Product Reviews
Customer Reviews
11/07/2019
Patrick L.
France
super
Très bon avion, stable et facile
JS
09/05/2019
Jeremy S.
United States
I was surprised how good this jet looks and flies!
I have the 90mm Super Scale as well and this one is a very close second. It is a good flying and very detailed model.
08/28/2019
Ronald B.
United States
Nice 70mm Jet!
I had the Arctic Camo version of this, it was very difficult to orient in flight, especially against cloud cover. I tried doing some high Alpha flight ...... first and last time for that jet! I replaced it with the gray version, seems easier to maintain orientation, transferred the in runner power and premium gear from the former which was the plus version. This plane flies great, you do need to hold substantial back pressure in the turns and make sure you are right on with approach speed. Good approach = good landing. I am flying with the missile package. If you're looking for a good first jet, try the Avanti, of the 5 motion jets I have it is the most relaxing to fly, it just grooves! But this F16-C is a performer!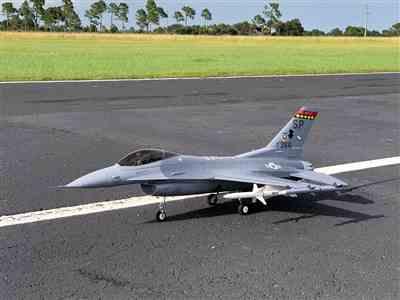 02/23/2019
Kien L.
United States
Freewing F-16 V2 70mm EDF Jet - ARF PLUS,
Loved this jet so much that I have to get another! Just taking my power system from old jet to the new.
02/14/2019
Michael R.
United States
No. 2
No. 1 met her demise due to my dumb thumbs, loved this jet so much that I had to get another! Just taking my power system from old jet to the new. Thank you Motion for carrying the ARF version of this aircraft!
12/10/2018
jack b.
United States
Did the job for me
Just made to order when repairing or replacing an F 18 when taken out of service.
09/15/2018
richard t.
Netherlands
Bought Freewing F-16 V2
Love the quality,not only the plane but even more the very good service of Motion RC. Very happy with everything could not be more happyer keep up the good work guys/girls of motion rc ;) Have to cut open the backend to instal my own tppower edf unit (going from 80A to 110A) and led tail exhaust ring. So this is going to be a long project for me butt well worth it. Don't know how it will perform yet because of the project build i will go trough.
09/03/2018
Jason S.
United States
Freewing F-16 v2
Well, bought it to replace my version 1. Wish this one had thrust vectoring! Over all the build was way great. Everything fit very well. Its gteat that they have spar's in the wings and elevator's. Only issue i have had is i bought this as a ARF without motor and edf, and i used my older 12 blade aluminum edf and inrunner motor with the same kv as the PNP version is sold with and 100 amp esc running 6s 4000mah and i dont have enought thrust to even take off. So i have ordered the factory motor and edf and i will see if that is the problem.
08/29/2018
Chris H.
United States
Escellent flyer, but lands HOT
I really like this plane in particular, because it is one of he few 70mm jets that can be hand launched. It flies very well, and is extremely stable even at high rates. My only criticism would be the fact that this plane could use an air brake to slow it down on landing. I fly this with a JP hobby EDF and 6S 4000mah pack, and at times it takes quite a bit of room and runway to bleed off airspeed. Also, I wish there was an option to buy the plane as a kit, without the landing gear and electronics. I literally threw the gear in the trash, because none of my local flying fields have runways, or grass that is short enough to make runway takeoffs a possibility with this plane.