Freewing 64mm EDF F-22 Metal Wire Landing Gear Strut Set
FJ10511083
Metal Wire Strut Set for the Freewing 64mm EDF F-22 Raptor 64mm EDF Jet
Includes:
Main landing gear wire struts
Nose gear wire struts
Product Questions & Answers
NOTE:
Questions submitted on this page are answered by customers who have previously purchased this item. If you have a support related question that requires immediate assistance, please visit our
Help Center
.
Product Reviews
Customer Reviews
Write a Review
Ask a Question
04/18/2020
Tracy S.
United States
Spare Landing Gear
Received quick. Look good. Have not used.
Optional landing gear
The landing gear is optional because this jet is a test bed for custom flaps on the f-22. Right now I am hand launching and belly landing in order to observe the behavior of the jet on approach. So far, results are very good, so when I get the landing gear on, (after more testing) I will let you know how it has worked out. However, I have been always satisfied with all purchases from MotionRC and accompanying services provided. Just wish I was computer-savy enough to send videos of airplanes and jets of all different descriptions from MotionRC ---WHAT A DREAM JOB !!! Wish I would have started with you guys first instead of another company---3 years lost.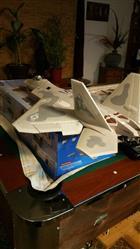 Motion RC has a new European website
Go there instead?
Top