Freewing F-22 Raptor 64mm EDF Jet - PNP
FJ10511P
Freewing F-22 Raptor EDF Jet - Gray Camo - Receiver Ready (PNP) - FJ10511P
Introduced in 2005, the F-22 Raptor is the US Air Force's ultimate super-maneuverable, stealth fighter aircraft. The clean lines, stealth profile, and scale details are all captured in this exceptional 64mm EDF Jet from Freewing Models. Simplicity and durability were major design factors with this model. All airfoil surfaces (main wings, rudders, and elevators) are attached to the fuselage using a new modular joiner system which improves strength and allows easy parts replacement. Quality electronic components come pre-installed so you can be in the air in less then one hour. This 3 Cell version offered by Motion RC is an ideal second jet, perfect for pilots looking for a performance aircraft at an affordable price. Own a piece of US Air Superiority today - the Freewing F-22 Raptor.
  Visit the Official Freewing 64mm F-22 Raptor Discussion Thread on HobbySquawk.com for additional photos, videos, reviews, and customer Q&A.
Features:
Scale design including US Air Force sky-camo graphics, hand-painted pilot, detailed cockpit, and landing gear
Full size, independent elevators provide level flight and improved aircraft climbing ability
Main wing, rudder and elevators are all detachable making the aircraft easy to transport and easy to repair (no gluing)
Fixed, scale landing gear design helps keep the F-22 lightweight and also improves the model's flying life
Large ESC cooling vents help extend the life of the on-board electronics
Nylon hinges on all control surfaces (superior to foam hinges)
Durable EPO material is stronger and more flexible than conventional foam airframes
Brushless motor, 5-Blade EDF, ESC and servos come pre-installed for your convenience
Requires:
Product Specifications:
SKILL LEVEL : Intermediate
Wingspan

690mm / 27.2in

Length

950mm / 37.4in

Flying Weight

750g / 26.46oz

Power System

Brushless 2627-4300kV Outrunner Motor

Speed Control

30A internal SBEC with XT60 Connector

Propeller / EDF

64mm 5-Blade EDF

Servos

9g digital gear standard with 100mm lead : left elevator, left aileron, right aileron
9g digital gear reverse with 100mm lead : right elevator
9g digital gear standard with 300mm lead : nose gear steering

Landing Gear

Fixed main landing gear, steerable nose gear.

Required Battery

3S 11.1V 1800mAh to 2200Ah 25C LiPo with XT60 Connector

Required Radio

4 Channel radio

Rudder

No

Flaps

No

Ailerons

Yes

Lights

No

Hinge Type

Nylon hinges on all control surfaces

Material

EPO Foam
Product Videos
Product Questions & Answers
NOTE:
Questions submitted on this page are answered by customers who have previously purchased this item. If you have a support related question that requires immediate assistance, please visit our
Help Center
.
Product Support
Product Manuals:
If you need any additional assistance, please visit the Motion RC Help Center
Product Reviews
Customer Reviews
Write a Review
Ask a Question
04/20/2020
Anthony P.
United States
Decent, but could be a little better easily
Decent plane, but there are a few areas that could be improved easily. The aileron servo leads come into a Y harness in the foam that's not accessible. Separate leads to the receiver location with a Y option there, or leave that to the consumer would be better. This would give flaperon capabilities.
02/24/2020
Logan W.
United States
Very good!
Flies great even on a 3s and provides just enough power to fly. I would recommend a paved runway on 3s because it takes a bit for the jet to accelerate enough to takeoff but once airborne, it handles easily
11/29/2019
Seth B.
United States
It's ok
Wasn't very pleased with this plane all the glue on the product was dry or something like that because mid flight the Elevator separated from plastic and cause my plane to tumble out of the air and crash no now I have to purchase a new one when I can. Going to try the 90 mm one next.
11/02/2019
Hugo B.
United States
Looks good, flies not so good
This great looking plane is waaay too sloooow, even for newbees in the EDF market. The plane is a great design but it needs a lot more power to get out of trouble... the control surfaces make this plane very sensitive to your 'finger' t inputs. I will change the power unit to a 4s. I am very impress how good the build is in such an inexpensive product.
09/01/2019
Pingjui W.
United States
Great EDF
This is my first EDF. It took me about three hours to complete all setup. I removed the nose gear and servo for hand launch and install Hobby Eagle Gyro. Just followed the instruction manual, setup correct center of gravity, control surface moving distance and angle. Wow…it is very stable even the Gyro is off. I love it.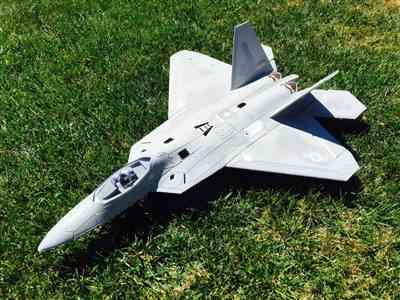 Raptor Rush
From box to lift-off, the raptor took off into the wind and hit across the field. Stability and precision allowed a smooth flight and soft landing. Good value!
Nice made a few changes
When got the the plane I was busy so it set through the winter So I just put it together really easy. But the esc didn't work had a burnt spot on the underside so replaced. The esc and the thought what the heck why not put a 64mm Dr Mad 4S Sooooooo..,... now all I need is a good on a weekend will Give it a test flight and post some pics
F22
Very_slow_even_with_the_4_cell_set_up.
1st EDF 3S good price and fast easy assy
Received fast from Motion as always. Assy was all screws no glue. After everything was put together I had a weird issue with right rear elevator servo. Movement wasn't fluent. I put pressure or load on the elevator and the servo gets seemed to be stripped. Doing some research it looks like standard plastic gears are used for the elevator where metal are used for the ailerons? Anyways I ordered a new servo.
Motion RC has a new European website
Go there instead?
Top