Freewing F/A-18 4S High Performance 64mm EDF Jet "Royal Maces" - PNP
$13900
$13900
Freewing F/A-18 4S High Performance 64mm EDF Jet "Royal Maces" - PNP
FJ10712P
64mm 4S Freewing F/A-18 High Performance EDF Jet "Royal Maces" - Receiver Ready (PNP) - FJ10711P
The Boeing F/A-18 Hornet is a twin-engine supersonic, all-weather carrier-capable multirole combat jet, designed as both a fighter and attack aircraft (F/A designation for Fighter/Attack). Designed by McDonnell Douglas and Northrop, the F/A-18 was derived from the latter's YF-17 in the 1970s for use by the United States Navy and Marine Corps. The Hornet is also used by the air forces of several other nations. The U.S. Navy's Flight Demonstration Squadron, the Blue Angels, has used the Hornet since 1986.
The clean lines, stealth profile, and scale details are all captured in this exceptional 64mm EDF Jet from Freewing Models. Simplicity and durability were major design factors with this model. All airfoil surfaces (main wings, and elevators) are attached to the fuselage using a new modular joiner system which improves strength and allows easy parts replacement. Quality electronic components come pre-installed so you can be in the air in less then one hour.
  Visit the Official Freewing 64mm F/A-18 Discussion Thread on HobbySquawk.com for additional photos, videos, reviews, and customer Q&A.
Features:
NEW!  Now comes with 12-Blade EDF with 2836-3300kV Brushless Motor
40 Amp Electronic Speed Control, and 4S LiPo capability for High Performance Flight
Scale details including the Navy's "Royal Maces" livery, painted pilot and cockpit, panel lines and landing gear
5x 9g servos come pre-installed
Includes:
64mm 4S Freewing F/A-18 High Performance EDF Jet (Receiver Ready) PNP
Servos, motor, fan unit and ESC are all pre-installed
Requires:
Product Specifications:
SKILL LEVEL : Intermediate
Wingspan

760mm / 29.92in

Length

1030mm / 40.5in

Flying Weight

1000g

Power System

2836-3300kV Brushless Motor

Speed Control

40A, XT60 Connector, internal SBEC

Propeller / EDF

64mm 12-Blade EDF

Servos

9g hybrid gear standard with 100mm lead : left elevator
9g hybrid gear reverse with 100mm lead : right elevator
9g hybrid gear standard with 300mm lead : nose gear steering, left aileron, right aileron

Landing Gear

Fixed main landing gear, steerable nose gear.

Required Battery

4S 14.8V 2200mAh

Required Radio

4 Channel 2.4ghz radio

Rudder

No

Flaps

No

Ailerons

Yes

Lights

No

Hinge Type

Nylon hinges on all control surfaces

Material

EPO Foam
Product Videos
Product Questions & Answers
NOTE:
Questions submitted on this page are answered by customers who have previously purchased this item. If you have a support related question that requires immediate assistance, please visit our
Help Center
.
Product Support
Product Manuals:
If you need any additional assistance, please visit the Motion RC Help Center
Product Reviews
Customer Reviews
Write a Review
Ask a Question
07/06/2020
capncloud
United States
Love this plane!
Looks so good. Sounds great and flies really well even with 3 cell 2200 With 3 cell it needs some runway and sky and power management, but still my favorite., Could use a rudder and I can't wait to try 4 cell. But still a must have.
06/25/2020
Dario L.
Italy
My first edf jet
What to say? It was nice from the first moment, mounted as raccomanded by the istruction, set dual rate and take of!! Not a singol problem! After 10 second in the maidem flight I was already doing loop and rolls! A really good model for entering the edf scene! If I had to say something negative it's that It isn't The most powerfull model. But anyway capable of 100km/h and more! Really a good model!
freewing f18 "high performance"
Bought this last year, but due to weather and covid its first flight was last night.... Build was easy and very smooth with high quality fit and finish. definately a cut above other foamies. As others have said, guesswork required for the tailplane neutral position. I assume the leading edge to follow the horizonal mould line on the fuselage which proved to be correct. Installed a newish 4s Turnigy 2.2 (think 30-50c burst) lipo and cg was spot on. First flight last night in perfect conditions, light breeeze, off a long, firm grass runway (grass was cut short) Thrust felt good at stand still but acceleration was sluggish and the take off run Very very long! It struggled into the air and eventually gained a little airspeed. Flight characteristics were excellent, minimal trim correction required, nicely harmonized controls but very sluggish performance. I only did a few circuits before landing, again handled nicely with surprising good low speed handling. Got it down safe and well. Thinking perhaps i had an issue with the battery, i tried another, more well used example that i know to be ok. That did not even have the power to get it off the ground. I can only surmise that i will have to invest in a significantly higher spec battery before the next flight! In summary, it is a very nice quality kit with good flight characteristics, however even this "high performance " spec is Very marginal on power (gawd knows what the std one would be like?!)
05/16/2020
Frits W.
Netherlands
Great little edf plane
First flight was a disaster. Way too much aileron throws. Had to replace whole body. After repairs second en following flights were great. Beautiful little edf! Could have a little more power though.
04/22/2020
Andrea Z.
Italy
02/25/2020
Ericson A.
United States
Awesome and stable jet!
https://www.youtube.com/watch?v=IcMlGvBmKP0 I bought this jet for my son who is all into jets now. He has been flying for about 1 and a half years. He told me that this jet is very easy to fly and very stable. This jet is not a speed rocket but it is still very fast! The assembly was very easy. It does require a little bit of gluing for the vertical stabilizers, front nose and engine exhaust. The wings are just held on by screws and so are the elevators. Overall, this jet is beautiful to look at in the sky as well as on the ground! If you are already comfortable with flying 4-channel planes and want to get into jets, then this is a great start! Here is the maiden video link! https://www.youtube.com/watch?v=IcMlGvBmKP0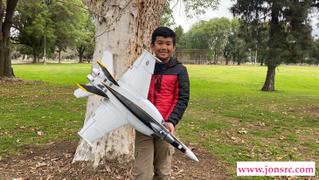 02/22/2020
Jonathan A.
United States
Looks and flies awesome!!
https://www.youtube.com/watch?v=4wI2Cc_D4qw&t=66s This jet is very easy to put together. It does require some gluing for the vertical stabilizers, nose cone and engine exhaust. The wings are ******* on. Overall, this plane is a great flyer and looks so real in the air! She is very stable and easy to fly. She does have some speed similar to the Freewing F-22. I used a Spektrum 4S 2200mAh LiPo and a Spektrum AR-410 receiver. The AR-410 does not come with a gyro but it honestly did not need it. This plane is stable enough by itself. You can check out my maiden from the link above!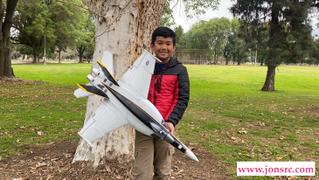 02/13/2020
cesar c.
Mexico
great plane
just perfect a great jet
02/01/2020
Alan
United States
F/A-18E Super Hornet
Okay so overall good lil jet. once I seen the parts and where this jet came from, by noticing the equipment on it, like a similar jet I owned the BH Pak-fa T-50. It caused me concern because the jets are somewhat cheaply made in china, and some of the items ive received from bananahobby couldn't even fly... although since ive been buying products from MotionRc I don't usually experience or have any problems with them. This jets equipment leads me to think its similarly made like bananahobbies edfs, but this jet actually flies, and happy that motion rc provides us jets that can fly unlike bananahobby. The flying weight advertised is 1000g well mine came in well over that at a scary wing loading of between 12-14 grams. Note: jet flies okay all stock, I wasn't able to pull off a loop at level flight.... after I added the rudder servos and flap servos I was able to fly but to keep her up the throttle was full and flaps were full too land. Im not sure if full throttle is the way to go through out the whole flight, and once the battery expires it gets very hot. not sure with what 70mm edf unit to purchase from motion rc. intake and insides of engine area is sanded down for maximum thrust and the ability to fit a 70mm edf unit but with one that can produce thrust. Removed pilot under windshield as he was "dead weight" also removed excess hot glue around the fuselage, hot glue heat damage on fuselage aswell. Painted her royal blue so damage doesn't bother me any more. I changed the esc to a 60 amp I had on had and improved thrust a little bit. I sanded down the intakes and inside the fuselage area to improve overall thrust output. Shaved down enough to upgrade a 70mm edf unit. Tried one of the pak-fa 70mm units and they did not work engines were faulty from bananahobby and did not get replacement so looking forward to buying a 70mm unit from motion rc to install in my freewing 64mm F/A-18 royal maces to improve the sluggish flight performance while still using a 4s. the Admiral 3600mah 40c 4s lipo fits perfectly with no adjustments to the cg, and doesn't get as hot as my admiral 2500mah 30c 4s lipo's. to fix the heat problems ive been experiencing with the smaller 4s lipo's I cut a hole in the front of the nose where the gray square appears and cut out plastic air intakes to go through the nose and to the lipo battery compartment. What I have now is a 6ch 64mm F/A-18. Added 1 servo on each rudder, they are operational now. Also added 1 extra servo to each wing for flaps to get slower landings, and a more scale look, gonna add red leds into intakes for red afterburner look and some navigation lights for better visibility. Not gonna fly this beautiful bird till I order a 70mm fan unit upgrade to support my heavy small bird. Also added multiple vortex generators through out the wings and fuselage to reduce stall tendency which have proved very affective noting the bird is much heavier than stock now.
Motion RC has a new European website
Go there instead?
Top