Freewing F/A-18C Hornet "Base Gray" 90mm EDF Jet - PNP
$47900
$47900
Freewing F/A-18C Hornet "Base Gray" 90mm EDF Jet - PNP
FJ31421P
F/A-18C Hornet "Base Gray" with 9-Blade 90mm EDF Jet from Freewing - PNP - FJ31421P
Over ten years ago, Freewing began developing their first American 90mm EDF, the F/A-18E Super Hornet. Made of EPS foam and sporting a plastic five blade fan, that model was one of the first 90mm PNPs to demonstrate Freewing's dreams, and it set the stage for their evolution. Having partnered with us at Motion RC for the past seven years, we've all been humbly privileged to expand the Foam EDF Jet's place in the RC hobby and earn the business of customers worldwide. Thank you for your continued feedback, excitement, and trust!
To celebrate Freewing's Eleventh anniversary, we are proud to announce an all-new 90mm F/A-18C Hornet, complete with all the latest features common to modern era EDFs in our Super Scale series. Be sure to save a summer slot for the Freewing F/A-18C, the quintessential 90mm Hornet on the planet!
  Visit the Official Freewing 90mm F/A-18C Hornet Discussion Thread on HobbySquawk.com for additional photos, videos, reviews, and customer Q&A.
Features:
This is not a V3, but a completely new design/variant from the ground-up
F/A-18C "Legacy", the world's first C variant 90mm PNP
Efficient and powerful 90mm 9-Blade EDF
6S 5000-6000mAh lipo can easily achieve 4-5+ minutes of managed flight time (see our video in the video tab above)
Manufactured with durable and quality EPO foam, not EPS
Complete screw-together assembly without the need for any glue
Scale outline, including open vents between the fuselage and intakes, and downward angled wingtip rails never before seen in a foam F-18
Completely concealed elevator servos and elevator control hardware for less drag and clean scale outline
Full coverage plastic undercarriage doors
Aluminum suspension undercarriage
Trailing link struts
Low visibility rudder servo placement
Low visibility flap servo placement and geometry
All-new plastic Fowler flap arm hinges to mimic those on the real F-18
Removable plastic-tipped magnetic nose cone
Removable wings with QD wing harness
LED lighting on nose strut, chines, and dorsal
Large battery bay for battery, MFCB, and gyro
Sharp and shallow panel lines in sensible areas without reducing overall scale effect
Pre-molded wing station to accept Freewing's MWS plastic slot system (aftermarket pylons, ordnance, 3DP, Runcam, etc)
Quick Service servo plates on the wings and vertical stabilizers (screws, not glue)
Plastic lined coaming to resist bubbling under the canopy
Plastic tipped nosecone, capped intake lips and wingtip rails with pre-installed MWS slot
Plastic nozzles with two-tone metallic paint job
Includes:
Freewing F/A-18C Hornet "Base Gray" 90mm EDF Jet - PNP
9-Blade EDF power system (installed)

3748-1750kV outrunner brushless motor (installed)

130A ESC with EC5 connector 

(installed)

Electronic retractable landing gear (installed)

Servos, LED Lights 

(installed)
Requires:
Product Specifications:
SKILL LEVEL : intermediate
Model Scale

1 : 11 Scale

Wingspan

1034mm / 40.7in

Length

1500mm /59.05in

Empty Weight

2640g / 93.12oz (w/o battery)

CG (Center of Gravity)

88mm (3.4") from the leading edge of the wing at the root

Power System

6S 3748-1750kV Brushless Outrunner Motor

Electronic Speed Control

130A, EC5 Connector

Propeller / EDF

90mm 9-Blade EDF

Servos

9g metal gear digital standard with 500mm lead : nose gear steering
9g metal gear digital standard with 300mm lead : left aileron, right aileron
9g metal gear digital standard with 100mm lead : left flap, right flap
9g metal gear digital standard with 150mm lead : left rudder, right rudder
17g metal gear standard with 100mm lead : right elevator
17g metal gear reverse with 100mm lead : left elevator


Landing Gear

Electronic retractable main gear and steerable nose gear with all metal shock absorbing struts

Required Battery

6S 22.2V 5000-6000mAh LiPo with EC5 connector (required)

Required Radio

6 Channel (required)

Ailerons

Yes

Elevator

Yes

Rudder

Yes

Flaps

Yes

Lights

Yes

Hinge Type

Nylon Reinforced

Material

EPO Foam

Skill Level

Intermediate/Advanced

Build Time

3-4 Hours

Recommended Environment

Outdoor, 150+ foot paved runway or short manicured grass
Product Videos
Product Questions & Answers
NOTE:
Questions submitted on this page are answered by customers who have previously purchased this item. If you have a support related question that requires immediate assistance, please visit our
Help Center
.
Product Support
Product Manuals:
Product Updates:
If you need any additional assistance, please visit the Motion RC Help Center
Product Reviews
Customer Reviews
Write a Review
Ask a Question
06/03/2020
Geoffrey F.
United States
Beautiful but underpowered and horrible elevator servos
I used to fly the F/A-18C and can verify they the replication of the full-scale jet is very well done. However this Freewing has a very poor thrust-to-weight ratio. I will be installing an aftermarket 90mm EDF I order to have enough thrust to fly the plane as it should. Almost dangerously underpowered at times as anything less than 50% power and the jet will begin to descend. Vertical maneuvers can only be accomplished post a full power descent to build enough speed. Additionally, the stock elevator servos were completely worthless. Post assembly, one elevator servo would not move at all until stick displacement was greater than 25%. This would make landings extremely difficult if not catastrophic as the plane would have rolled with only one elevator moving during fine adjustments at slower approach speeds. I installed aftermarket HITEC servos. However this will mean if you can't find a suitable aftermarket reversed servo or one you can program you'll have to use a receiver with an additional servo port to run separate elevator channels as them reverse one in your transmitter. Overall pleased as the looks overcome these deficiencies. However highly recommend purchasing aftermarket elevator servos and expect to need very long take off rolls without an aftermarket EDF.
AI
06/02/2020
Alejandro I.
Spain
Great flying jet, FAST, slightly less agile than expected but still plenty of fun and 'Cobra capable'
The stock power for this jet is pretty decent. It doesn't provide 1:1 T/W ratio but it has plenty of speed and vertical performance despite that. I'm liking it a lot but it is a rather sluggish airframe compared to the Su-35 or Eurofighter, slightly smaller and heavier, thus faster too. Aggressive pitching maneuvers are not its thing and high pressure on the pitch stick will force a wing stall and make the jet skid sideways. I love the good placement of the landing gear, allowing for smooth rotation on take-off and helping landings too (Nose gear will not slam down as soon as you touch ground with mains)... but I have to say the manual reccommendation for CG is beyond horrible. 100mm behind wing's leading edge is a much better spot, still on the nose-heavy side but more neutral. And I also reccommend to set the jet to operate with tailerons in pitch and roll for optimal performance. Despite what the product description says on elevator housings being reinforced, I don't see anything new so I guess they just glue them better at factory now, thus I'd reccommend to build some extra reinforcement with wood or 3D printing to make sure the stabs will stay on place over time (Pic attached with what I did to mine). Also, LEDs are so bright they will blind you when flying in low light dusk conditions. Great for visibility during day but not so great for orientation after sunset. Maybe can regulate that adding some tape to dim the brightness... gotta test it out ;) Here are a couple of videos of the jet flying rather aggressively. https://www.youtube.com/watch?v=ryZCEezyNpE https://www.youtube.com/watch?v=yehk-kMBmrY I'm waiting for my set of custom decals from Callie Graphics to arrive and finally give her that extra touch... also plan to mod the jet into an FPV platform. :)
05/09/2020
Anthony H.
United States
04/30/2020
Hugh W.
United States
Great Base Model to work with
The Base Grey F-18 is an excellent platform to customize your own F-18 with. I did the Canadian Demo Team F-18 and also added a twin afterburner and completely redid the cockpit with 3D printed parts. Would have given this 5 stars, but I wish this version came with the same 3672-1900Kv inrunner as the upgraded Blue Angel version has. With all the extras I put into it, it added quite a bit of weight and the inrunner would have been a better EDF than the stock outrunner this comes with. May have to upgrade to the 12-Blade 4068-1835Kv inrunner that I put in my F-16, but unfortunately that's currently out of stock. Callie has some outstanding liveries for this jet so get one and make your own personal favorite.
04/06/2020
Clint S.
United States
Awesome EDF
I bought this model after having the F4. Obviously assembly was a breeze and setting up the plane went pretty quick. The only issues I had were with the elevator servos. The left servo was seized and the right was completely inop. I connected both directly to the reciever and verified both were defective. Motion RC customer service sent replacement servos under warranty immediately. With the elevator issue corrected everything else was great. I am using Admiral Pro 6000 packs. I use the CG suggested by pilot Ryan that is a little forward of the book location. This still puts the battery almost as far back as it can go, nearly touching the mix box. The planes flies very nicely. Its fast but will slow down and remain predictable. I am considering the 5000 pack to save the +/- 100 grams, I think the weight savings will give better performance and only slightly less flight time. I am only flyimg 3 minutes. I must be heavy on the throttle because 3 minutes leaves my battery cell voltage at 3.7. I fly on grass that is mowed but not "manicured" and the ground has some rough spots. Taking off requires a little more of a roll in order to allow the plane to accelerate through the grass. The gear is stout and seems to handle the surface well. Nose gear is a little soft and may cause an occasional bounce, just be mindful not to try to rotate early if that happens, just control the nose with a little elevator to dampen. Overall a great plane. Very forgiving.
03/08/2020
Rachel/Jeff A.
United States
Very happy with this jet
Cant wait to fly it awesome jet great quality as always from motion
03/06/2020
Guy S.
Luxembourg
02/19/2020
Christoph
Austria
Great airplane with some issues
The model arrived well packaged and unharmed, the foam is very dense and the finish is superb. After taking everything out of the box, I began to assemble the plane. The build is straight forward and it's a matter of nothing more than a few minutes. While putting everything together it became apparent, that the quality of this model leaves much to be desired. The issues with this model are well documented online, so I'll only report on the problems that I encountered on mine. One of the wing mounts was installed the wrong way around, so the supplied screw didn't go in all the way. I solved this problem with a different hex screw and a nut to press on the wing. The first batch of this plane had a problem where the elevator mounting plate wasn't properly glued in. Because I got mine about 6 months later, this was already addressed on my plane, however due to this they pressed the plastic plate in a little too hard, because the foam right below it became soft. I smeared some CA around the edges of the plastic plate for additional support. The pockets for the ball bearings are too large and leave a lot of room for play. I shimmed the ball bearings with sheets of paper cut to size until there was absolutely no play left. I ditched the elevator servos because I didn't trust them to withstand the stress they would be exposed to. I replaced them with different servos with a lot more torque than the stock ones. Out of curiosity I took one of the stock servos apart and found out that there are 2 plastic gears inside. Not really what I expected as the product description mentions metal gear servos, not hybrid gear. The MCB-E (blue box) comes with most of the wires already hooked up, however I chose to bypass the blue box. There are three reasons for this: I read about the issues that come with this unit, including servo jitters, servos getting stuck, etc. I disliked the delay on the retracts. And most importantly I like to set up each function individually, which is why I'm using a Futaba R7008sb with a S.BUS adapter. According to the manual the cg is located 88mm back from the wing root, so I set my plane up to be in balance at this exact spot. The first flight proved that this location is way off. The plane became so unstable during landings that I'm lucky she's still in one piece. For the next three flights I moved the battery closer to the front. It was still tail-heavy, so I moved the battery a good bit forward, but then the ESC leads were too short, so I had to make an extension. For my next flight I chose to test the cg location that pilot Ryan mentions in his video on Youtube. Now she flies like a charm. Thrust is pretty bad, maybe the high performance version will have this problem sorted out. With flaps and gear extended at a low angle of attack things can become dangerous quickly if you mess up an approach because there's barely enough power to accelerate and climb in this configuration. Now to the positive things about this model: The landing gear is fantastic, it can really take some hits. The main gear was a little too stiff for my liking, so I took out the springs and shortened them by two windings. The shocks didn't compress very well, so I used some WD-40 lubricant to make them operate smoother. Now the shocks absorb the energy very well, which helps reduce bounce on landings. Even grass is not an issue for the landing gear, even though I wouldn't recommend taking off and landing on a grass runway. The high rates from the manual are a very good starting point, with the low rates the plane felt sluggish. I went with 100% on the ailerons, everything else I kept from the recommended throws. For the flaps I went with 40% and 80% with an up-elevator mix of 2.5% and 5% respectively. With these settings the plane will stay neutral when the flaps are deployed. Flying the F/A-18 is an absolute blast. It's a very agile plane and very much capable of what the full scale jet shows off at airshows and even more. Power consumption is pretty high though, after about 4 minutes of flying with mixed gas the 5000mah battery is pretty much empty with 20% charge left.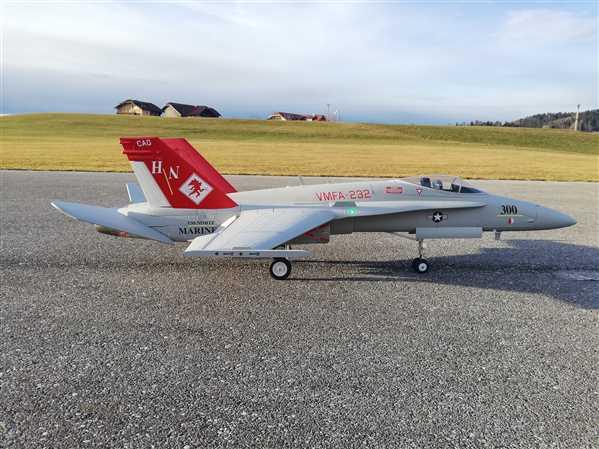 02/11/2020
Jean-François V.
Switzerland
Magnifique kit ,imposant et réaliste
Livraison rapide et parfaite avec même le liens pour obtenir les dernières modifications du fabriquant ,il reste a l'assembler et le peindre selon son choix
Motion RC has a new European website
Go there instead?
Top