Freewing F9F Panther 64mm EDF Jet - PNP
FJ10311P
64mm Freewing F9F Panther EDF Jet - Receiver Ready (PNP) - FJ10311P
Are you looking for your first EDF jet or are you a more advanced pilot looking for a new EDF? Look no further. While great for people new to EDF jets, The Freewing F9F Panther is fast and agile enough for experienced pilots too. The Freewing F9F is one of our favorite jets. While this F9F Panther EDF is not for beginner flyers, it is perfect for the intermediate flyer looking for their first EDF jet. There is not an easier EDF jet to fly.
Unlike many EDF jets, the Freewing F9F actually floats for an extended period of time without throttle (assuming a correct CG). The F9F is powerful enough to loop and has a fantastic roll rate. We recommend hand launching and belly landing in the grass for pilots new to EDF jets. The F9F is built from durable EPO foam and uses nylon hinges. While a 1600 mAh LiPo is recommended, a 2200 mAh battery can be used by more experienced pilots with minor modification to the battery compartment. We highly recommend a high wing trainer for beginners and proficiency with at least one low wing plane before attempting to fly an EDF jet.
Note: Please sand the paint off on the fuselage and wing surface prior to gluing together.
  Visit the Official Freewing 64mm F9F Panther Discussion Thread on HobbySquawk.com for additional photos, videos, reviews, and customer Q&A.
Features:
Model officially licensed by Northrop Grumman
Durable EPO foam construction
Nylon hinges on all control surfaces (superior to a foam hinge)
Brushless motor, 5-Blade EDF, ESC and servos installed
Requires:
Product Specifications:
SKILL LEVEL : Intermediate
Wingspan
700mm/27.6in
Length
745mm/29.3in
Flying Weight
550g
Power System
Brushless 2627-4500kV Outrunner Motor
Speed Control
30A, Internal BEC, XT60 connector
Propeller / EDF
64mm 5-Blade EDF
Servos
9g digital standard with 100mm lead : elevator
9g digital standard with 300mm lead : left aileron, right aileron
Landing Gear
none - belly lander (optional gear is available)
Required Battery
3S 11.1V 1600mAh 25C 3 cell LiPo
Required Radio
3 Channel
Rudder
No
Flaps
No
Ailerons
Yes
Lights
No
Hinge Type
Nylon hinges on all control surfaces
Material
EPO Foam
Product Videos
Product Questions & Answers
NOTE:
Questions submitted on this page are answered by customers who have previously purchased this item. If you have a support related question that requires immediate assistance, please visit our
Help Center
.
Product Support
Product Manuals:
If you need any additional assistance, please visit the Motion RC Help Center
Product Reviews
Customer Reviews
Write a Review
Ask a Question
07/21/2020
Rodger
United States
Great Fun
I flew a flying buddy's Panther and had to get my own. I did add lightweight, thinwall aluminum tubing between the stab halves, and between the wings and body using the existing holes. I am using the landing gear and the jet takes off easily on 3s from our manicured grass field. The nose does have a habit of bouncing if landings are not perfect. I had to modify the nose gear with thicker wire on the top, steering half as it is weak- bending and snapping easily after a couple bouncy landings. The aircraft has a tail waggle at higher speeds and after power changes, I suspect this is due to the squared off body under the elevator. A functional rudder would be nice for coordinated turns and accidental spin recovery. The landing gear slows it down a little on the top end, but it still glides well. I balance mine on or slightly ahead of the servo wires. I used high rates and no expo on maiden and it was lovely. I settled on rates slightly below the suggested travel with expo of 25. Assembly of the kit was easy.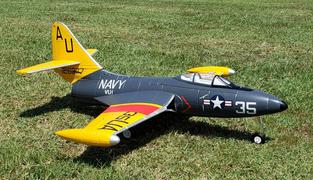 07/21/2020
justin a.
United States
sweet thrill
Certain conditions must be met to successfully hand launch it. First it needs a fully charged battery, second you need a running start and third you have to really crank it into the wind. Also it WILL be tail heavy. Choose your battery wisely. I used an eflite 1300 which is small enough to shove up to the front of the plane. Best result was a 2200 3s. I got better balance but still need 3/4 oz nose weight. With the 2200 I got 5-6 minute flights. Overall very cool jet. Might even buy another one.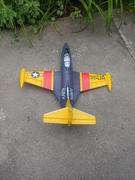 07/18/2020
Kevin C.
United States
F9f panther
Another good flying products from freewing.. F9F panther flies wonderful
07/17/2020
Tobias A.
Sweden
If just the paint would stick..
Flies well, good sound. Hard to throw solo. Paint comes off way too easy. Peels off like skin on a grilled chicken. Make sure to remove the paint before gluing on the wings and stabilizers.
07/17/2020
HILAIRE M.
United States
Best for its size
What a fun eff...lots of fun
07/14/2020
cyril c.
United Kingdom
panther edf
Excellent model, easy build, good colours for visibility with the bright yellow wingtips. Plenty of thrust from the fan unit hence good climb rate for vertical aerobatics. A wide speed range wth good low speed handling characteristics. Good value at the price and easily transported at the size, just keep it on the back seat of the car and fly on any terrain with a reliable hand launch.
07/05/2020
Geoffrey W.
United States
Looks & sounds great, flies heavy
This is a beautiful jet, and it sounds amazing in the air. It flies heavy though, it needs a really hard throw into a breeze for a confident launch. This battery fits really well, it slides forward all the way in the battery compartment. Tattu LiPo Battery Pack 1800mAh 75C 3S 11.1V with XT60 Plug for RC Helicopter Airplane Drones FPV
07/05/2020
Tyler D.
United States
First EDF excellent
This was my first EDF. I maidened it today. I flew 5 times in a row. I used the landing gear. It takes off and lands really easy. Mods: I used both 1800 and 2200mah 4s batteries. I put a 3mm carbon rod all the way through the fuselage into the wing holes when I epoxied it together. I also put a 3mm spar in the horizontal stab. I swapped out the EDF for the 12 blade performance unit. it's a direct fit. That unit says 36 amps max, so I put in a 40amp ESC. I cut out the battery tray back to the servo. With the gear servo in place and the tray out, there is plenty room for the batteries and I had NO PROBLEM with getting the CG to balance the plane. I put 1 ounce of weight hot glued in the nose cone and can move the battery back and fourth in the bay. I can put the CG fight on the book recommendation or move it forward a bit. I flies a bit nose heavy and that's perfect. I probably could've flown it stock, but I wanted to mess around with it. I wanted a bit more power. I got it. It also sounds GREAT with the 12 blade fan. Mid-Rates are 50% on the elevator and 45% aileron. I might add a rudder, but it's fine without it I guess. It so fun!!!
07/05/2020
Alfred S.
United States
Plane
Great value a lot of fun to fly
Motion RC has a new European website
Go there instead?
Top