Freewing F9F Panther 64mm EDF Jet - PNP
FJ10311P
64mm Freewing F9F Panther EDF Jet - Receiver Ready (PNP) - FJ10311P
Are you looking for your first EDF jet or are you a more advanced pilot looking for a new EDF? Look no further. While great for people new to EDF jets, The Freewing F9F Panther is fast and agile enough for experienced pilots too. The Freewing F9F is one of our favorite jets. While this F9F Panther EDF is not for beginner flyers, it is perfect for the intermediate flyer looking for their first EDF jet. There is not an easier EDF jet to fly.
Unlike many EDF jets, the Freewing F9F actually floats for an extended period of time without throttle (assuming a correct CG). The F9F is powerful enough to loop and has a fantastic roll rate. We recommend hand launching and belly landing in the grass for pilots new to EDF jets. The F9F is built from durable EPO foam and uses nylon hinges. While a 1600 mAh LiPo is recommended, a 2200 mAh battery can be used by more experienced pilots with minor modification to the battery compartment. We highly recommend a high wing trainer for beginners and proficiency with at least one low wing plane before attempting to fly an EDF jet.
  Visit the Official Freewing 64mm F9F Panther Discussion Thread on HobbySquawk.com for additional photos, videos, reviews, and customer Q&A.
Features:
Model officially licensed by Northrop Grumman
Durable EPO foam construction
Nylon hinges on all control surfaces (superior to a foam hinge)
Brushless motor, 5-Blade EDF, ESC and servos installed
Requires:
Product Specifications:
SKILL LEVEL : Intermediate
Wingspan

700mm/27.6in

Length

745mm/29.3in

Flying Weight

550g

Power System

Brushless 2627-4300kV Outrunner Motor

Speed Control

30A, Internal BEC, XT60 connector

Propeller / EDF

64mm 5-Blade EDF

Servos

9g digital standard with 100mm lead : elevator
9g digital standard with 300mm lead : left aileron, right aileron

Landing Gear

none - belly lander (optional gear is available)

Required Battery

3S 11.1V 1600mAh 25C 3 cell LiPo

Required Radio

3 Channel

Rudder

No

Flaps

No

Ailerons

Yes

Lights

No

Hinge Type

Nylon hinges on all control surfaces

Material

EPO Foam
Product Videos
Product Questions & Answers
NOTE:
Questions submitted on this page are answered by customers who have previously purchased this item. If you have a support related question that requires immediate assistance, please visit our
Help Center
.
Product Support
Product Manuals:
If you need any additional assistance, please visit the Motion RC Help Center
Product Reviews
Customer Reviews
Write a Review
Ask a Question
05/24/2020
Sooner
United States
Panther with more grunt?
I had one of these several years back. She was fun once you got her up to speed but during the launch her power was "suspect". Got another one recently because I couldn't stay away and she seems to have much more "grunt", was their a powerplant upgrade? Much easier to get her going and top end speed is impressive. Great fun from such a small package!
05/23/2020
Richard S.
United States
Brilliant EDF Jet!
This was the first RC plane I ever purchased; I made the right purchase. I definitely recommend this to novice pilots or to anyone for that matter. I really can't think of anything negative worth mentioning. It was shipped asap and arrived really quickly despite selecting basic economy shipping!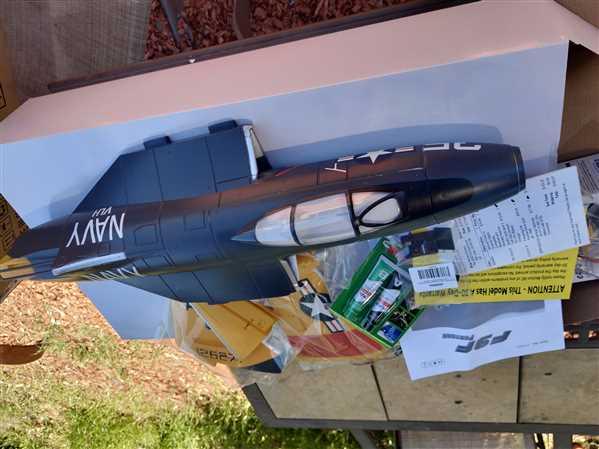 05/20/2020
Jerrold M.
United States
F9 panther
I enjoyed the aircraft as a model. As a flyer, it seems to be a little tail heavy. It flew better with an 1800 3s all the way forward. Still working with it
05/18/2020
Ken D.
United States
Fantastic Flyer!
Recently purchased this jet and flew it for the first time with an Admiral RX600SP receiver and a 3S 2200 battery. I found the CG to be perfect (a touch nose-heavy) and the plane flew like a dream! This plane is fast but will fly fairly slow without stalling. Great handling (flew on low rates) and very easy to follow due to the colors. It does need some assembly which was part of the fun.
05/17/2020
Kendall L.
United States
F9F Panther
This is tricky model to put together, but it has great lines and it looks great once it is put together. It has a powerful motor. I haven't flown it yet, but I am looking to it
05/13/2020
AJ R.
United States
05/09/2020
Robert H.
United States
F 9 fun
This is my fourth one of these. This is a fun and great little plane please don't get me wrong. With that said you get what you pay for and for 100 bucks don't expect to get much durability. The plane is a blast to fly and if something does happen to it you are not out of 1000's of dollars. At some point you are going to have paint to peel off or a servo to go out or some malfunction but again you get what you pay for. Would I buy another one of these perhaps if the mode strikes me. Don't get me wrong if you get one of these you can't go wrong and they are a lot of fun.
05/02/2020
R J.
United States
Second time's the charm
This is my second of this F9F plane and second attempt to enjoy this plane after the first one had a clevis failure. Thank you to Motion RC for working with me to share making things right. Truly happy with their Service. I took time to properly balance the plane and used a Z-bend on the elevator connections instead of the clevises. This plane flew very well. Seems a little under powered from hand launch but once up to speed, it was a blast to fly. On landing, it will glide forever so give it plenty room for landing. Overall, very happy with it and would buy it again.
04/30/2020
RobertC
United States
Excellent RC Airplane
I bought the whole package; the rc plane and the upgrades (landing gear, upgraded EDF, upgraded ESC). the plane was nice and was flying ok with the stock system. Now, with these upgrades, is a real blast. Nothing else to talk about it. This is my second F9F.
Motion RC has a new European website
Go there instead?
Top