Freewing 6S Hawk T1 "Base Gray" 70mm EDF Jet - PNP
$23900
$23900
Freewing 6S Hawk T1 "Base Gray" 70mm EDF Jet - PNP
FJ21421P
6S Hawk T1 "Base Gray" 70mm EDF Jet - PNP

from Freewing - FJ21421P

In response to overwhelming requests for more customizable models, Freewing and Motion RC are offering this "Base Gray" which has been completely prepped at the factory and is ready for your paint and customization. There is no need for sanding or prepping this model. It is completely ready to accept paint. Acrylic hobby-grade paints can be applied directly to this prepared surface for a better bond than if applied directly to bare foam. Since this plane is ready for the livery of your choosing, it does not include decals. We recommend ordering a custom decal set from Callie Graphics. Callie at www.callie-graphics.com has prepared several optional decal sets depicting a range of Hawks. When looking for decals, please note this Hawk is 1/9.75 scale which can be rounded up to 1/10 scale. While many will choose a custom color scheme, custom decals will adhere to the factory gray prepped surface if you desire a gray plane.

Perhaps the most versatile British advanced trainer jet in the world, the BAe Hawk has been in service for over 40 years. Operated at its peak by 18 countries in various trainer and light combat roles, the Hawk T1 variant was also popularized by the Red Arrows display team, whose expert piloting demonstrations have amazed audiences worldwide for generations.

Freewing and Motion RC are proud to present this well-loved aircraft as a 70mm EDF powered electric flying model. The Freewing 70mm Hawk T1 features a powerful 12 bladed EDF power system for satisfying speed, vertical performance, and realistic sound.  

With your supplied 6Ss 2700mAh-4000mAh LiPo battery, the 6S power system can achieve a top speed of approximately 160kph / 100mph. Retractable landing gear, flaps, and a wide gear stance make the aircraft well suited for beginner to intermediate jet pilots flying off of pavement or very well manicured grass runways. An optional suspension strut set is available if more shock absorption is desired. A large battery bay provides easy access to your battery, receiver, and an optional gyro stabilizer.

To enhance visibility, the Freewing 70mm Hawk T1 also features the signature bright white nose light of the real aircraft, and sports bright red and green wingtip lights as well. This is the only Freewing 70mm Class aircraft to include pre-installed lighting!

Building upon the popularity of the Freewing 70mm F-16, the Freewing 70mm Hawk T1 adds the new feature of LED lighting and the benefit of a wider wing and wider gear stance than the F-16. Overall, the Hawk makes a perfect "first 70mm EDF", and its common size 6S 4000mAh battery can be used in many other aircraft. Stable and predictable at both slow and high speeds, the Freewing Hawk T1 cruises confidently at 50% throttle, giving pilots time to enjoy the profile of this iconic jet as it flies by. We also love this Hawk because it flies like a smaller Freewing Avanti –one of the world's most popular foam EDFs! With a similar planform as the Avanti, proficient pilots can push the Hawk to perform many acrobatic maneuvers with precision and confidence. We have found the Freewing Hawk T1 to be "a sport jet that looks like a scale jet"!

It is our hope that as you enjoy the Freewing 70mm Hawk T1, you will spread the love of flight and of this venerable aircraft's contributions to aviation history.
  Visit the Official Freewing 70mm Hawk T1 Discussion Thread on HobbySquawk.com for additional photos, videos, reviews, and customer Q&A.
Features:
Durable EPO Foam and Reinforced Construction
Realistic Shape and Detailing
"DayBright" LEDs (White Nose, Red Port side Wingtip, Green Starboard side Wingtip)
Electric Retractable Landing Gear
Flaps
12 Blade EDF Fan For Realistic Sound
Removable Main Wing for Easy Transport
Minimal Assembly
Optional Suspension Strut Set (Sold Separately)
Includes:
Freewing 6S Hawk T1 "Base Gray" 70mm EDF Jet - PNP
Requires:
Product Specifications:
SKILL LEVEL : intermediate
Wingspan

1020mm / 40.16in

Length

1221mm / 48.1in

Weight

1450g / 51.14oz (w/o battery)

CG (Center of Gravity)
162mm from the leading edge of the intakes

Power System

3048-2300kV Brushless Outrunner Motor

Electronic Speed Control

80A, EC5 Connector

Propeller / EDF

70mm 12-Blade EDF

Servos

9g Hybrid standard gear with 300mm lead : nose gear steering
9g Hybrid standard gear with 750mm lead : left flap, right flap
9g Hybrid standard gear with 750mm lead (+ 100mm extension) : left aileron, right aileron
9g Hybrid standard gear with 750mm lead (+ 200mm extension) : left elevator
9g Hybrid reverse gear with 750mm lead (+ 200mm extension) : right elevator
9g Hybrid standard gear with 750mm lead (+ 100mm extension) : rudder

Landing Gear
Full electronic retractable nose and main landing gear

Required Battery

6S 22.2V 4000 - 5000mAh LiPo with EC5 connector (required)

Required Radio

6 Channel (required)

Ailerons
Yes

Elevator

Yes

Rudder
Yes

Flaps

Yes

Lights

Yes

Hinge Type

Nylon hinges

Material
EPO Foam
Skill Level
Intermediate
Build Time
1 Hour
Recommended Environment
Outdoor
Product Videos
Product Questions & Answers
NOTE:
Questions submitted on this page are answered by customers who have previously purchased this item. If you have a support related question that requires immediate assistance, please visit our
Help Center
.
Product Support
Product Manuals:
If you need any additional assistance, please visit the Motion RC Help Center
Product Reviews
Customer Reviews
Write a Review
Ask a Question
10/19/2019
Mark G.
United States
Great little jet
This is my 3rd (other 2 are Red versions all have the gear upgrade) Hawk T1, but I decided to put the paint on one, so I got the grey one. My other 2 are tons of fun, but there already getting old looking. So this bird is the shiny new car in the hangar and she turned out awesome. Thanks MRC/FW, you never disappoint!!!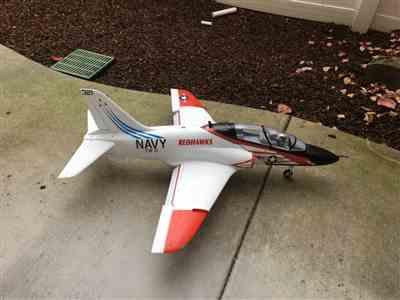 Freewing 6S Hawk T1 "Base Gray"
Pretty nice plane and very quick delivery! I have just wished that delivery to Finland was free as for many other EU-countries...
Bae Hawk 70 mm edf
Good product with that price. One should note that it is epo foam model, so some parts are weak: canopy, wing and stabilizers' tips. I toughen them with some composite. Also I modified the flaps to kind of fowler type with different hinges. And I prefer to buy the good landing gear set. Overall The EDF unit is excellent with superb sounds. -mika, Finland
T-1
Nice primer job, it is ready to paint. Have not flown yet
Very Nice EDF!
Have not put this one up in the air yet so my review excludes the flight characteristics which from what I have read are excellent. Otherwise, this is a very nice plane. The foam looks great, the upgraded landing gear appears to be of good quality and really helps add to the scale look. I am very pleased with everything about this EDF thus far. I would highly recommend this plane. The only thing I would like to see Freewing do different (and is of no negative reflection to the plane) is use a dual front nose wheel setup as the full scale version.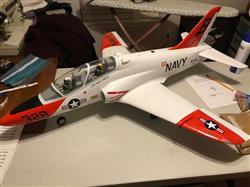 Very nice model we'll constructed flys amazing
This is my first edf and i picked a good one first flight with gear and flaps down landed like it was on rails
Bae hawk 6s
Birthday present for my son what i have seen on the internet it sounds like alot of fun
Bae hawk base grey
This is a cracker and easy to paint with your own colour. Fly's a treat, just make sure you get your approach right as it will bounch like a ball! Even with the upgrade undercarriage. 5*
Awesome Jet
So after several flights, and the build I can write an informative review. My friend and I each bought one to fly in formation. To start the build was easy, like any other PNP. The servos are rock solid, and customization was fun to do with the grey version. The foam is tough, and our versions had the mod installed already where the weak points were. I added a few more screws to the battery tray, the included screws are very short. I would say it was tough to get all the wires under the tray and set up the mixing unit. Once complete though, it looks and sounds awesome. Callie-Graphics provided the custom decals we chose. We use Admiral, Eflite, and Gens ace 6s 5000mah batteries. All with subtle weight differences. The jet handles them all great. Grass field/dirt takeoff is about 30-40 feet. Once airborne with flaps and gear up, this plane is a rocket. Cruises nicely at half throttle. Control throws can be really subtle as well, though I have a three position switch for my D/R and give myself options if needed. Approach and landing is where I feel practice is needed. I have flown other jets so I have some experience with these aircraft. The short wingspan and higher wing loading with the 5000mah means faster approaches. It still slows up nice, but if you have to come in over an obstacle it gets tricky. You can't cut the throttle and drop it in. It will Bounce all over the place! Keep some throttle in and grease it (like all other jets). Though I had a viper jet that would just land like a cessna. Grass landings... make sure grass is short! or you will land like you have brakes on and it will yaw left and right and then the nose gear grabs. First reaction is "OH **** I BROKE IT!" That brings me to the gear itself. We also have the upgraded gear. I have to say, the hard landings, bounces, side loads and all. This gear will take a beating. Overall, this is a awesome jet. The high speed passes are really fun, and it hauls! Negatives in my opinion. is the clump of wires you need to jam under the battery tray. Those wires also go to the wing and rear of the fuse. They prevent the battery from going back further if needed. Also the fact there are no parts available. all you can get is parts for the red version. There should be base gray parts available. Other than that, it is well worth the money. Awesome price for this. Thanks MOTION RC!
Motion RC has a new European website
Go there instead?
Top