Freewing L-39 Albatros 80mm EDF Jet - ARF PLUS
FJ21511A+
L-39 Albatros 80mm EDF Jet - ARF PLUS from Freewing - FJ21511A+
Version Info:  This is the ARF+ version for pilots who wish to install their own power system.  All primary electronics including servos and landing gear come pre-installed, just add your own power system (EDF, motor, and ESC) to begin flying.
Combining the sport performance of the Avanti and the fidelity of scale aircraft like the A-4 and MiG-21, Freewing continues the legacy of its excellent performing 80mm EDF jets with its Freewing 80mm L-39C/Z Albatros!  Developed originally by Aero Vodochody in the 1960s in what is now the Czech Republic, the Aero L-39 Albatros excelled as a jet trainer platform with its powerful turbofan and overall reliability.  The L-39 and its successive variants continues in service throughout the world in militaries as trainers and light attack platforms, and in civil aviation including aerial demo teams and racing.
The Freewing L-39 Albatros is the largest and most capable production PNP L-39 in the world.  Optimized for high maneuverability and precision flying, the L-39 truly is a "Sport jet wearing Scale jet clothing".  The PNP version uses a powerful 3530-1850kv brushless motor and 100A ESC to power the 12 blade 80mm EDF.  
The Freewing L-39 Albatros includes grass capable suspension landing gear, a full coverage nose door, scale wingtip lights, and easily removable tip tanks, ordnance, belly gun pod, and wings.  Only one joint is required to complete the model's general assembly.  A plastic lined cockpit also resists deformation under sunlight, and optional 3D Printed cockpit detail upgrade parts are also sold separately.
  Visit the Official Freewing L-39 Albatros Discussion Thread on HobbySquawk.com for additional photos, videos, reviews, and customer Q&A.
Features:
Sport jet performance in a scale jet package
Flies as smooth and rock solid as our popular Avanti S
Grass-ready shock absorbing oleo struts and electric retracts
Plastic-lined canopy to prevent bubbling or "gatoring"
Large cabin for easy access to battery and receiver
New Multi-function control box (MCB-E) for better wire organization
Includes:
Freewing L-39 Albatros 80mm EDF Jet - ARF PLUS
Requires:
Brushless motors, EDF units and ESCs (see specifications for details)

6 Channel radio - select a minimum 6 channel radio from our Radio Collection
6 Channel receiver - select a minimum 6 channel receiver from our Receiver Collection
6 Cell 22.2V 4000 - 6000 mAh LiPo Battery with EC5 connector - we recommend Admiral 6 Cell 6000 mAh LiPo battery
Minimum 6 Cell battery charger - select a minimum 6 Cell battery charger from our Battery Collection
Product Specifications:
SKILL LEVEL : intermediate
Wingspan

1054mm / 41.5in

Length

1351mm / 53.2in

Weight

2200g / 77.60oz (w/o battery)

CG (Center of Gravity)

103mm from the leading edge of the wing at the root (see manual)

Power System

3530-1850kV Brushless Outrunner Motor

Electronic Speed Control

100A, EC5 Connector

Propeller / EDF

80mm 12-Blade EDF

Servos

9g hybrid standard gear with 550mm lead : nose gear steering
9g hybrid standard gear with 450mm lead : left aileron, right aileron
9g hybrid standard gear with 360mm lead : left flap, right flap
9g hybrid standard gear with 550mm lead plus 200mm lead : left elevator, rudder
9g hybrid reverse gear with 550mm lead plus 200mm lead : right elevator


Landing Gear

Full electronic grass-capable shock absorbing retractable nose and main landing gear

Required Battery

6 Cell 22.2V 4000-6000 mAh LiPo Battery with EC5 connector (required)

Required Radio

6 Channel (required)

Ailerons

Yes

Elevator

Yes

Rudder

Yes

Flaps

Yes

Lights

Yes

Hinge Type

Nylon hinges

Material

EPO Foam

Skill Level

Intermediate

Build Time

1 Hour

Recommended Environment

Outdoor
Product Videos
Product Questions & Answers
NOTE:
Questions submitted on this page are answered by customers who have previously purchased this item. If you have a support related question that requires immediate assistance, please visit our
Help Center
.
Product Support
Product Manuals:
Product Updates:
October 9, 2018  -  The "steering servo" port has been designed to stop responding when the gear is up.  Once you put the gear down the steering servo should work again.  If it does not work, try reversing the gear channel.
If you need any additional assistance, please visit the Motion RC Help Center
Product Reviews
Customer Reviews
Beautiful, smooth flying EDF jet
I bought the L39 ARF Plus version because I already had a motor and ESC. Also, I thought the existing red, white and blue paint job would be a good starting point for a legacy NASA livery and that turned out to be the case (see photo). Painting out the existing Czech scheme and making/applying my own water transfer ink jet decals was pretty easy. I used logos from the internet and did some relabeling with a Brother PT-1830 label maker. I installed a 100 amp BEC ESC and an FMS 2150 kv 12 blade 6S motor for a bit more thrust than I would have had with stock. I also made a backstop for the nose landing gear strut, a feature from which I think all forward retracting LG's could benefit. The trim flight was a cakewalk. Three clicks of right aileron and I was dialed in after starting out with all control surfaces level and the 6S 5000 mAh battery pretty much centered on the tray. Great vertical performance, and easy inverted flight with very little down elevator bias needed. The jet was quick off the Geotex runway and tracked nicely with its widely stanced gear. The first landing turned out to be easy. Have had 3 flights since with no issues. Also, I might add that I did use the internal control box for all intended functions, no issues at all...just made sure that the gears and gear door were synchronized from the get-go. Either stock or modified as I did, in my opinion this EDF is a winner, both in appearance and performance. Its a lot of fun.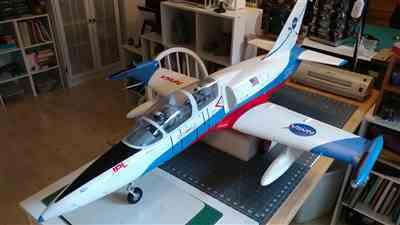 08/08/2019
JAMES A.
United States
L-39 ARF Plus
Flawless As advertised! No surprises no dings no flaws.... went together in 1 hour. Came with the hardware screws to bolt in my Fan and ESC. The maiden was EASY with no surprises, no gyro used either. Flys fast and Settles In soooo nicely on final, Slows down just fine. Very stable. I have only flown it off Grass so far, did great.
Freewing L-39 Albatross
I have flown several of Freewing's EDF foam jets and I would have to rate this as one of the better ones. I bought it in the ARF version and moved the motor/fan/ESC from my Avanti S. It went together easily and I have since flown it 20 times or so. It is very similar to the Avanti S in flying characteristics, with improved ground handling during take-off and landings. I would give it 5 stars but the airplane sound is not quite as jet-like as the Avanti S, which I prefer myself. Still, Freewing has outdone itself once again.
07/17/2019
John B.
United States
Great quality.
Crashed my first one. This is an easy replacement and not too expensive. Everything went together well. It's back up in the air without issues. Great value
06/22/2019
Robert S.
United States
L-39 Albatros 80mm EDF Jet
My second L-39 . What a beautiful model and such wonderful flying qualities. Looks great on the bench and in the air.
06/02/2019
Mark G.
United States
Great bird
I already had the PNP, and I had a 80mm setup hanging around. So this bird will get some upgrades.
05/30/2019
robert e.
United States
Transplanted avanti power system
I used the edf and esc from a FW Avanti (yellow) that i had attacked a road sign with. The esc has a shorter battery lead than the stock L39 but it is long enough to work with my HK 5000HD batts. A great flyer. Very much like my (2nd)avanti. All the glowing praise is true.
04/18/2019
Kim K.
United States
Best jet
The best overall jet motion has to offer, including Avanti
01/31/2019
Rudy P.
United States
Its a looker!
If it flies as good as it look,that will be the cats meow!