Freewing Mig-21 Silver 80mm EDF Jet - ARF PLUS
$26900
$26900
Freewing Mig-21 Silver 80mm EDF Jet - ARF PLUS
FJ21011A+
Freewing Mig-21 Silver 80mm EDF Jet - ARF PLUS - FJ21011A+
Note:  The photos above are not representative of the shipped product once available.  The Mig-21 Silver in the photos are of a pre-production version that has been custom weathered to illustrate the scale possibilities if desired.
Dominate the skies with Freewing's 1/9 scale MiG-21! First designed in 1953, the MiG-21 is widely renowned as a classic Cold War era brute and holds the distinction of being the most produced supersonic jet fighter in the world. More than 11,000 MiG-21s of different variations have flown for over 60 countries over a period of more than 60 years. In fact, the unmistakable outline of the MiG-21 can still be seen today in the skies of over 15 countries that still operate this historic warplane. The MiG-21 has earned its place in aviation history as a versatile workhorse and venerable foe. Own the first foam electric MiG-21 on the market, and add a little spice to your RC model hangar!
The Freewing MiG-21's impressive 1730mm length puts the aircraft into a category of its own. Longer than most 90mm class Freewing jets but with the lower wing loading of the smaller 80mm class Freewing jets, the Freewing MiG-21 is the perfect balance between size, weight, performance, and cost. Its removable wings, horizontal stabilizer, and vertical stabilizer make transport very easy. Even the nose cone and pitot tube are removable! Freewing has recreated many scale details of the MiG-21 "MF" variant, and the PNP version of the aircraft is powered by an 80mm 12-blade EDF and an all-new 3530-1800KV out-runner motor and 100A ESC. This power system's thrust can sustain a 40 degree slow high alpha maneuver that is impossible with other jets in the 80mm and 90mm classes. Newly designed metal gear digital servos control the ailerons, flaps, elevators, and rudder, and an integrated circuit board simplifies wiring in the large battery bay. Magnetic fuel tanks and the iconic "blisters" throughout the fuselage help complete the look and feel of the menacing MiG-21. Although an 80mm class aircraft, the Freewing MiG-21 features the larger retractable landing gear of a 90mm class aircraft. Durable aluminum trailing link struts and tall foam rubber wheels allow operation on short grass fields.
The Freewing MiG-21 is suitable for intermediate and advanced pilots with EDF flying experience. The model's strong thrust and flaps shortens the takeoff distance to less than 100 feet. Optimized design allows the Freewing MiG-21 to fly stably at both fast and slow speeds. The delta wing and swept tail give the aircraft crisp responsiveness in high rates but gentle handling in low rate.
The battery bay is generously sized to fit a 6s battery from 4000mAh to 6000mAh in size. We recommend the Admiral 6s 4000mAh 60c or Admiral 5000mAh 50c for optimal performance. The battery bay was also designed to accommodate an optional Freewing Gyro E51 or Hobby Eagle A3-L, sold separately, to further supplement the stable flying characteristics of the Freewing MiG-21. Execute the thrill of a 40 degree slow pass with ease!
Freewing presents its MiG-21 in two color schemes. The classic "Soviet Silver" scheme includes decals from four countries inside the box to allow pilots to customize their model aircraft. A "High Contrast" scheme is also available that features the blue/white/grey color scheme of the MiG-21-93 variant for enhanced visibility in the sky. Or, paint your own custom color scheme and share it with your fellow RC pilots on Hobbysquawk.com.
  Visit the Official Freewing 80mm Mig-21 Fishbed Discussion Thread on HobbySquawk.com for additional photos, videos, reviews, and customer Q&A.
Features:
Available in classic "Soviet Silver" and "High Contrast" liveries
Powered by a 12-blade EDF with 

all-new 3530-1800KV out-runner motor and 100A ESC (PNP version only)

Optimized design allows for stability both in slow and high speeds

Magnetic fuel tanks and iconic "blisters"

Larger retractable gear from the 90mm class

Removable wings and stabilizers for convenient transport
Removable nose cone and pitot tube
Includes:
Freewing Mig-21 Silver 80mm EDF Jet - ARF PLUS
Requires:
Product Specifications:
Wingspan

800mm / 31.49in

Length

1730mm / 68.11in

Flying Weight

2200g / 78oz

CG (Center of Gravity)
Please refer to the manual

Power System

3530-1800KV Brushless Outrunner Motor (required)

Electronic Speed Control

100A ESC, 5A BEC, EC5 Connector (required)

Propeller / EDF

80mm Metal EDF (required)

Servos

9g hybrid standard gear servo with 100mm lead : nose gear steering, left flap
9g hybrid reverse gear servo with 100mm lead : right flap
9g hybrid standard gear servo with 300mm lead : left aileron, right aileron
9g hybrid standard gear servo with 750mm lead (+ 300mm extension): left elevator, rudder
9g hybrid reverse gear servo reverse with 750mm lead (+ 300mm extension): right elevator

Landing Gear

Electronic retractable main gear and steerable nose gear with all metal shock absorbing struts

Required Battery

6S 22.2V 4000-6000mAh LiPo with EC5 connector (required)

Required Radio

6 Channel (required)

Ailerons
Yes

Elevator

Yes

Rudder
Yes

Flaps

Yes

Lights

No

Hinge Type

Nylon hinges

Material
EPO Foam
Skill Level
Advanced Intermediate / Advanced
Build Time
2+ Hours
Recommended Environment
Outdoor
Product Videos
Product Questions & Answers
NOTE:
Questions submitted on this page are answered by customers who have previously purchased this item. If you have a support related question that requires immediate assistance, please visit our
Help Center
.
Product Support
Product Manuals:
If you need any additional assistance, please visit the Motion RC Help Center
Product Reviews
Customer Reviews
Write a Review
Ask a Question
12/23/2019
Derek B.
United Kingdom
Mig 21 excellent EDF
This is my 2nd Mig 21 , I purchased my 1st two years ago but unfortunately I crashed it due to my own error! However, I've finally got round to purchasing another one and I've had for my own modifications to the Jet I chAnged the silver colour to my own camouflage preference and did 2 navigation light Mods, and a cockpit light mod. This plane fly's flawless. I just re used my previous edf and 18kv outrunner Motor plus esc and everything performs perfect this Jet is not for beginners I must just state that.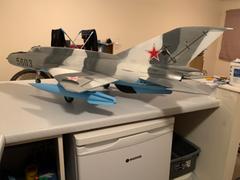 11/23/2019
Tom
Croatia
what a flyer
Real Mig 21 pilots said that it even makes a tail dragging in high G turn like real one...so it`s really scale looking and acting plane
Great
Im very happy with my new plane
K30 conversion
I bought this kit, ARF+, for a turbine conversion to continue the fun I'm having with also converted T-45. this project will have to weights since the K30 with ancillary weights more than the EDF & batts.. while there is plenty of room in there, the concern is the LG.
Big Mig
The Package arrived undamaged, and was fun assembling. Everything worked perfectly.Maiden flight was a little twitchy till I reduced throws and added Expo. Now fly's great.
Turbine Mig 21
What a great plane. Converted to turbine (Jetcat p20), own design single wall tail pipe, could use a little more thrust but it's a winner as is. This was my first effort and I am going to build a second one with more fuel capacity and different paint scheme. Keep up the great work Freewing.https://www.youtube.com/watch?v=GsxZu1nLjUs
My second edf
I bought an Freewing F-86 at the Perry Ga expo like it so much decided to try the M-21 and it was a blast my second EDF after the Saber got the high contrast version first then the silver one I now have 78 flights on the first one and 15 on the silver one without the first problem. Upgraded all three to the bigger engine due to the fact my runway is grass and they takeoff much shorter distance now. Waiting for my F-4 to get here now can't wait to get it. Freewing is a great product reasonably priced.
Motion RC has a new European website
Go there instead?
Top