Freewing Stinger High Performance 4S Blue 64mm EDF Jet - PNP
Product Reviews
Customer Reviews
Write a Review
Ask a Question
02/11/2020
Phillip F.
United Kingdom
Great EDF for a Quick Flight
Flies extremely well even in windy conditions. Cockpit has to be opened up by 2mm in width to fit a 2200 mah lipo. 4 mins of conservative throttle leaving approx 20% in pack. 2200 balances it just right. Goes vertical on about 3/4 throttle for some height. WOT it just keeps going up!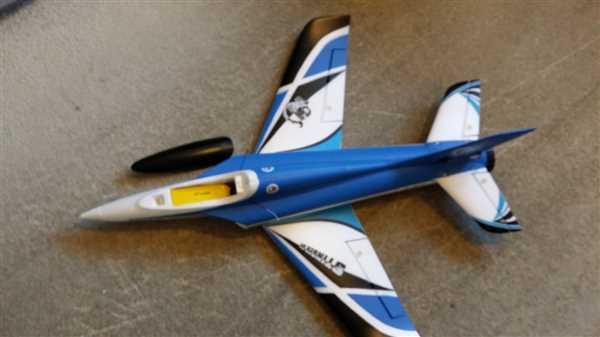 01/12/2020
Phillip F.
United Kingdom
Great EDF for Quick Fun
I modded my 64m 3 cell version with the 12 blade 4 cell set up. Also fitted a 50 amp ESC. Took out about 2mm each side of the cockpit to neatly fit a Zippy 2200 35C Lipo. Just over half throttle in to alight head wind and it's away. With some conservative flying and a couple of fun bursts of power to climb vertical and snap rolls I get 4.5 mins with 25% capacity left. With the 12 blade it is not noisy at all, quite stealthy in fact until you push the throttle up towards the top and then you will hear the whoosh. I prefer my large gas and electric planes but the fact you can have this ready and waiting for some instant fun it cannot be beaten. Tx set up is max elevator and low rates on aileron, say 5mm each way.
11/05/2019
xander k.
United States
great plane for the money
this plane was my first edf and i expected it to be hard to fly so i set up a gyro system and got a 50 second flight and had a very hard landing so i took the gyro out and it flies great. i absolutely love this plane
Stinger 64 hp
Great little plane to learn how to fly a jet. Fast and tough for a foam plane, I'm very happy with it.
64mm stinger
My best flying small jet, fast, stable, lands good,it my be small, for the price, it's a steal.
MW
10/25/2018
Matthew W.
First EDF - Love it!
This is my first EDF although I have hundreds of hours of flight time with other plane types (mainly 3D). I flew my first three batteries this morning and am very happy! I was concerned with hand launches but all three were a breeze - no drama at all. I went with an underhand 45 degree pitch and full throttle. I had a S6R stabilizer installed as insurance for the first launch but the gain was too high at 40% and I got some nasty oscillations till I shut it off, then she tracked perfectly. I probably keep the stabilizer turned off as it's not needed. Compared to the models I usually fly, this one feels fast and turns wide. I noted a lot more rudder coupling than I'm used to so I'll need to get used to that. It definitely looks and sounds great during low passes - just simple nascar loops are exciting at this point! The build was easy but the instructions could be better. Build took me an 1-2 hours but I could do another one in half that now that I've sorted where the different length screws are supposed to go and know that no stabilizer setup is needed. The 4S 2200 battery I'm using needed some sanding to fit in the canopy but CG is at perfect neutral with it installed. The canopy has little to no extra space so don't expect to have an easy time fitting in any extra modules, such as voltage telemetry. Overall I'm very satisfied with my purchase and look forward to exploring what this thing can do!
Super great value!!
Assembly is a breeze! Plane flys great!! Just make sure to cut the endpoints down to about 50% and set 30-40% expo and she flys like a dream!!!
Freewing Stinger 64 HP
Good jet for the money.
Made it 20 sec in the air
Origionally i tried to hand launch the jet and it immediately flipped and ran into the ground. I dont think this is a CG problem cause i check and my CG was fine. Im flying in Colorado at 8500 ft so i think that might be an issue. I repaired everything and got the landing gear. This time i got it up into the air but it just felt gutless. Nothing like all the Youtube videos made it look like. I would not recommend if you fly at high elevations.
Motion RC has a new European website
Go there instead?
Top