Freewing Stinger High Performance 4S Red 64mm EDF Jet - PNP
Product Reviews
Customer Reviews
Write a Review
Ask a Question
05/16/2020
Matt C.
United States
Good intermediate jet
I purchased this with the hopes it would replace my lost F9F that I crashed last year. I opted for the 4s setup as I remember the 3s setup on the F9F was a little slow (but fun of course). I purchased it with the landing gear as I am not a fan of hand launching (dirt nap). It came very quickly (2 days). Everything came and was in great shape. The issue really came when I was setting up. It calls for a 4s 2200 battery, I measured what the recommended battery wise is against what I have. Mine was actually a little smaller. Alas it didn't fit, I had to shave off about 3mm from the inside of the battery bay. Once that was done I could get the battery in there and have it be nice and snug for the last little bit for a nice tight fit. The next thing I noticed was the throws. At first glance I was thinking holy **** it does not need over an inch throw in every diction. No way this thing would be manageable in the air. I moved all of the connectors the outside hole instead of the middle hole to lessen the throw. Still way to much so I dialed ailerons down to 65% and the Elevator to 65% with 30% expo all around. I checked the CG and it was a tad more nose heavy than I would like but it calls for that size battery and other flight reviews had the same size. I maidened it today. First flight, def nose heavy and extremely twitchy on the ailerons. I noticed on landing that I needed every bit of elevator to grease the landing. I adjusted the ailerons down to 50% and added another 5% on the elevator. Ailerons are still very twitchy and needed almost all the elevator on landing. Final flight ailerons at 35% and elevator at 75%. Much better. I opened it up and this thing is VERY fast and probably not good for a beginner. I was still nose heavy as it sank fast when you get out of the power and inverted. I plan to pickup an 1800 4s pack and give it a try. I got about 3.5-4 minutes out of the 4s 2200 and I'd rather have a less nose heavy plane and a little less flight time. Keep in mind the battery bay is tiny so you won't get much room to adjust the CG. All in all I would purchase again but I think it should be updated to say that some carving will be needed for the prescribed battery. I will get some more flights in it and get more comfortable as time goes on.
05/09/2020
A v.
Netherlands
All day flyer
Great fun. Easy to build. Nice power... Easy to fly... very stable... no issues or hick ups after 10flights. Not a big plane...
03/23/2020
Keith
United States
Works on 6s with 85amp mantis ESC
I've been running this plane on a 6s 50c 1800mah pack by swapping the ESC out to a mantis 85amp. The mantis comes with the correct motor hook-ups.. both bullet size and wire length will work as it comes. You have to cut the top of the stinger off(behind the battery compartment). It will glue back in place easily, don't be scared. Jet produces roughly 50% more power with this 6s set up. So far I have no melted a motor. It, is FAST!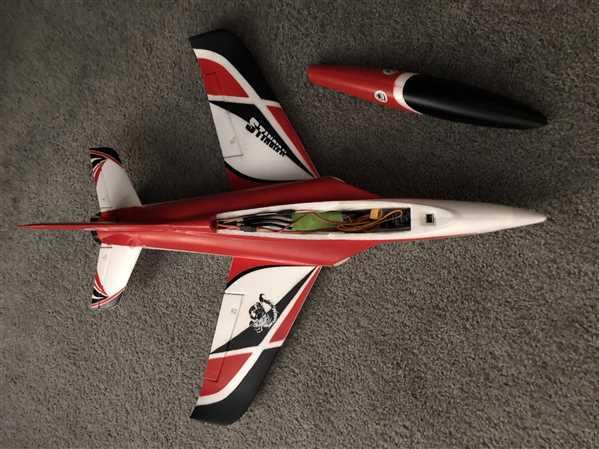 01/01/2020
Stephen G.
United States
My first!
Are you kidding...this thing is great. This is my first edf and I was a little nervous. Fast and slow flying was great. Mine was already pretty much trimmed stairght out of box. Thanks Freewing!!!
10/15/2019
Adam T.
United States
Fun quick
I maiden the EDF on 4s 1800Mah. It did fine but the recommended 2200 would be better. The rates on the ailerons need to be cut in half (or less). Or move the control horn to lower the throw https://youtu.be/Zwoqrm_s7j4
Stinger 64mm 4s
Nothing bad to say about it at all. 2 clicks trim on maiden wind blowing 15-20mph flew beautiful. Love this jet.
Little red,,,
Little red,,, she flies fast , get the CG correct and she handles almost hands off,,, easy to hand launch as well,, takes a little bit to get up to full speed , but then be prepared for a fun flight
Little red devil
This is a fun little jet. I hand launch it on my own without a problem although wind on the launch can cause a bit of a hairy launch experience. She flies very well and is surprisingly quiet from WOT to idle. Love it. great value and fits in my 911 without tear down.
02/09/2019
christopher H.
Stinger HP
Good looking plane goes together easily nice and simple,with the 12 blade fan and 4s pack seems plenty of power. Haven't had chance to fly it yet, looking forward to that. Fantastic service form MotionRC .
Motion RC has a new European website
Go there instead?
Top