Freewing SU-35 Desert Camo Twin 70mm EDF Vectored Thrust Jet - PNP
FJ30321P
Freewing SU-35 Dual 70mm Vectored Thrust EDF Jet - Receiver Ready in Desert Camo Color Scheme
NEW!  Now comes with dual 12-Blade EDF fans instead of the old 6 blade fans.
This 3D version of the Freewing SU-35 has more thrust (3000g) than the regular version. The size of the Freewing SU-35 is an amazing site to behold. This plane is one of the largest, most sophisticated, foam EDF jets made. Whether you like scale flight or outlandish maneuvers, the Freewing SU-35 can do it all. We think the Freewing SU-35 is one of the most entertaining EDF jets out there. The specs alone are amazing. The SU-35 is built from EPS foam and has nylon hinged control surfaces, shock absorbing landing gear, dual motors, dual ESC, dual 70mm EDF fans, and runs on a 6 cell LiPo battery. We are not sure what else to ask for in an EDF jet. Now includes dual Hobbywing 60A ESC.
Features:
NEW! Dual Hobbywing 60A ESC
NEW! EC5 ESC Connector
NEW! 12 Blade EDF Fans
Dual 70mm electronic ducted fans (EDF)
360 degree vectored thrust for incredible maneuvers (hover, flip turns, etc.)
Durable shock absorbing landing gear
Nylon hinges on all control surfaces (superior to foam hinges
Brushless motor, ESC and servos installed
Includes:
Freewing SU-35 Desert Camo Twin 70mm EDF Vectored Thrust Jet - PNP
Requires:
Product Specifications:
Wingspan

1080mm / 42.5in

Length

1630mm / 64in

Flying Weight

2600g

Power System

2x Brushless 3048-2150KV

Speed Control

2x 60A Hobbywing, EC5 connector

Propeller / EDF

2x 70mm EDF

Servos

9g standard with 100mm lead : vector 3, rudder
9g standard with 550mm lead : nose gear door
9g reverse with 300mm lead : vector 2
9g standard with 300mm lead : nose gear steering, left aileron, right aileron, vector 1
17g metal gear standard with 300mm lead : right elevator
17g metal gear reverse with 300mm lead : left elevator


Landing Gear

Servoless electric retracts, shock absorbers

Required Battery

6 Cell 22.2V 4000 - 6000 mAh LiPo Battery with EC5 connector

Required Radio

7 Channel radio with mixing ability

Rudder

Yes

Flaps

No

Ailerons

Yes

Lights

No

Hinge Type

Nylon hinges on all control surfaces

Material

EPS Foam
Product Videos
Product Questions & Answers
NOTE:
Questions submitted on this page are answered by customers who have previously purchased this item. If you have a support related question that requires immediate assistance, please visit our
Help Center
.
Product Support
Product Manuals:
Product Updates:
October 19, 2013  -  The wiring procedure to achieve in-flight on/off selection of the thrust vectoring flight modes is an advanced feature, and accordingly this aircraft is recommended for advanced pilots only.  A general wiring diagram is discussed in the manual, but pilots should expect some time to test various wiring arrangements themselves to optimize the thrust vectoring controls to their individual preference.
If you need any additional assistance, please visit the Motion RC Help Center
Product Reviews
Customer Reviews
Write a Review
Ask a Question
11/15/2019
Martin W.
United Kingdom
SU-35 Excellent EDF with tricks
Well this is my current "best" jet, flies well, lands well, might fly better once dialed in more, shame about the low flight times, but you have a lot of fun in the time you get, can be flown like a trainer or a manic jet, nothing bad to say really compared to other foamie jets I have.. well done a nice fly :-) , excellent after sales service from Motion RC too., that was appreciated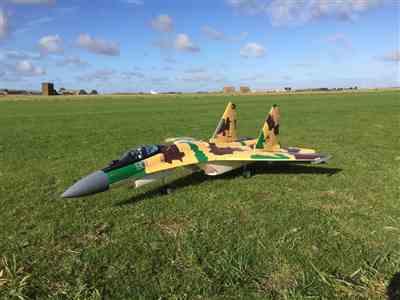 11/12/2019
Martin W.
United Kingdom
Freeing SU35
Awesome flying jet well worth the money very nicely built
Don't break it! Replacement parts are expensive.
I broke a wing tip rail. I asked if I could buy one (or a set) and was told I had to buy the whole wing replacements set. So $55 plus shipping for a wing tip.. yeah, no. Landing gear doesn't cycle in flight. Worked perfectly on the ground but would never work in flight, stayed down the whole flight. Power brown out? I bought the recommended Admiral 5000mah 6S 50C battery. Doesn't feel like a $400+ setup to me.
Great products by freewing !
It goes together great, easy to setup, flys great on stock parts, motionrc and freewing do a great job, keep up the great work, Now I have one request Please design and build A MIG 29! 80 mm. Thank you.
Disappointment
I wrote a review of the SU-35 four days ago, but it was not posted. Anyway, the SU-35 goes together quickly, and it flies very well. But the model does have a few weaknesses that are worth mentioning. First, the nose gear needs a stronger mounting solution. I have flown my SU-35 from a paved runway. I have only had twelve (12) flights on this model, and the nose retract unit have ripped out from the fuse three (3) times. Also, the plastic hinges for the nose gear doors appear quite weak and break easily. Finally, the gears of the nose steering servo strip/break each time the nose gear retract unit is ripped from the fuse. As mentioned, the model flies well, presents well in the air, but it is quite frustrating to get only a couple of flights before needing to repair the nose gear. I am quite sure that if the weaknesses mentioned are addressed, the SU-35 will easily receive a 5 star rating from all of its owner. However, due to the few flight and problems I have had with my SU-35, I am giving it a rating of 2 stars.
Monster EDF
....hand launching MONSTER...the weight without retracts and vector-servos: 1980g and 3000g Trust! Speed Monster!
absolutely beautiful..!!
very light wing loading ... flies perfectly blanced with 6s 5000mah 65c graphene (hobby king) packs all the way forward. I believe they are around 880g. Check out a dusk flight: https://youtu.be/f4fR_VqARZw No bad tendencies whatsoever.
Beautiful SU-35
Beautiful jet! Went together very quickly and im very impressed with how good it looks in the air! Flys great and is a definite must have if you want to get into a aircraft with thrust vectoring. I programmed mine as shown in Captain Mikes video and it works really well. You can go from gentle fun flying to doing crazy thrust vectoring maneuvers with just the click of a switch! MotionRC is great also with fast shipping and WONDERFUL customer service. A++++
Motion RC has a new European website
Go there instead?
Top