Freewing T-33 Shooting Star USAF 80mm EDF Jet - PNP
FJ21712P
T-33 Shooting Star USAF 80mm EDF Jet - PNP from Freewing - FJ21712P
Motion RC is excited to announce the new Freewing T-33 Shooting Star in 1/9.5 scale. Honoring the popular T-33 that flew with over 40 countries between 1948 and 2017, the Freewing T-33 faithfully represents this amazing aircraft!
Constructed from EPO foam, carbon, wood, aluminum, and other materials, the Freewing T-33 is powered by an 80mm EDF power system optimized for performance and easy flying behavior. Its wide 1350mm (53") wingspan offers a light wing loading that allows for very stable flight and a mild gentle stall. Scale split flaps and robust aluminum trailing link suspension landing gear makes taking off from and landing on grass runways an easy operation. Removable tip tanks, an accurate overall outline, and landing gear doors enhance the scale fidelity of this model aircraft. With a quick and easy screw together assembly that is convenient for pilots wanting to get in the air quickly.
The Freewing T-33's power system provides performance that is similar to other recent 80mm Freewing jets such as the popular Avanti S and L-39 Albatros but is now powered by a 1920kv Inrunner! The 100A ESC provided ample headroom for high power use and the 9 blade EDF provides a proven efficiency that thousands of Freewing jets have had worldwide. Rapid acceleration, low cruising altitude position, and efficient energy consumption are key features of the Freewing T-33. Although it's wingspan is greater than more expensive 90mm jets, the T-33 is affordable to operate and makes a perfect EDF trainer jet for new jet pilots moving up from smaller 64mm and 70mm jets
  Visit the Official Freewing T-33 Shooting Star 80mm EDF Jet thread on HobbySquawk.com for additional photos, videos, reviews, and customer Q&A.
Ample Canopy and Battery Space




The T-33 has plenty of space in the battery compartment for any size of battery you need, plus added accessories if desired.
 

Clean Fit Landing Gear Doors




The landing gear doors have a nice, tight and clean fit for that ultra scale look pilots covet.
Scale Split Flaps




The scale split flaps are another nice feature adding to the realism of the model.
Molded Plastic On Intakes




Plastic intakes not only create a clean look but are functional in protecting the leading edge of the intakes from damage.
Robust Main Gears




The gears are a robust metal spring-loaded for both pavement and grass.
Inrunner Motor Preinstalled




A highly efficient inrunner brushless motor is pre-installed, providing a top speed in excess of 100mph / 160kph!
CG Mark Pre-Molded




The CG mark has been pre-molded into the model for your convenience.
Brass Ball Links




Positive control is afforded by strong servos and brass ball links that reduce slop in the control armature.   
Nylon Hinges Throughout




Nylon hinges throughout the model for durability.
Removable Tip Tanks




The tip tanks are easily removable for transport.
Features:
Model officially licensed by Lockheed Martin

Painted in the USAF 57th Fighter Interceptor Squadron "Black Knights" livery

9 blade EDF with 

3658-1920KV Inrunner brushless motor for incredible efficiency and performance

Split flaps, clean gear door profile and other scale details throughout

Durable metal gear for both paved and grass surfaces

Preinstalled ball linkage and decals

Removable tip tanks for ease of transport
Includes:
Freewing T-33 Shooting Star USAF 80mm EDF Jet - PNP
Brushless motor, servos and ESC preinstalled
Instruction manual
Requires:
Product Specifications:
SKILL LEVEL : intermediate
| | |
| --- | --- |
| Model Scale | 1/10 Scale |
| Wingspan | 1350mm / 53in |
| Length | 1200mm /47in |
| Weight | 2300g / 81oz (w/o battery) |
| CG (Center of Gravity) | Refer to manual |
| Power System | 6S 3658-1920KV Inrunner Motor (included) |
| Electronic Speed Control | 100A with 5A UBEC (included) |
| Propeller / EDF | 80mm 9-Blade EDF (included) |
| Servos | 9g Digital Metal Gear Standard Servos |
| Landing Gear | Electronic retractable aluminum trailing link (included) |
| Required Battery | 6S 22.2V 4000-6000mAh LiPo with EC5 Connector (required) |
| Required Radio | 6+ Channel (required) |
| Ailerons | Yes |
| Elevator | Yes |
| Rudder | Yes |
| Flaps | Yes |
| Lights | No |
| Hinge Type | Nylon |
| Material | EPO Foam |
| Skill Level | Intermediate |
| Build Time | 1 Hour |
| Recommended Environment | Outdoors |
Product Videos
Product Questions & Answers
NOTE:
Questions submitted on this page are answered by customers who have previously purchased this item. If you have a support related question that requires immediate assistance, please visit our
Help Center
.
Product Support
Product Manuals:
If you need any additional assistance, please visit the Motion RC Help Center
Product Reviews
Customer Reviews
Write a Review
Ask a Question
01/24/2020
Dennis S.
United States
T 33 SHOOTING STAR
This should be any one new to edf's, their first plane. I flew mine 6 times the first time I flew it, it is just real solid in the air, easy to see and slows to a crawl with flaps to landing. I don't know that mixing of elevator to flaps is necessary as I moved the cg back a little from the recommended one. This flies as well as the Avanti as far as flight characteristics. I would definitely suggest buying this one
01/24/2020
SHAUN K.
United States
T-33
Great EDF - I fly at altitude and this jet flies awesome. Very quick and stable. Love it!
01/24/2020
Marshal E.
United States
Great plane
Doesn't take much time or effort to make flyable. Almost everything bolts together. Really like the servo less doors.can't wait to fly it.
01/24/2020
Charles P.
United States
Fantastic Model Aircraft!
I'm a vintage jet/warbird RC flyer primarily. As soon as the T-33 was announced, I preordered it. The preorders arrived at the factory and were shipped out over a week in advance of the predicted date. When the PNP kit arrived, it was well packed and without any defects to either the finish or the electromechanics. I assembled it as quickly as was promised in Motion's T-33 Assembly YouTube video. There were not difficulties or surprises as I assembled the plane. The one mod that I did make was to remove the blue box and wing-interface multi-connectors, as I prefer to run the control-surface servos (especially the ailerons and elevator) directly to the receiver, and very seldom do I remove the wings. The blue box is not needed to operate this aircraft; it's simply a convenience. The maiden flight was easy, requiring very minimal in-flight trimming. The ailerons were very touchy though, and prior to the second flight, I'd mechanically reduced the throw and increased the expo from 30% to 40% for the ailerons, and that tamed the T-33 very nicely for the second, third, and fourth flights that day. The T-33 is a breeze to fly. It has a very capable power train which allows for speedy flight, and as expected the T-33 flies very well at slow speed, too. It flies so well at slow speed, in fact, that I overshot my landing all four times. I just not used to flying a warbird/jet that is as floaty as this T-33 is. My flight day had very low winds, but I could imagine the T-33 getting bounced around on windy days; so, a 3-axis stabilizer may help on windy days, especially for landing. Although the price is slowing rising on Motion's aircraft, I felt that I got my money's worth with the peppy power train and stout oleo gear. I'm very, very happy with the T-33, and am glad to have grabbed one from the first batch to arrive at Motion.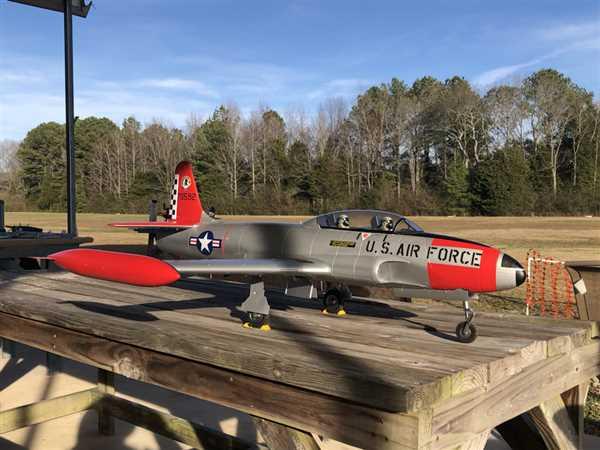 01/24/2020
David K.
Canada
T-33 initial quality
My plane arrived in perfect condition, no packing damage, no shipping damage. Went together with a few screws - quick and easy. Bound it up to receiver - everything works. Wheels a little squeaky but a bit of oil has fixed that. Main gear doors (spring loaded) were sticky but some oil on the hinges fixed it. Haven't flown it yet so answer to last question is a guess.
01/24/2020
Gary K.
United States
Excellent service
The plane arrived in excellent condition and service was great. The plane is fantastic!
01/24/2020
Amy B.
United States
Did not disappoint
Excellent plane - much anticipated - very well made, sturdy and an excellent flyer! Arrived In perfect condition. Really pleased and did not disappoint!
01/23/2020
Ken D.
United States
MotionRC and Freewing Only Get Better!!
This is my 3rd airplane from MotionRC and I am just blown away by the quality of the T-33. Everything was perfect from packaging to instructions to assembly. I am really impressed especially with the paint and graphics. All topnotch and blemish free. The cockpit canopy is crystal clear and perfectly formed. Can't wait to fly, but I fully expect it will be a pleasure like my F-4 and A-10. You guys knocked it out of the park on this one! Excellent value!
01/20/2020
Major K.
United States
The Little Blue Box
On unpacking, I noticed some scuff marks on the wing and fuse. This was an easy for me as I mixed the colors to match. The main problem I had was getting the gears to deploy. I did a second binding to make sure this was not the issue. This did not help. I dis-assemble the wing and traced the gears to the source and was able to deploy this way. Therefore, this problems were not with the gears or radio. I moved the gear to another channel on the blue box and my radio. This solved the problem Not sure I want to use this little blue box. I think I will by pass on this one.
Motion RC has a new European website
Go there instead?
Top