Freewing Yak-130 Red 70mm EDF Jet - PNP
FJ20912P
Freewing Yak-130 Red 70mm EDF Jet - PNP - FJ20912P
Introducing the Freewing 12 blade 70mm EDF Yak-130, the latest in Freewing's exciting 70mm EDF 6s jet series! This aircraft delivers on so many levels and truly impressed us at the flying field. Finally, a compact and affordable model of the popular Yak-130 design with a range of features seldom seen in the 70mm format.
On the ground and in the air, the Yak-130 looks fantastic at any angle. The high visibility "Red 02" trainer scheme gives pilots a scale model which is still very easy to orient in the sky. If you're looking for a change from gray military jets, the Yak-130 will certainly stand out from the crowd! A detailed canopy and high scale fidelity profile capture the unique lines of this modern jet trainer, and over 50 waterslide decals are meticulously applied by hand to complete the look.
Even beyond its striking visual appeal, where the Yak-130 truly excels is its performance envelope. Pre-installed flaps shorten takeoff roll on pavement to a brief ~75 feet, and with full flaps the model can land to a stop in less than 100 feet with a slight headwind. The stock PNP's 6s power system propels the Yak-130 to speeds approaching 90mph straight and level and gives the aircraft nearly unlimited vertical. With its large vertical stabilizer, the Yak-130 can hold a rock steady knife edge or execute the most stable four point roll of any Freewing jet in this class. The stall is very gentle and slowly nose down, forecasted by a telltale wing rocking which gives pilots plenty of notice to power up.
The battery bay is spacious to accommodate CG with a 6s 3000-4000mAh lipo. For pilots interested in installing a 70mm 4s power system, we found that a 4s 4000mAh lipo is ideal for a lightweight setup. The simplified landing gear is durable, utilizing metal trunions and steel coiled struts on the mains for dependable operation on pavement, geomat, or very short and evenly cut grass. For the ultimate in a versatility, the landing gear can also be removed and the aircraft can be hand tossed and belly landed.
Assembly is very straightforward. The wings each attach to the fuselage with two screws and a primary carbon wing spar. The vertical stabilizer and horizontal stabilizer tail group is glued on; we recommend 5 minute epoxy. The layout still allows easy access to the elevator servos for adjustment or replacement. A neat feature we enjoy is that the wingtip rails are smartly sheathed in plastic, to ward against dings or scratches during transport or a tipped landing. The EDF is easily accessed by a removable hatch on the aircraft's belly, and the ESC is kept secure in a channel along the inner spine of the fuselage to give it sufficient cooling without obstructing airflow.
Freewing's 70mm Yak-130 offers pilots the perfect transition aircraft from 64mm/70mm into 80mm/90mm jets. We found the Yak-130 to be ideal as a first or second jet with retracts for pilots looking to gain experience and confidence before making the jump into larger models. Even expert level pilots will appreciate the fun flight envelope of this unique modern jet trainer.
  Visit the Official Freewing 70mm Yak-130 Discussion Thread on HobbySquawk.com for additional photos, videos, reviews, and customer Q&A.
Features:
Simplified EPO construction for comfortable handling at all speeds
NEW!  Now comes with the Freewing 70mm 12-Blade EDF 6S Power System w/ 3048-2150KV (6S PNP only)
60 Amp Hobbywing ESC with XT60 connector and 5A BEC
Removable wings and carbon spar
High visibility "Red 02" scale trainer scheme
Electronic retractable landing gear with 3mm steel wire struts and metal trunnions
Nylon hinges on aileron and elevator
Plastic-sheathed nose cone and wing tip missile rails for added durability
All electronics come pre-installed for your convenience (6S PNP only)
Some gluing and assembly required
Includes:
Freewing 70mm Yak-130 EDF Jet - PNP
Requires:
Product Specifications:
SKILL LEVEL : Intermediate
Wingspan

920mm / 36.22in

Length

1050mm / 41.33in

Weight

1720g / 60.67oz

CG (Center of Gravity)
72mm from the leading edge of the wing at the root with the landing gear retracted and the model upright

Power System

3048-2150KV motor Brushless Outrunner Motor

Electronic Speed Control

60A, XT60-Connector

Propeller / EDF

70mm 12-Blade EDF

Servos

9g digital gear standard with 100mm lead : left flap, left elevator
9g digital gear reverse with 100mm lead : right flap, right elevator
9g digital gear standard with 300mm lead : nose gear steering, rudder, left aileron, right aileron

Landing Gear
Full electronic retractable nose and main landing gear with metal trunnions

Required Battery

6S 22.2V 3000 - 4000mAh LiPo with XT60-Connector (required)

Required Radio

6 Channel (required)

Ailerons
Yes

Elevator

Yes

Rudder
Yes

Flaps

Yes

Lights

No

Hinge Type

Nylon hinges on ailerons and elevator

Material
EPO Foam
Skill Level
Intermediate
Build Time
1 Hour
Recommended Environment
Outdoor
Product Videos
Product Questions & Answers
NOTE:
Questions submitted on this page are answered by customers who have previously purchased this item. If you have a support related question that requires immediate assistance, please visit our
Help Center
.
Product Support
Product Manuals:
If you need any additional assistance, please visit the Motion RC Help Center
Product Reviews
Customer Reviews
12/04/2019
John D.
United States
11/23/2019
Richard B.
United Kingdom
Very good
Received item fast and very good. Plane is excellent. Have not yet taken it out for a flight yet. I have installed an frsky s8r into mine. Can't wait to try it's first flight.
10/19/2019
Mark G.
United States
The Yak 130 NEVER DISAPPOINTS
I learned to fly EDF's with this jet and you should to. It's got to be one of the easiest jets to fly and that makes it a great first jet. I had 2 others, but one ran out of juice (PILOT ERROR!!!!!) and didn't make it to the runway. So I had to get a replacement, because I always have at least 2 of every jet and sometimes 3 or more. So, if your thinking of getting into flying EDF Jets, get this bird or the 70mm FW Hawk T1. Their both great starter jets, but I'd lean towards the Yak.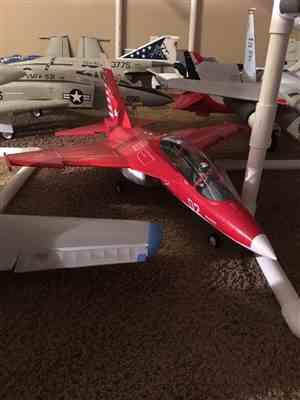 10/01/2019
Ettore G.
Italy
Trainer per chi entra nel mondo jet
Ho acquistato questo modello, nella speranza che fosse una buona porta d'ingresso nel mondo jet. E devo dire che ha anche superato le mie aspettative. Ho installato una turnigy phanter graphene da 4.0 ah 6s (730g) quindi l'assetto piu pesante. Ho DOVUTO tagliare la baia portabatteria perche il cg era troppo avanti. Vola splendidamente, atterra benissimo, forse un po'veloce con la 4.0 ma é talmente stabile e generoso con una fase di prestallo molto ampia che non si nota neanche. NOTE NEGATIVE: trovo vergognoso mettere prolunghe ad y sul cabra/picchia, alettoni e flap!!! Me ne sono accorto solo dopo gli incollaggi e non é piu possibile cambiare (la prolunga del cabra picchia) dopo avere incollato il piano di quota! Su un modello del genere nessuno si sognerebbe di fare una cosa del genere.
09/16/2019
Hans B.
Netherlands
09/14/2019
Xavier T.
Spain
Nice EDF for medium-advanced pilots
In flught is really wonderfull tonsee how she cross the air at high speed. Loops and rolls nice like an arrow. High speed when landing even with full flap (at least in our airfield because of line of final landing ). She needs a big weigh in tail to get the right G.C. for good flights and landings. Using a gyro stabilizer as A3pro in any radio or a frisky S6R - S8R for taranis or horus radios helps a lot in landing specialy in level landings or autosave pilot errors when new manoubres learned.
09/05/2019
Robert B.
United States
Yak attack!
Luv the Yak! Looks great and flies even better. Not difficult to fly but probably a good second or third edf to add to your collection. 6s 3300 is the perfect power for it. 4 mins. flight time is pretty routine with normal flying. Can land with or without flaps. I use them unless it's pretty wind. Take at least three charged batteries and enjoy!! Save Russian vodka for postflight.
09/04/2019
Eric K.
United States
Nice but.....
First I want to say I have not flown it yet s I am waiting on decent weather. I did however buy the Freewing and FMS version of the Yak-130. I must say the FMS version is so much nicer. As soon as I got the FW version together I noticed right away the difference. However I will be flying this one first as if I am going to beat one up I would rather the one not as nice. The build was simple I used Foam-Tac like what was used in the build video. Overall I like the Yak-130 jets as not all those foam bombs on them. I find when flying off grass those tend to rip off. The F-16 stands out in my mind. Very nice looking jet but I think best if flown off a runway.
Motion RC has a new European website
Go there instead?
Top