MrRCSound Sound System V4.1 With TT-25 For RC Planes
$13999
$13999
MrRCSound Sound System V4.1 With TT-25 For RC Planes
MRS001
MrRCSound version 4.1 Sound System for Aircraft - MRS001
Do you wish your electric RC planes made more noise? The only scale detail missing from many electric RC planes is the noise of a real plane engine. The MrRCSound aircraft sound system adds a massive amount of realism to any RC plane and it is easy to install. NO MORE CUTTING HOLES FOR SPEAKERS! This system uses an ultra light 2.7oz - 3.1oz TT-25 transducer which effectively turns your whole plane into a speaker. Simply stick the speaker on the inside of the fuse of your plane using a little CA glue or Epoxy to hold it in place. This Aircraft sound system includes 6 different engine sounds which you can swap between at any time with the push of a button. The unit can sound like a Merlin, Lycoming, Continental, Pratt & Whitney Double Wasp, Daimler Benz 601 (BF-109), or a generic turbine. Also included are "auxiliary sounds" such as machine guns, cannons, a P-51 whistle, a Stuka siren, and various other sounds. There are multiple optional sound cards which may be purchased in order to add more engine and other auxiliary sounds. You select the sound you want to use by simply pressing a button on the unit. This unit also has a volume knob so you can easily change the sound level of the unit. This unit will fit planes 900mm and up depending on the room available in the fuse of your plane.
Also included is the "Airplane Finder" feature which allows you to locate your plane should you have a crash. This feature is only activated once you advance the throttle. When the sound unit detects no throttle input for 3 minutes, the alarm or "plane finder" sound will begin. 
WARNING - Connecting the sound system backwards can damage FMS ESCs; read the wiring instructions carefully.
Features of the new TT-25 "speakers"
Each Speaker weighs only 3 ounces
Only 2" diameter and 1" thick
No need to cut holes in your plane
Easy mounting inside the fuse
No dead spots because you whole plane is the speaker
Improved bass response over a standard speaker
Rugged - no paper cone to damage in a crash
108db (max) at 1M sound output
Motion RC First Impressions
We had the whole system hooked up in less than 5 minutes. Wow is this sound system LOUD! We fired it up indoors and found the sound actually hurt our ears. Fantastic! We love how easy it is to swap between different engine sounds and we also really like the sound of the guns, cannons, etc. This system has the most fantastic startup and shutdown sounds we've heard. The realism is amazing. The systems volume control comes in handy when doing setup and testing. More videos and flight tests to come soon.
Connections and required cables
We recommend using your flight pack to power the MrRCSound sound system. The unit includes a JST power connector and we recommend tapping off your main power connector. If your plane has a T connector, we recommend using one of our "pass through T connectors" with a JST connector tap. There are 4 sets of pins on the unit. These accept 4" male to male servo cables or 8" male to male servo cables which will connect to your RX. These are labeled "Servo 1-4". Servo 1 is the the main engine sound. Servo 2-3-4 are used for auxiliary sounds such as guns, whistles, and pilot chatter. You will very likely also need a servo Y cable for the throttle channel
Options: (click the spare parts tab above to see all optional components)
Additional speaker: The base unit speaker is good for planes 900mm to 1400mm. We recommend a second TT-25 speaker for planes 1400mm to 1650mm.

Additional Amplifier: Increase the decibel level for large planes. For planes 1650mm and up we recommend an amplifier and 3 additional TT-25 speakers (for a total of 4 speakers).
WWI/Vintage Sound Pack: Engine sounds include Stearman, Fokker D VII, Real Gnome, Le Rhone, Easy Gnome, Tiger Moth, SE5a
MrRCSound 6 LED Gun Light Set: This is a set of 6 bright orange 5mm LED lights that is pre-wired to plug into the MrRCSound V4.1 sound system.
WWII sound pack: Engine sounds include Allison (P-40), BMW 801 (FW-190), Sakae (Zero), Mikulin AM-38 (IL-2/Mig-3), Bristol Centaurus (Hawker Sea fury), and Wright Cyclone (T-28)
Multi Engine Sound Pack: Engine sounds for twin and quad engine airplanes. Requires at least a 2 speaker system to work correctly as it will play start up and shut down from independent speakers. Sounds include: Allison Twin (P-38), BMW Twin, Merlin Twin (de Havilland Mosquito), Merlin 4x, Daimler Benz Twin, and Wright Cyclone 4x (B-17)
Product Specifications:
6 Engine sounds: Merlin (P-51), Lycoming (Sky Trainer, J3, etc), Continental, Pratt & Whitney Double Wasp (Corsair, P-47, F6F), Daimler Benz 601 (BF-109), or a generic Turbine
Auxiliary sounds such as guns, cannons, whistles (P-51), and pilot chatter mappable to different receiver channels.
Decibel level: up to 108db with the included TT-25 "speaker" - it is even louder when using an optional second TT-25 "speaker"
Input: 3S to 8S LiPo
Current: About 1A with one speaker and 1.6A with an optional second speaker
Dimensions: speaker is 2" diameter by 1" thick. Sound board is 3" x 2"
Weight: less than 4oz
Battery Connector: JST
Receiver connectors: Pins for JR male servo connector
Channels: up to 4 channels may be used. Throttle, Aux sound 1, Aux sound 2, Aux sound 3
Product Videos
Product Questions & Answers
NOTE:
Questions submitted on this page are answered by customers who have previously purchased this item. If you have a support related question that requires immediate assistance, please visit our
Help Center
.
Product Reviews
Customer Reviews
Write a Review
Ask a Question
06/24/2020
roger b.
United Kingdom
mrrcsound 4.1
after some issues . fully sorted by mrc very quickly top service. 'this sound system adds another dimension to scale electric flying
06/13/2020
roger b.
United Kingdom
mrrcsound 4.1
ordered mrrcsound 4.1 sound card , prompt delivery had a miner issue so phoned mrc helpline and was contacted within 3 hours and the issue was resolved . thats what i call service
05/13/2020
Donald p.
United States
Perfect for Flightline 1600mm Corsair
Installed in my new Corsair with basic and one base speaker on "Airplane 2" and it could be heard clearly at altitude! Have not tried other sounds yet as this was good. Added machine gun sound to everyone's surprise! All it needs is flashing leds for each gun! Hopefully available soon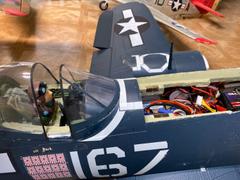 04/23/2020
Jay F.
United States
Great sound system!
Great sound system. I like all the features is has. Multiple planes, guns sounds and others. Also, you can hook up LEDs to sync up with machine gun sounds. Way cool on your warbird!
03/19/2020
Dennis
United States
Nice sound
Great sound but wish I could get a true piper cub sound
02/21/2020
Henry M.
United States
MrRCsound
Have not installed sound system at this time. Would be nice if circuit board was as small as Soundtraxx makes for model trains. MOTION RC. Thank you for your fast service.
11/12/2019
Alvar A.
United States
Poor customer support
I have been trying to buy the Wii sound package and has proven to be very frustrating. Now the card stoped working in mid air and has not worked ever since. If you think my review is harsh, try contacting custome support.
09/28/2019
Ken T.
United States
Good product
Put this on my P51 55in wingspan plane. Sounds great but the gun sound was barely heard when flyby with the motor sound. But overall still nice. So realistic now flying my electric P51. Very easy to assemble. Good instructions
V4.1 Fun
This isn't the most bizarre thing I've experienced in RC over the last forty one years, but I'd put it in the top ten. I jammed it into a small balsa PT 19. Changed the battery to keep the weight/CG in line. The start up was really cool, but I had serious doubts about being able to hear a significant amount of sound in the air. Well, the sound is great, borderline unreal. When I think about it, it makes me chuckle.
Motion RC has a new European website
Go there instead?
Top