Roban AH-64 Apache Green 700 Size Scale Helicopter - ARF
Product Reviews
Customer Reviews
Write a Review
Ask a Question
02/29/2020
Steve H.
United States
Update to my earlier review
It has now been 6 months since I got my Apache and it is now done. This is one of the easiest kits to remove and install the mechanics in. I have done it so many times. It has held up well and flies surprisingly well for a 23 lb. model. With four blades it does not need a high head speed to generate plenty of lift. I have made so many mods on mine mostly for cosmetics but I would highly recommend it for anyone interested in a scale heli.
08/16/2019
Steve H.
United States
Jaw Dropping Awesome!
Simply an amazing heli! Is it perfect? Nope. But I am not expecting perfection in something like this. Still the quality of the fiberglass layup is stunning and the additional parts which are mostly resin are beautiful. It is essentially a more modern D model and provides a perfect baseline for making it just about any model you want really. It comes double boxed and very securely packaged to protect the contents. The manual is OK and will get you through the build but I do recommend reviewing it closely. I had to do a little sanding on the tail boom to get it to align straight and true but no big deal. This is a fiberglass kit and if you are reluctant to cut, shape, grind or sand then maybe this isn't for you. It comes with the windows installed as well as the wooden framework inside the main fuse that the mechanics secure to. Speaking of which, the mechanics fit perfectly. It will be awhile before I am able to complete this project as I still need the Motor, ESC and servos so I am working on the fit and finish until then. One thing that I will point out that needs to be changed is the use of a large bullet style nylon hinge to secure the horizontal stab and allow it to pivot. It really needs something more robust and resistant to rotational forces. Overall I am very impressed with this kit and the size of it is something to behold. It should be a real head turner in the air and give me many hours of opportunities to tinker which I love to do.
08/06/2019
Lucas L.
Australia
ROBAN APACHE 700
Delivery on time and as described. Thumbs up for the services as MotionRC. Will definately make future purchases.
Green Apache 700
This heli is beautiful Arrived in perfect shape Little easier than the big airwolf- less complex, no retracts to mess with I really like the head and tail (4blades) Worth it!
Wow!
I received this a few weeks ago but had to go away for work. Package arrived undamaged and on-time FYI it will be sent UPS in a signature is required so plan on having someone home to sign for it. Opened up the box and there it was blemish-free no cracks or scratches. Went through the parts and all accounted for and I've noticed I had a lot of new updated pieces like the metal gears on the raised tail gear. However the build will have to wait, putting together an airwolf 800 Matte. One thing I noticed is I will have to fabricate a battery mount system since none exists on the heli. Over all great bird!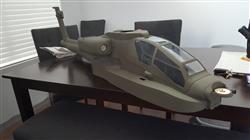 Motion RC has a new European website
Go there instead?
Top